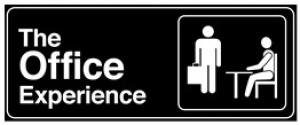 Fans of The Office will have even more opportunities to visit the world of Dunder Mifflin Paper Company because the world premiere of The Office Experience will extend its inaugural run in Chicago through Sunday, March 27th. Tickets to the largest official interactive fan experience celebrating The Office are now available at www.theofficeexperience.com.  
Created by Superfly X and Universal Live Entertainment, in consultation with The Office's U.S. creator Greg Daniels, The Office Experience has been lauded as "easily enough to make any The Office fan's heart sing," by the Chicago Tribune. Located at The Shops at North Bridge on the Magnificent Mile at 540 N. Michigan Ave. (corner of N. Michigan Ave. and E. Ohio St.), the interactive two-story experience features 17 rooms filled with original props and costumes, set re-creations and more as guests visit Scranton Business Park and other sites associated with the beloved series. Ticketed and non-ticked guests are also welcome to check out the on-site Warehouse themed retail store featuring exclusive products never before offered for sale. 
"The response to The Office Experience's debut in Chicago has been overwhelmingly positive," said Stacy Moscatelli, Co-President and Chief Strategy Officer of Superfly X. "We've welcomed The Office fans not only from The Midwest but from across the country. This is a one-of-a-kind experience and we can't wait to share it with first-time and return visitors alike over the next two months as we extend our stay on the Mag Mile." 
"We are delighted that The Office Experience has been so well received by so many enthusiasts of The Office, and we are thrilled that Superfly X has decided to extend the experience's inaugural run in Chicago," said Michael Silver, President of Global Business Development for Universal Parks & Resorts.  "This will give many more of The Office's millions of devoted fans an opportunity to relive some of its most memorable episodes and themselves participate in many of their favorite series moments." 
The Office Experience will be open in Chicago through March 27th. Guests can reserve timed entry tickets starting at $37.50 plus taxes and fees. Tickets can be purchased by visiting www.theofficeexperience.com. Private access tickets, as well as corporate and private party rentals, are also available. For more information on space rentals, email privateevents@theofficeexperience.com. 
Fans can catch up on all nine seasons of The Office including never-before-seen and deleted scenes, bloopers, featurettes and interviews as well as The Office: Superfan Episodes on Peacock. Peacock now has Superfan Episodes available for Seasons 1, 2,3 and 4. For more about The Office on Peacock, visit peacocktv.com.  
About Superfly X  
Superfly X is the global themed entertainment division of Superfly. Founded in 2020, Superfly X is transforming the way fans interact with their favorite entertainment properties with The FRIENDS Experience and The Office Experience. Superfly X is building on its expertise in creating iconic live experiences like Bonnaroo Music & Arts Festival, Outside Lands and Clusterfest as well as for some of the most recognized brands in the world. Superfly is headquartered in New York.  
About Universal Live Entertainment 
Universal Live Entertainment partners with best-in-class entertainment companies to bring today's most popular stories, characters and adventures to life in a city near you. From larger-than-life touring shows to immersive, walk-through exhibitions and family entertainment centers, Universal's world-class entertainment brands are delivered across the globe for families, friends and people of all ages to enjoy. Productions include Jurassic World Live Tour, Jurassic World: The Exhibition, A Minions Perspective, DreamWorks Animation: The Exhibition, TROLLS LIVE!, Film to Live Orchestra concerts and more. 
Universal Live Entertainment is a division of Universal Parks & Resorts, a unit of Comcast NBCUniversal. With theme park destinations in California, Florida, Japan, Singapore and Beijing, Universal Parks & Resorts offers guests around the globe today's most relevant and popular entertainment experiences.  
Universal theme parks are known for immersive experiences that feature some of the world's most thrilling and technologically advanced film- and television-based attractions. Comcast NBCUniversal wholly owns Universal Studios Hollywood, Universal Orlando Resort, and Universal Studios Japan. In addition, the company has a license agreement with Universal Studios Singapore at Resorts World Sentosa and recently opened the Universal Beijing Resort in China's capital. 
About Peacock 
Peacock is NBCUniversal's streaming service. Peacock delivers a world-class slate of exclusive originals, on-demand libraries of hit TV shows, plus critically acclaimed films from the vaults of Universal Pictures, Focus Features, DreamWorks Animation, Illumination and Hollywood's biggest studios. In addition, Peacock taps into NBCUniversal's unmatched ability to deliver a broad range of compelling topical content across news, sports, late-night, Spanish-language and reality. NBCUniversal is a subsidiary of Comcast Corporation.