Giordano Dance Chicago (GDC) hosts its wildly popular "Dancing With The Giordano Stars" ballroom dance competition to benefit GDC's Jazz Dance/Science & Health outreach program, company operations, and jazz dance advocacy and mentorship programs 7 -11 p.m. Thursday, Oct. 6. The event will take place at Park West, 322 W. Armitage Ave. Ryan Baker, Morning News anchor at CBS 2 Chicago, will emcee. 
This annual event, patterned after the hit ABC series "Dancing With The Stars," teams GDC professional dancers with partners from the who's who of Chicago's civic, social and business communities to vie for "Best Male Dancer" and "Best Female Dancer" honors before a panel of celebrity judges. Judges this year include Candace Jordan of CandidCandace.com and Associate Publisher, Chicago Star Media; Joffrey Ballet's Artistic Director Ashley Wheater; and Pixel.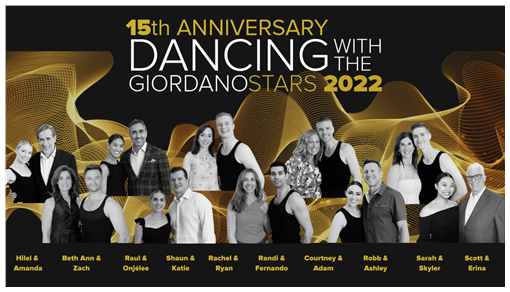 The slate of male contestants (and their GDC dance partners) are Shaun Gallagher, Head of ADR Conversion Trading at BTIG (with Katie Rafferty), Scott Hudson, President & CEO at Gallagher-Bassett (with Erina Ueda), Robb Leone, Co-Founder & President at BIÂN Chicago (with Ashley Downs), Raul Ruiz, Senior VP: Global Houseware & Modern Design at Instant Brands (with Onjélee Phomthirath) and Dr. Hilel Swerdin of ENT Family Clinic (with Amanda Hickey).
The female contestants (and their GDC dance partners) are Courtney Eisen Burk (with Adam Houston), Rachel Kohl (with Ryan Galloway), Sarah Norris, Parter & Head at BBR Chicago (with Skyler Newcom), Beth Ann Papoutisis (with Zachary Heller) and Randi Whitman, Owner at Frog Temple Pilates & Yoga (with Fernando Rodriguez).
The evening will begin with spirits and light fare, followed by the competition. As part of the competition, each couple will perform a compulsory Foxtrot and a dance of their choice:  Cha Cha, Swing, Rumba, Salsa or Tango. Open dancing for all guests completes the evening.
Tickets range from $150 to $1,600. Corporate sponsorships are available. For tickets or more information visit giordanodance.org or call 312.922.1332.
"Dancing With The Giordano Stars" precedes GDC's fall engagement at the Harris Theater | Millennium Park, 205 E. Randolph, Friday, Oct. 21 and Saturday, Oct. 22 at 7:30 p.m. For more info visit www.harristheaterchicago.org. 
America's original jazz dance company is celebrating 60 years of expanding jazz dance. Giordano Dance Chicago (GDC) is an iconic cultural organization and an integral part of Chicago's vibrant performing arts community. From its origins in founder Gus Giordano's original school in Evanston, Ill., to its current incarnation as a world-class dance company, GDC boasts over a half-century of worldwide performances (28 countries, 47 states, more than 1,300 cities) with an imprint on the art form of jazz dance that is far-reaching and significant. For 38 years GDC has been under the Artistic Leadership of Nan Giordano who is responsible for commissioning numerous groundbreaking works, the mentoring of hundreds of young dancers and choreographers, and the development of the Nan Giordano Certification Program®. The Program, which offers multi-level instruction and certification in the proprietary Giordano Technique, has certified dance educators in 36 states and seven countries, all integrating the Technique into their college, high school, and studio programs. Each Spring, GDC's "Jazz Dance/Science & Health" program teaches elementary school anatomy and nutrition through a dance-centric program in CPS science classrooms. In 2022 the program brought 250 classes to 350 students in four under-resourced schools, all taught by GDC dancers. With the leadership of Artistic Director Nan Giordano, Executive Director Michael McStraw, and GDC's dedicated Board of Directors, GDC is stronger than ever. For more information about GDC, visit giordanodance.org.
 
Giordano Dance Chicago is a 501(c)(3) not-for-profit corporation and is not affiliated with the Gus Giordano Dance School in Andersonville or the Gus Giordano Jazz Legacy Foundation.