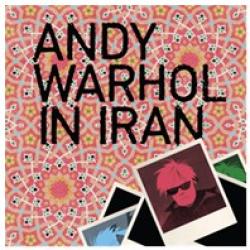 **** Recommended **** Northlight Theatre's production of Andy Warhol in Iran is an entertaining and intriguing little gem of a play which packed a ton of history into a short time.  Against an elegant hotel room set, Rob Lindley totally nailed Andy Warhol; while Namid Dehghani was convincing as a reluctant revolutionary.  This play is a must-see.  4 Spotlights
Since I'd never paid much attention to Andy Warhol, I didn't know he'd actually gone to Iran.  If I thought about him at all, it was as a shallow, vain individual who was just as successful in business as he was in art.  He brought in enough income that he was able to support a magazine, Interview, and 20 employees in his studio, The Factory.  His portraits of famous people, which he paints from Polaroid photos.   
In this play, his portraits have come to the attention of the Empress of Iran, Farah Pahlevi, and he's been invited to Teheran to take Polaroids of the Empress.  He's been waiting for the invitation to the palace for several days.  Because he can't take the heat, he's been staying in his hotel room ordering caviar from room service (at $10 an order). 
The room service waiter, Farhad, turns out to be a terrorist with a gun who announced that he and his group want to kidnap Warhol because he's world famous.  They apparently think they can use him to draw the world's attention to the horrors perpetrated by the Shah's secret police. 
Although Warhol is understandably upset, he handled the situation fairly well, trying to reason with Farhad who can't understand what he means when he says he's not interested in 'politics'.  Farhad insists that the world should know about ordinary Iranians being tortured and murdered by the secret police and that has nothing to do with 'politics'. 
When Warhol learns that Farhad went to school in America – and that he was a literature major, they begin to form a connection.  In the end, Farhad's friends with the car fail to show up, so Warhol decides to help him escape, providing one of his signature white wigs, a different jacket, and a pair of sunglasses.    
Over the course of 71 minutes, the viewer gets an overview of the tumultuous events in Iranian history during the last 50 years partly through images projected on the series of panels above the set   Those panels also display many of Warhol's famous paintings at appropriate times during the play. 
Note: Guests are encouraged but not required to wear masks while inside the building. 
Andy Warhol in Iran runs through February 19th at Northlight Theatre, North Shore Center for the Performing Arts in Skokie, 9501 Skokie Blvd, Skokie.  Parking is free.  Running time is 71 minutes, no intermission. 
Performances:
Wednesdays at 1:00 & 7:30 pm
Thursdays at 7:30 pm
Fridays at 8:00 pm
Saturdays at 2:30 and 8:00 pm
Sundays at 2:30
Accessible performances:
Open Captioned/ASL Interpreted performance, Friday, February 10th at 8:00pm. 
Open Captioned/Audio Described/Touch Tour performance, Saturday, February 11th at 2:30pm.
Tickets range from $30-$89.  FYI (847) 673-6300 or www.northlight.org.