The Northwestern Indiana Regional Planning Commission is a proud partner of the new Northwest Indiana Solar and EV Charger Co-op, through Solar United Neighbors. NIRPC invites you to learn more about the co-op, Solar United Neighbors, and the growing options for solar energy in Northwest Indiana. 
Learn more about the Northwest Solar and EV Charger Co-op program at https://coops.solarunitedneighbors.org/coops/northwest-indiana-solar-and-ev-charger-co-op/
NIRPC is promoting Solar United Neighbors efforts in the region as part of ongoing implementation of strategies adopted in NIRPC's NWI 2050 regional long-range plan (https://nirpc.org/2040-plan/mobility/2050-plan/ ). This project supports a strategy to amplify the efforts of local solar energy advocates to increase implementation of solar solutions—a key strategy for cleaner air and energy in Northwest Indiana.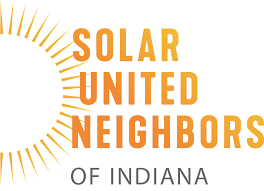 Solar United Neighbors prides itself as "a non-profit organization that helps people go solar, join together, and fight for their energy rights. We are an organization dedicated to representing the needs and interests of solar homeowners and supporters. Together we are building a modern, clean energy system with rooftop solar as the cornerstone." 
Learn more about Solar United Neighbors at www.solarunitedneighbors.org