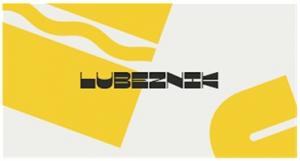 Lubeznik Center for the Arts's (LCA) Marketing Coordinator, Kyle Murphey, passes the baton to Katelyn Marciniak. After nearly four years, Murphey leaves to focus full-time as co-owner and Creative Director at his media company—Crosscurrent. A Northwest Indiana creative agency specializing in corporate/organization storytelling through content creation, design, and advertising strategy, Crosscurrent will continue to play a crucial role in LCA's creative video content, including its virtual tours.
"It's hard to express how grateful I am to my LCA colleagues," says Murphey. "My time here has been invaluable to both my personal and professional growth. I've been part of such a fantastic team of creative and caring individuals. Everyone has made me feel welcome, accepted, and appreciated," he says, adding, "Love you all!"
"Kyle's departure is bittersweet," says Executive Director, Janet Bloch. He's been an integral and valued part of our team. We're also thrilled that Crosscurrent's cornerstone service is video production, so Kyle isn't getting rid of us just yet," laughed Bloch. "We're also excited to have Katelyn Marciniak join our team as LCA's new Marketing Coordinator."
"Katelyn brings cutting-edge social media knowledge to LCA," says Bloch. "She will increase awareness of LCA's mission and community impact and oversee our social media and website presence."
Join LCA in wishing them both success in their new roles.
LCA Media Contacts:
Dee Cook, Marketing Director
Katelyn Marciniak, Marketing Coordinator
Lubeznik Center for the Arts (LCA) is a 501(c)(3) non-profit organization that provides access to compelling exhibitions and to programs that explore contemporary ideas. LCA is located at 101 W. 2nd Street, at the lakefront, in Michigan City, Indiana.
LCA HOURS
Monday: 10:00AM–5:00PM
Tuesday: Closed
Wednesday: 10:00AM–5:00PM
Thursday: 10:00AM–5:00PM
Friday: 10:00AM–5:00PM
Saturday & Sunday: 11:00AM–4:00PM
Admission is free year-round. For more information, please visit www.lubeznikcenter.org or call (219) 874-4900.