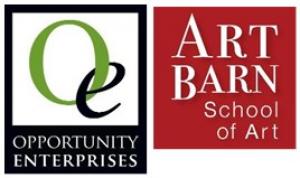 Weekly Art Classes Culminate in Exhibition
Art Barn is thrilled to partner with Opportunity Enterprises (OE), well established in the community for providing programs that serve adults with disabilities. The specialized art education program brings OE clients to Art Barn for weekly art education programs. 
OE offers five different educational curriculum-based programs for small groups of 4-10 people with a variety of educational modules including art, music, technology, cooking, science, reading, exercise, and opportunities to be social with friends. Art Barn provides art instruction for one of these modules. Our art education curriculum provides an engaging outlet for expression, allowing students to fully participate with a variety of materials and in the artistic process by adapting the materials to each student's specific needs. The course includes individual and group projects and is focused on the art process (rather than product) as a way of putting a spotlight on each individual's unique strengths and abilities. The program allows participants to express their creativity by providing visual and sensory stimulation, improving functional skills, and instilling pride. 
"Our partnership with Art Barn allowed us to offer three cohorts of classes to our clients. Some of our clients have participated in all three because they enjoy it so much," states Jodi Barnard, social services director for Opportunity Enterprises. "Art means so much to so many people, and for our clients to express themselves through art is just another way OE is living our mission of maximizing the self-sufficiency and enriching the lives of individuals with disabilities. Our hope is to continue and grow this partnership," Barnard states further.
The culmination of this program is an exhibition of work featuring OE student work.  The 4-week exhibition from October 1 through 30 will celebrate OE student accomplishments and show how they have used materials in the projects to express their own individual perspectives. A public reception for the clients and families as well as sponsoring organizations and supporters will be held October 15, 2021 from 6:00 to 8:00pm. Food and refreshments will be served and there will be a cash bar. Masks required for all individuals indoors regardless of vaccination status. The exhibition is generously sponsored by Porter County Community Foundation, Pat Crise and South Star Family Fund, in addition supported by the Indiana Arts Commission, South Shore Arts and in partnership with the National Endowment for the Arts.
Art Barn executive director Amy Davis Navardauskas states, "The goal of this partnership is to provide those who struggle with conventional communication a way to overcome physical limitations and achieve expression and connection. This program provides OE participants basic skills and methods to express themselves through art. Students can take pride in their work and have their abilities recognized by others. We look forward to celebrating the students' accomplishments on October 15."
Art Barn School of Art, housed in a century-old renovated barn, is dedicated to fostering the love of art for artists of all ages and abilities. Art Barn has a 40-year history and offers a full range of art education classes for children and adults as well as art exhibitions and cultural programs year-round. In the Spring, the Art Barn walls fill floor to ceiling with over 90 works during the annual Juried Art Exhibition.  Next spring will be the 28th year of this event which attracts artists from all around the region.  In September Art Barn hosts its annual outdoor Art Blitz festival which engages visitors with art exhibitions, interactive art-making, demonstrations and fun for the whole family.
About Opportunity Enterprises, Inc.
For more than 50 years, Opportunity Enterprises works to maximize the self-sufficiency and enrich the quality of life for individuals with disabilities. OE is in the business of amazing people serving nearly 1,500 people annually with disabilities in Northwest Indiana with over 350 staff and hundreds of volunteers. To learn more, schedule a tour, or volunteer – visit oppent.org.