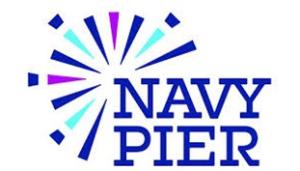 Navy Pier and Chicago Live! participating organizations proudly share the 2023 "Chicago Live! Community Engagement Program" starting Thursday, Sept. 7, through Sunday, Sept. 24. (Some weekdays are excluded; the full schedule can be found below.) The Chicago Live Community Engagement Program is an opportunity for Chicago neighborhoods to take part in free classes and workshops and to learn more about some of Chicago's best performing arts groups before watching them perform as part of Chicago Live! on Saturday, Sept. 23, and Sunday, Sept. 24, at Navy Pier.
"As we launch the Chicago Live! Community Engagement Program, we celebrate the power of connection, culture, and creativity. This free initiative embodies our commitment to bringing Chicago neighborhoods together, providing access to the arts, and fostering a sense of community," said Navy Pier President and CEO Marilynn Gardner. "We believe that when we engage with our diverse city, we enrich the lives of all who call Chicago home through the transformative power of the arts. Together, we'll create lasting memories and strengthen the bonds that make our city so vibrant and dynamic."
The return of the Chicago Live! Festival and Chicago Live! Community Engagement Programs are brought to life by the dedicated Navy Pier ACE team. Navy Pier's Arts, Culture, and Engagement (ACE) department embarked on its creative path in 2016, following the Pier's transition into an independent nonprofit organization. Each year, the Pier's ACE team orchestrates an astonishing array of nearly 300 free programs, tailored to ignite the spirits of families across Chicago. These experiences are crafted to captivate, educate, and entertain, promising unforgettable moments of shared joy and discovery. Among these captivating experiences is Navy Pier's signature event, 'Chicago Live!' – an annual performing arts extravaganza that unites the city's diverse talents and cultural richness, fostering connections and memories that resonate deeply.
Chicago Live! 2023 is presented by The Pritzker Foundation, with generous support from Fifth Third Bank and Peoples Gas.
Full Schedule: Chicago Live! Community Engagement Program
Note: Please contact each company directly for more details on the classes and registration. All activities, times, and dates are subject to change.
SUNDAY, SEPTEMBER 10, 2023
Group: Aerial Dance Chicago
Group: Joel Hall Dancers 
TUESDAY, SEPTEMBER 12, 2023 
Group: Hiplet Ballerinas 
FRIDAY, SEPTEMBER 15, 2023
Group: Chicago Samba
SATURDAY, SEPTEMBER 16, 2023
Group: Meher Dance Company
SUNDAY, SEPTEMBER 17, 2023
Group: Chicago Tap Theatre
Group: Lyric Opera of Chicago's Ryan Opera Center
Group: Remy Bumppo Theatre Company
WEDNESDAY, SEPTEMBER 20, 2023
Group: The Chicago High School for the Arts
FRIDAY, SEPTEMBER 22, 2023
Group: Chicago Children's Theatre
Group: Danceworks Chicago Dancebytes
SUNDAY, SEPTEMBER 24, 2023 
Group: Culture Shock Chicago
About Navy Pier:
Located on Lake Michigan, Navy Pier is the top nonprofit tourism destination in the Midwest, stretching more than six city blocks and typically welcoming nearly 9 million annual guests. Originally opened in 1916 as a shipping and recreation facility, this Chicago landmark showcases more than 50 acres of parks, restaurants, attractions, retail shops, sightseeing and dining cruise boats, exposition facilities and more. The Pier celebrated its 100th anniversary in 2016 with the unveiling of the iconic Centennial Wheel, Polk Bros Park, Fifth Third Bank Family Pavilion and Peoples Energy Welcome Pavilion. In 2021, Navy Pier continued to usher in its second century with ongoing Pier-wide redevelopment efforts—including Sable, a 223-room Hilton hotel, new restaurants and partnerships, and thrilling additions to Pier Park. The Pier is also proud to continue providing free, year-round arts and cultural programming designed to inspire, educate and connect communities across the city and globe. Click here to donate to Navy Pier, a mission-driven 501(c)(3) organization, in support of the organization's post-pandemic revival and free public programming. For more information, visit www.navypier.org.