New multi-agency research partnership to benefit Indiana's wildlife and wild places
The Indiana Cooperative Fish and Wildlife Research Unit, or CRU, that Purdue will host, brings together the U.S. Geological Survey, U.S. Fish and Wildlife Service, Purdue University, the DNR, and the Wildlife Management Institute.
Its focus will be on delivering actionable science addressing fish, wildlife, plants, and other natural resources in Indiana and beyond, including the connection between the health of wildlife and the health of people.
Do you know a kid who loves hunting?
DNR has two upcoming opportunities to help young Hoosiers get outdoors and hunt.
Youth deer season: Sept. 23-24
Free Hunting Days: Nov. 25-26
Last free fishing day of the year is Sept. 23
Indiana residents do not need a fishing license or a trout/salmon stamp to fish the state's public waters on Free Fishing Days. All other rules such as seasons, bag, and size limits apply.
Free Fishing Days are an excellent opportunity to learn how to fish, take your family fishing, or introduce a friend to fishing.
Indiana Archaeology Month starts Sept. 1
September marks the 28th annual statewide celebration of Archaeology Month, an opportunity for all ages to learn about archaeology in Indiana.
Hoosier history buffs can meet archaeologists and learn about the state's past at events held by universities, museums and other organizations and individuals throughout Indiana. 
Outdoor Indiana article wins national award
An article from Outdoor Indiana magazine, the DNR's bi-monthly magazine, won a national communications award for work done in 2022 at the Association for Conservation Information (ACI) awards program last month in Nevada. 
"Indiana's French Connection," which ran in the July/August 2022 issue, details the Hoosier state's often-overlooked deep French roots and its work with the multi-state French Heritage Corridor initiative to promote them.
Written by managing editor Marty Benson, designed by Erin Hiatt, and photographed by photo editor Brent Drinkut and his retired predecessor, Frank Oliver, the article won for "Magazine: Destination, Historical or Cultural Article," the third time Outdoor Indiana has won in that category.
To subscribe to Outdoor Indiana, visit ShopINStateParks.com.
Join us for a special hike at Portland Arch Nature Preserve
We are holding a special hike on Oct. 21 at 10 a.m. to celebrate Portland Arch's 50 years of recognition as a National Natural Landmark
Portland Arch was added to the National Natural Landmark program in 1973 in recognition of its natural bridge, which was created as a small tributary stream carved an opening through its massive Mansfield sandstone formation. Bear Creek flows through its deep ravine, and the high rock walls add to the beauty of the site.
Reserved hunt applications now open 
Hunters can apply for a variety of reserved hunts by visiting on.IN.gov/reservedhunt.
The online method is the only way to apply for the hunts. No late entries will be accepted. Applicants must possess a hunting license that is valid for the hunt for which they are applying.
Applications must be submitted by 11:59 p.m. Sept. 24: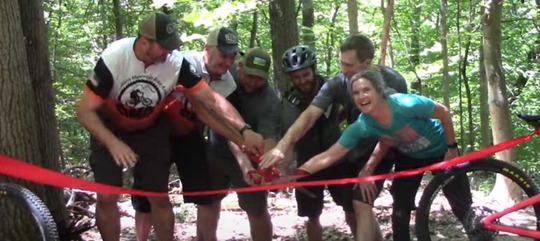 SIMBA members officially opening the trail
New mountain biking trail opens at Versailles State Park
The DNR and the Southeast Indiana Mountain Bike Association (SIMBA) recently announced the opening of a new mountain bike trail at Versailles State Park.
The trail was constructed by SIMBA, with help from a $200,000 Next Level Trails (NLT) grant. 
The recently opened Potato Peeler Trail is a 5-mile loop west of the existing mountain bike trails at the park, between Finks Road and Hassmer Hill Road. It is the second of two trails at the park constructed with NLT funds. The first opened in July 2022, connecting the town of Versailles to the Busching Bridge and the park entrance.
Researchers discover young hellbender in Blue River
Biologists recently documented a very young hellbender salamander, a gilled larva, in the Blue River while conducting routine surveys in south-central Indiana.
This discovery is significant because over the past three to four decades, only adult hellbenders have been documented in the Blue River. The presence of a young salamander suggests that conservation efforts and rearing programs are accomplishing their goals for the recovery of this endangered species.
The hellbender is a large, fully aquatic salamander. Their decline statewide has been documented as far back as the early-to-mid 1900s as a result of habitat loss and poor water quality. Hellbenders play an important role in aquatic ecosystems and are indicators of clean water.
Public lands celebration for everyone, Sept. 23-24
A special weekend for outdoor enthusiasts is coming up. Sept. 23-24 celebrates National Public Lands Day (NPLD) and National Hunting and Fishing Day. 
NPLD is a day to show you care for public lands through volunteer action. Join a group at one of the many organized volunteer events or take some time to relax and pick up trash at your favorite site with family and friends while protecting wildlife and natural resources.
You can enjoy free entry to Indiana State Parks, State Recreation Areas, State Forests, and Fish & Wildlife Areas on Sunday, Sept. 24.
Looking for a property to visit? Check out our property list. We know public lands are meaningful to you, and we invite you to show your appreciation during this weekend. Visit the DNR events calendar and our volunteer page to learn more about opportunities near you.
Field trip grant program benefits more than 3,400 Hoosier students
Students at 44 Indiana K-12 schools will experience the outdoors this school year thanks in part to a grant program that supports field trips to Indiana State Park properties.
The Discover the Outdoors Field Trip Grant Program is available for all K-12 schools. It is administered through the Indiana Natural Resources Foundation (INRF).
On their field trips, students will participate in a guided hike or talk with an interpretive naturalist at a designated property to learn about Indiana's fish, forests, wildlife, natural habitats, and conservation.
Fall fishing
You don't have to put away your rods and reels when fall begins. Fish are still active and biting. In the early fall, you can cast your lines out in the morning and evening, while in late fall, you can fish in the afternoon and early evening when the water is warmest. Some of our favorite fall catches are muskie, crappie, trout, salmon, bluegill, and catfish.
Enjoy the changing season by the water and check out our online guide for getting the best bites this fall.
Early migratory bird hunting seasons for 2023-24
As summer turns to fall, DNR wants to remind you that your favorite seasons are returning soon. Several migratory bird hunting seasons open in September, including mourning dove, snipe, sora rail, teal, and geese. 
A valid hunting license is required to hunt migratory game birds and waterfowl. In addition, HIP registration, Indiana Game Bird, Indiana Migratory Waterfowl stamp privileges, and/or a federal duck stamp may also be required, depending on species hunted.
Become an Archer's Index volunteer
The Archer's Index uses your quiet hours spent sitting in the field to capture valuable data for wildlife management. You can volunteer to record wildlife seen while bowhunting from Oct. 1 to Nov. 17, the day before deer firearms season opens.
After signing up online, you will be mailed a packet with forms and instructions on how to participate.
New issue of Outdoor Indiana features Fox Lake
The new Outdoor Indiana features a cover article on Fox Lake, which was once a Green-Book destination in Steuben County and still thrives. Also featured are articles on Redbird Off-road State Recreation Area and dove hunting.
Read excerpts at OutdoorIndiana.org, and subscribe today.
The Foundation celebrates and preserves Indiana's natural legacy by raising funds to support the Indiana Department of Natural Resources and its programs.