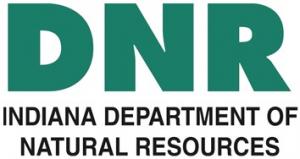 Free Fishing Weekend, June 5-6
Spend the weekend of June 5-6 on the water with family and friends. On Free Fishing Days, Indiana residents do not need a fishing license or trout/salmon stamp to fish the state's public waters. Check the DNR Calendar for fishing events happening near you.
Free Fishing Days are an excellent opportunity to learn how to fish, take your family fishing, or introduce a friend to fishing. To see what properties are hosting events, go to the DNR Calendar. Prefer to learn on your own? See Fishing Tips and Videos.
Want to hit the water, but don't have a boat?
Rent one. You can find outfitters along rivers and lakes around the state. Several DNR properties offer rental opportunities, including Potato Creek State Park, Monroe Lake, and Deam Lake, to name a few. Connecting with family and friends on a boat is a great way to disconnect from the worries of the day. Don't forget your life jacket and fishing pole - you just might catch some fish, some sunshine, and some memories.
Attention Father's Day Shoppers
Dad wants Outdoor Indiana magazine. Buy him a gift subscription or get one for yourself at shopINstateparks.com. View excerpts of the May-June issue at OutdoorIndiana.org.  
Most pools at state parks to open; lifeguards still needed at others
Get ready to cool off, Hoosiers. Most public swimming pools located in Indiana State Parks will open this weekend, as will all DNR swimming beaches.
Pools opening as scheduled are at Clifty Falls, McCormick's Creek, O'Bannon Woods, Shakamak, and Versailles state parks, and at Cagles Mill Lake (Lieber State Recreation Area). In addition, the beach at Indiana Dunes State Park will open on Saturday with lifeguards on duty.
Cicadas: Be ready but fear not
Brood X cicadas are beginning to emerge.
This fascinating phenomenon is normal. And even though cicadas look gruesome, will be loud and plentiful, and can damage some young trees, they are essentially harmless.
Currently, there are 12 different broods of 17-year periodical cicadas consisting of three different species. Each brood is designated by a Roman numeral. This is the year of Brood X. Brood X covers 15 states. Indiana is also home to two annual cicada species that emerge May through August and peak in July.
Brood X nymphs will emerge when the soil temperatures about 8 inches underground reach 65 degrees. A warm rain will often proceed large-scale emergence.
Spring Night Ride at Redbird SRA 
Enjoy 36 hours of off-road fun in the unique setting of Redbird SRA after dark. Trails open at 8 a.m. ET on Saturday, June 5, and close at dusk Sunday, June 6. Event cost is $25. Annual Motorized Trail Use permit holders receive a discounted fee of $15. 
Spring photos from around Indiana
Spring Mill State Park
Bridgeton Mill
Shakamak State Park
Photos taken by DNR photographer Frank Oliver. To view more photos, visit the DNR Instagram page.
New nature preserve
The Natural Resources Commission (NRC) approved the designation of Ginn Woods Nature Preserve in Delaware County. The action increases to 292 the number of state-designated sites protected by the Nature Preserves Act.
Ginn Woods Nature Preserve is an exceptional area of 161 acres that comprises the second-largest tract of protected old-growth forest in Indiana. The site supports a diversity of plants and animals that are uncommon in the fragmented landscape of east-central Indiana and is dominated by beech and maple. The site supports rich flora, including spring ephemerals and a variety of fern communities, and is owned by Ball State University.
Canada geese are flightless in late June
Each year, birds molt (shed) to replace damaged or lost feathers. Waterfowl are unusual in that they replace all their flight feathers at once, rendering them flightless as they grow their new feathers. Adult Canada geese molt in late June and early July, and during this time, they are unable to fly. If you or your community are conducting harassment techniques to dissuade Canada geese from using an area, it's best to stop during the flightless period as the geese are unable to fly away.

The common watersnake is a harmless, non-venomous species often found near bodies of water.
Reptile activity increases with summer heat
Warmer temperatures encourage Indiana's snakes, lizards, and turtles to become active. You're more likely to spot a gartersnake basking in your garden or a turtle crossing the road this time of year.
While some Hoosiers may not be thrilled to find a snake close to home, keep in mind that only four of Indiana's 32 snake species are venomous, and only one of those four is common – the Northern copperhead. All of Indiana's venomous snakes are not aggressive unless provoked. If you find a snake and are unsure of what it is, leave it be and give it space. Your odds of getting bitten greatly increase if you try to handle it. Learn more about Indiana's snakes.
Many of Indiana's turtles are also nesting this time of year, which means turtles you encounter crossing roads are likely females. Support wild populations by assisting these turtles with crossing the road when it's safe to do so. Always move a turtle to the side of the road it was heading towards; otherwise, it will likely just cross back.
Indiana K-9 program graduates nine teams
Indiana's K-9 program started in 1997 with a pilot program of two teams. Because of its effectiveness, the program grew to a team of 13 K-9 units throughout the state. At least one K-9 unit serves in each of the 10 Indiana DNR Law Enforcement districts.
The Indiana K-9 program is not only well respected in the Hoosier state, but also recognized as one of the top programs in the nation. In addition to the states represented in the graduation, Indiana has also helped start and train teams from natural resource agencies in Idaho, Kentucky, Maryland, and Oregon.
Endangered Stout goldenrod seeds
Protecting biodiversity at Outbrook Ravine Nature Preserve
Thanks to a grant awarded to the Indiana Natural Resources Foundation from the Sam Shine Foundation, the DNR Division of Nature Preserves is working to protect the rich biodiversity at Outbrook Ravine Nature Preserve, which is in Clark State Forest.
The grant directly addresses the current decline of key species such as the various oaks and Virginia pine native to southern Indiana. Many other species facing decline will also benefit, including the endangered Deam's penstemon and Stout goldenrod.
DNR seeks to fill Indiana Conservation Officer positions
The Indiana DNR Division of Law Enforcement is looking for highly motivated, outdoor-centered individuals to fill Indiana Conservation Officer positions across the state.
Anyone interested should first read "Become a Conservation Officer" at on.IN.gov/dnrlaw and complete the pre-screening test under the "Apply" link on that webpage. Successful completion of the pre-screening test is required to receive an application for the hiring process. The pre-screening test needs to be submitted by midnight June 10.
To be qualified to pass the pre-screening test, you must be a United States citizen and be 21 years old by Nov. 12, 2021. You also must be able to pass minimum Indiana Law Enforcement Academy physical fitness requirements listed at https://www.in.gov/ilea/2338.htm.
Elevation Certificates and Letters of Map Change
The DNR Division of Water will be discussing the Elevation Certificate and Letters of Map Change during a two-hour webinar on Tuesday, June 15 & 22 at 2 p.m. ET; Wednesday, June 16 & Thursday, June 24 at 9 a.m. ET.
This workshop will discuss the proper completion and review of the Elevation Certificate. We will also discuss the various Letter of Map Revision forms and when to use each of the forms. The workshop is open to all who wish to attend; however, surveyors and local floodplain administrators are strongly encouraged to attend. There is no fee for the webinar; however, registration is required to ensure you receive the materials. Register for the workshop.
The Foundation celebrates and preserves Indiana's natural legacy by raising funds to support the Indiana Department of Natural Resources and its programs.