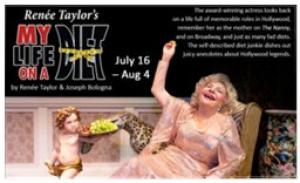 We learn a great deal about her mother, Frieda and her gambling father. How they had to move out of town late at night to avoid the bill collectors and her life as a girl who needed to lose weight. ALWAYS! We learn about her growing up and how her dad had a part in a movie once, and her work in theater was rare and not truly being the actress she had hoped to be. She dearly wanted to have the look of the star, posing on a fancy car ( which later in life she does get to do).
Here is a woman who , all of her life had a weight problem to go along with her "wait" problem. Waiting to become the actress that she knew was deep inside her, but not knowing how to get it out.
We learn about her studies to become a true actress and the people who were part of her life. Names like Marilyn Monroe, Jack Paar ( who gave her the break that made her what she has become, a comic performer), Perry Como, Lee Strassberg ( who she studied with ) , Jane Fonda ( a classmate) and the true love of her life, Joe Bologna, who also did the original direction prior to his passing away. I have a strong feeling that nothing has changed from that with the exception of the tears that fall from her eyes towards the end, are more plentiful today than back then.
The set is a room with a chair on one side and her desk on the other. She takes to the desk and between them, the screen where we witness some amazing photos of her past ( projections designed by Michael Redman) her childhood, her friends, Barbra Streisand, Jerry Lewis, Joan Crawford, Betty Grable and a host of others. Along her path of telling us her biography, we also learn about the diets she either tried or created for herself. Weight was always a problem, but the highlight was when she did Sylvia Fine ( on "The Nanny") where her character constantly ate and ate, which brought the house down. Being married to a woman who has done every diet program on the market ( and then some), I know how crazy this can be. Taylor makes it funny as well, and the
full house this opening night, composed of an audience from every background, race , religion, and culture , all had an evening that brought a smile to their faces and on the way out said, "I sure am hungry! Let's go for a piece of cake". Perhaps they will run into and meet Frieda,
"My Life on a Diet" will continue at the North Shore Center for the Performing Arts, located in Skokie thru August 4th with performances as follows:
Tuesdays  7:30 p.m.
Wednesdays  7:30 p.m.
Thursdays  7:30 p.m.
Fridays  8 p.m.
Saturdays  2 p.m. and 8 p.m.
Sundays  2 p.m.
Tickets range from $45-$92 and are available at the box office, by calling 847-673-6300 or online at www.NorthShoreCenter.org
Plenty of free parking.