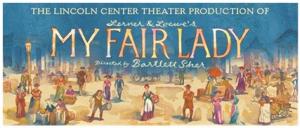 **** Recommended **** A luminous production of perennial favorite, My Fair Lady, is captivating Chicago audiences!   The Lincoln Center production features the golden-voiced Shereen Ahmed as Eliza Doolittle – and let me tell you, she shines!  Of course, My Fair Lady has possibly the most beautiful score ever written, so I can't think of a better evening.  4 Spotlights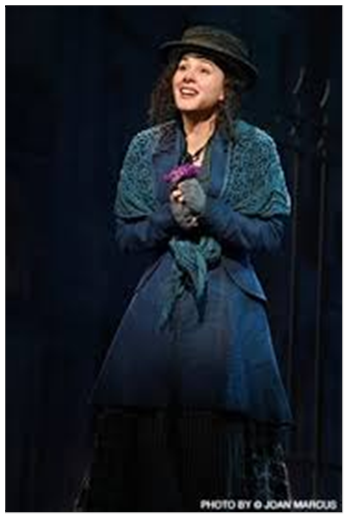 When Cockney flower girl, Eliza Doolittle (Ahmed) encounters Colonel Pickering (Kevin Pariseau) outside Covent Garden, her flowers end up trampled in the snow.  As she expresses her dismay, an arrogant Henry Higgins (Laird Macintosh) mocks her, announcing that she betrays her beginnings in every sound she utters. 
Ignoring Eliza completely, Higgins and Pickering discover that they are actually colleagues in linguistics.  After bragging that he could turn someone like her into a lady in six months, Higgins goes on to proclaim his superiority over the rest of the British public as he observes, Why Can't the English?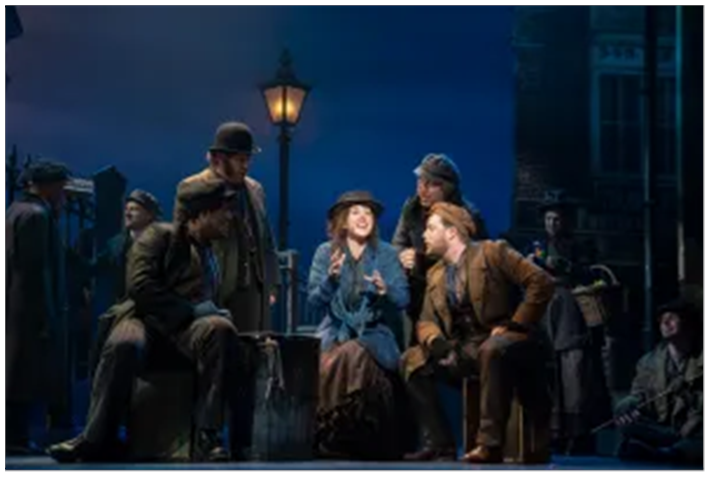 When Eliza shows up at Higgins home the next morning to announce that she's there for speech lessons – and she can pay – Higgins mocks her yet again.  It's only when he and Pickering make a wager that he changes his mind and guarantees that Eliza will be speaking like a lady in six months.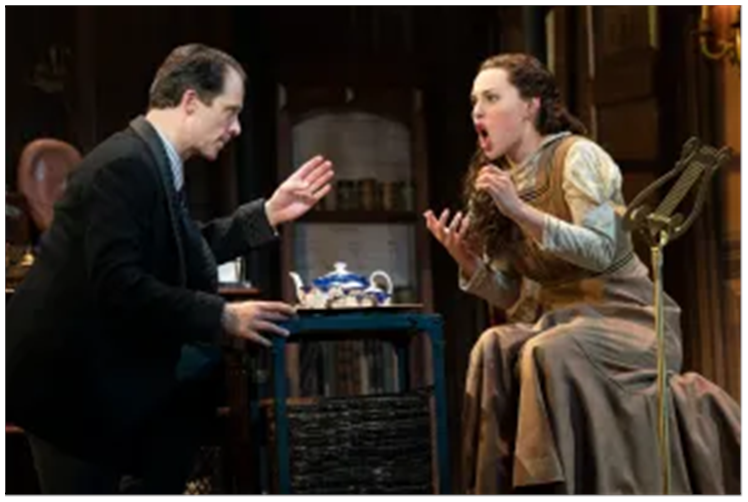 For the next several months, Higgins and Pickering badger the sleep-deprived Eliza until she has a mini-breakthrough.  When she can safely recite/sing The Rain in Spain, they buy her a dress – although they didn't bother to have her try it on first – and launch her into society. 
Since Henry's mother, Mrs. Higgins (Leslie Alexander), has a box at Ascot, they decide that's the place to try her out.  On Ascot Race Day, a favorite spot for the British Upper Crust to play, the entire ensemble, wearing their very, very best, shines with the very proper Ascot Gavotte.  As instructed, Eliza limits her conversation to approved topics, until she watches the first race.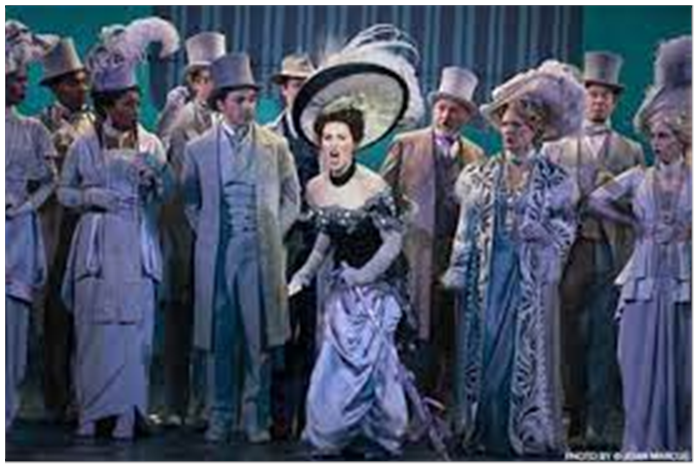 Freddy Eynsford-Hill (Bryce Pinkham) fell in love with Eliza at Ascot.  When Mrs. Pearce (Colleen Grate), Higgins' housekeeper, turns him away, he announces he's determined to wait outside Higgins' house, singing On the Street Where You Live.  
One of my favorite characters in My Fair Lady has to be Eliza's father, Alfred P. Doolittle (Martin Fisher).  When Alf and his mates are thrown out of their favorite pub, Alf hits up Eliza for some cash.  Eliza gives him a coin, which he and his mates regard as luck, proceeding into the tavern singing, With a Little Bit of Luck.  In the second act, he gets another huge production number, Get Me to the Church on Time.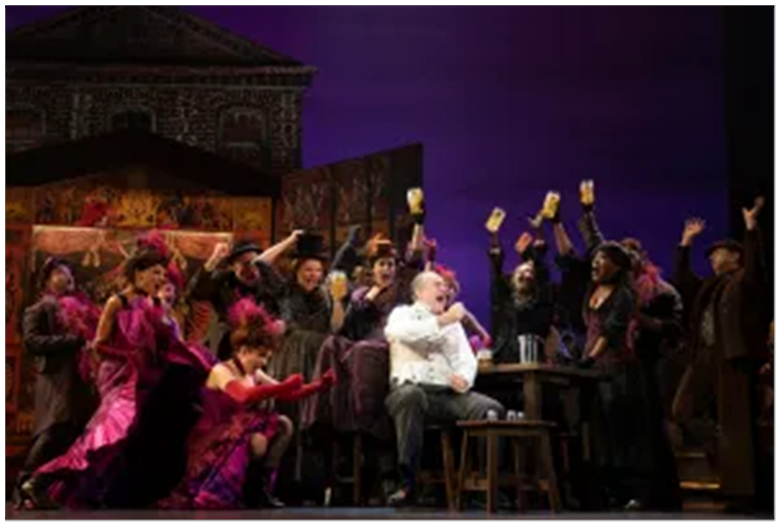 My Fair Lady has one of the most memorable scores of any Broadway musical, with glorious music in songs like I'm an Ordinary Man, Just You Wait, I Could Have Danced All Night, You Did It and I've Grown Accustomed to Her Face, all played by a full orchestra under the direction of John Bell. 
The costumes, designed by Catherine Zuber, were just plain gorgeous.  I was particularly fascinated by Michael Yeargan's set which featured a unique revolving centerpiece.  As the characters move from room to room in Higgins home, the set is turning.  Just wow!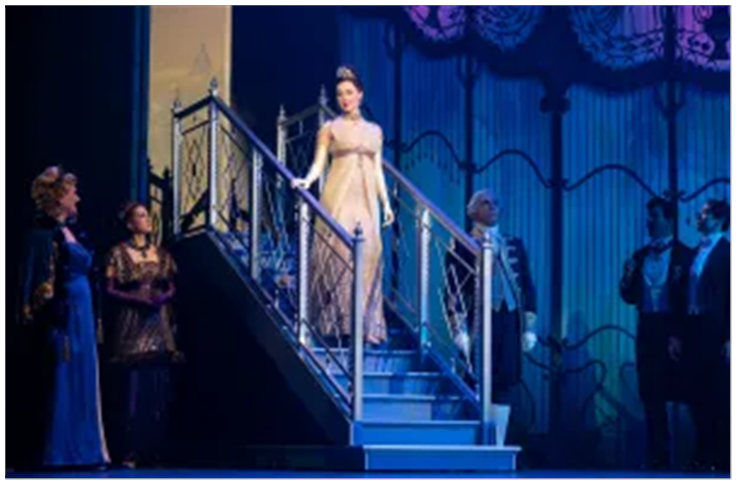 Guests are required to wear masks while inside the building.
Hurry and order your tickets for this must-see musical, My Fair Lady only runs through July 10th at the Cadillac
The Prom runs through May 14th at the Cadillac Palace Theatre, 151 W. Randolph Street, Chicago.  Running time is 2 hours, 25 minutes with an intermission.  Recommended for age 12 and up. 
Remaining performances are Wednesday, April 20th at 2:00 & 7:30 pm, Thursday, April 21st at 7:30 pm, Friday April 22nd at 7:30 pm, Saturday, April 23rd at 2;00 & 8:00 pm, Sunday, April 24th at 2:00 pm.  Tickets range from $31-$82.  FYI (800) 775- 2000 or www.BroadwayInChicago.com.