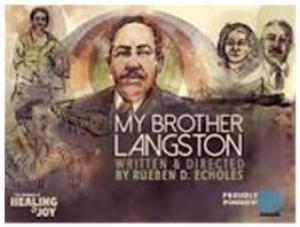 *** Recommended *** Black Ensemble Theatre's latest production, My Brother Langston is a play with music, a tribute to poet and civil rights leader, Langston Hughes, written and directed by Rueben Echoles.  Based on the title, I thought this would be a bio play about Hughes, but it's much more autobiographical, with Hughes (brilliantly portrayed by actor Chris Taylor) telling his own story.  The production struggles –his life story jumps willy-nilly from personal relationships to the Harlem Renaissance and back again, but the moments of his poetry shine brightly.  3 Spotlights  
The show opens in Hughes beloved Harlem – amid the Harlem Renaissance – with the cast singing Take the A-Train.  Although he lived and worked in Harlem as an adult, Hughes was not a native New Yorker.  The child of divorced parents, who truly hated one another, Hughes spent much of his childhood with his grandmother in Kansas.  She filled his head with stories of his activist relatives.  His father, an engineer, left the family and moved to Mexico, while his mother traveled looking for work. 
When his mother remarried, and moved to Cleveland, he gained a stepbrother, Gwyn, who insisted on becoming a part of Langston's life.  He wrote stories and poetry from childhood.  In high school, he added writing for the school newspaper to his resume.  After graduation, he went to Mexico to live with his father, who wanted him to go into engineering too.  Langston agreed to study engineering – if he could go to Columbia.  He did study engineering, but kept right on writing.   
I really enjoyed hearing Chris Taylor recite Langston Hughes' jazz poetry.  I never seem to make time to read poetry, but I loved hearing it read aloud.  13 of Hughes poems were included in this show including Dreams, Midwinter Blues, Harlem and I Sing the Body Electric. 
Reneisha Jenkins, De'Jah Jervai, André Teamer and Nolan Robinson play – and sing – all the other parts in this show. 
Although the Black Ensemble musicians are hiding behind a screen for this production, their influence is unmistakable.  They are: Adam Sherrod (Keys/Band Leader), Oscar Brown, Jr. (Guitar), Mark Miller (Bass) and Myron Cherry (Drums).
Note: Masks must be worn inside the building at all times. 
My Brother Langston runs through September 18th at Black Ensemble Theatre Cultural Center, 5540 N. Clark Street, Chicago.  Valet parking is available in the adjacent garage. 
Running time is approximately 90 minutes, no intermission.  Performances are Fridays at 7:00 pm, Saturdays at 3:00 & 7:00 pm, Sundays at 3:00 pm.  Tickets are $55.  FYI (773) 769-4451 or www.blackensemble.org.