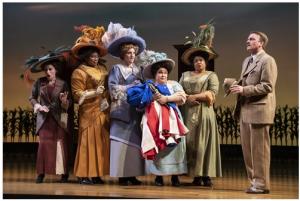 I have probably seen this show a dozen times. Each time with a different cast, on a different stage with different performers. Each time, I am seeing the same score and script, but due to the different cast and the imagination and creativity of a different director and choreographer, I always see something new and exciting. This is in fact, as I always say, the beauty of "live theater" over film. Film is always the same, year after year, every time one sees it, they see the same everything. While the film version is wonderful, the stage version is always just a little bit better. Yes, folks, even if you do not have the best match for the leads, the ensemble, if solid and highly energetic, can propel the show to a standing ovation every night.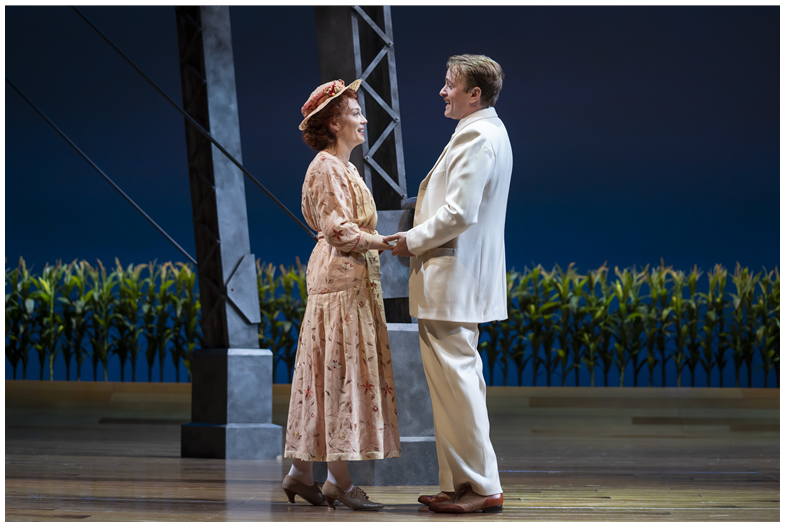 Having said this, let me talk about Mary Zimmerman's production that is now at The Goodman. It is a solid production that is cast almost to perfection. While Geoff Packard is agile and has a nice voice, he is not as powerful as Harold Hill should be. I never felt the "con-man" that Hill a/k/a/ "Greg" should be. Monica West is a strong Marion Paroo, the librarian /music teacher that he falls in love with, I never truly saw the chemistry happen on the stage. The script tells us that they do fall for each other, but I never felt it.
On the other hand, this ensemble of players is so solid, they overcome this little problem and give this show the energy and power that allows us to go back in time , when the world was a better place and hope and dreams can come true.
For those who are unfamiliar with the story. It al takes place in Iowa, when a con-man gets off the train in River City to sell the town on having a boy's band. He knows nothing about music or bands, but does know how to sell the instruments, the lessons, the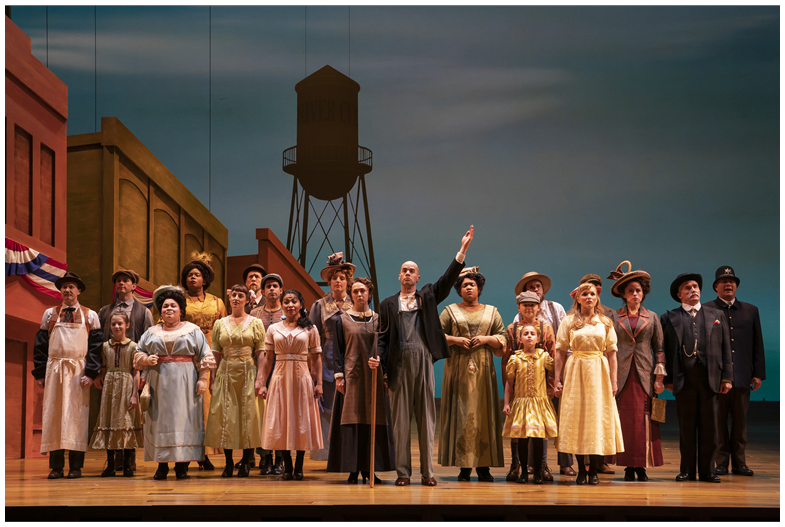 uniforms and the hopes and dreams. Of course, he is suspected of evil by the mayor ( a solid job by Chicago favorite Ron E. Rains) who has his four "school board" men try to find the goods on him. These men continue to try to find the goods on him, but thru his ability, he convinces them they are a barbershop quartet and they continue to harmonize, while he escapes. A tip of the "boater" straw hat to Christopher Kale Jones, James Konicek,Jeremy Peter Johnson and Jonathan Schwart. They also play roles on the opening number "Rock Island"/"Gotta Know The Territory". In this number, for the first time, there was a woman salesperson ( ah, modern times) played with great style by Bri Sudia and the anvil salesman, Charlie Cowell, who has the "goods" on Harold Hill. This character also comes into the rest of the play later and Matt Crowle is a sensational ham who takes this small role to new heights. You have got to love this man ( the actor), and hate the character.
The mayor's wife is handled to perfection by Heidi Kettenring who has become a solid "character " actress. Yes, she makes this role special and knee slapping. The other ladies, known as the "pick-a-little ladies, Bri Sudia ( a second character), Nicole Michelle Haskins, Lillian Castillo ( who is a stitch), Danielle Davis are amazingly as they handle the tongue twisters created by Willson ( along with Ms Kettenring, of course) show just how powerful this cast is.
Ethel's ( Castillo) boyfriend Marcellus is played by  Chicago favorite Jonathan Butler-Duplessis and Mrs. Paroo ( Marion's mother) is played by the always perfect Mary Ernster. I told you that this was a solid cast. Winthrop, Marion's troubled little brother is played by Carter Graf, who at first seemed a bit taller and older than I recall ever seeing before, but he was dynamite and did a great job with the lyrics of "Gary Indiana" with all the lisping right on.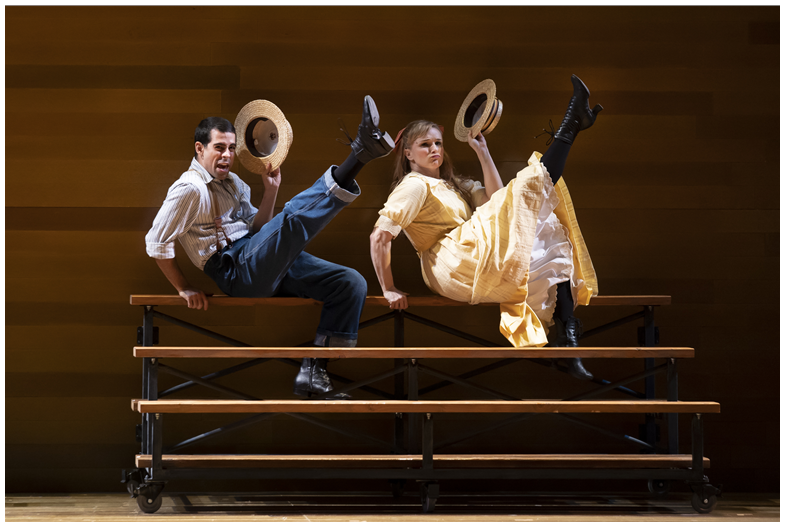 The ensemble members playing multiple roles are: George Andrew Wolff, Matt Casey, Laura Savage, Sophie Ackerman,Tommy Rivera-Vega ( as Tommy who loves the Mayor's daughter), Milla Liss and Kelly Felthaus as the daughter. plus, Cooper Carlisle, Matt Casey, Alejandro Fonseca, Anya Haverfield, Zach Porter, Ayana Strutz and Adrienne Velasco-Storrs as townspeople.
The orchestra was conducted by Jermaine Hill ( also at the piano). and the choreography was done by Denis Jones ( some new twists). On the tech side, the set (Daniel Ostling) is fairly simple, but practical and allows for the pace of the show to run smoothly. This is an older musical so two hours and twenty-five minutes is the running time, yet, it never seems slow. Ana Kuzmanic's costumes are a delight and as always, at the Goodman, the sound ( Ray Nardelli) and lighting (T.J. Gerckens) is perfect.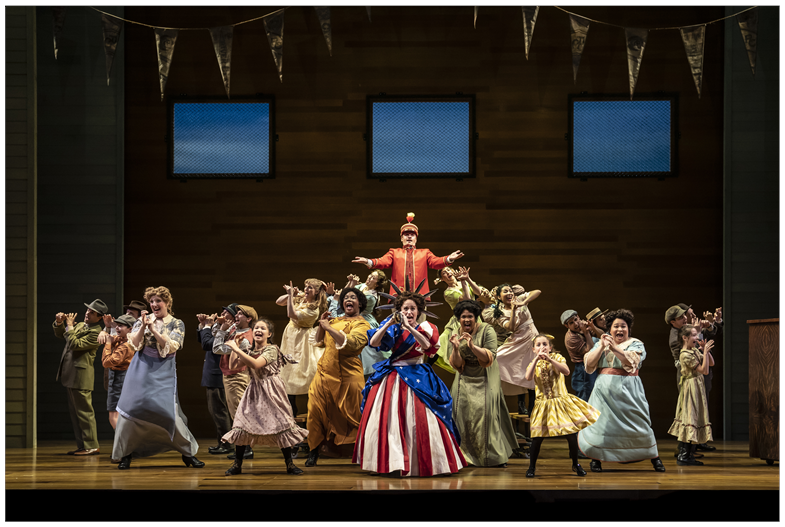 "Music Man" is an "oldie, but goodie" musical that has heart and story and may in fact be Willson's tribute to his home state. There are conflicting stories out there, but I for one think it may in fact be his story. There is a love story in this musical as well. The librarian ( the number in the library is very special) who is a spinster and the travelling salesman, a loner, find each other are save a sleepy town. You can get to see this special production through August 18th ( EXTENDED)at The Goodman Theatre located at 170 N. Dearborn with performances as follows:
Tuesdays- July 16th and August 6th at 7:30 p.m.
Wednesdays  7:30 p.m.
Thursdays  2 p.m. and 7:30 p.m. (no matinée on 8/1 or 8/8)
Fridays  8 p.m.
Saturdays  2 p.m. and 8 p.m.
Sundays  2 p.m. and 7:30 p.m. ( no evening on 7/21 or 8/4)
EVENTS and accessibility performances are available at www.GoodmanTheatre.org/Access andwww.GodmanTheatre.org
Tickets range from $25-$142 and can be purchased at the box office, by calling 312-443-3800 or online at www.GoodmanTheatre.org/musicman