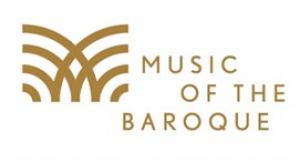 Renowned early music specialist John Butt conducts the Music of the Baroque Orchestra for the first time in two performances of "Vivaldi & Friends." Concerts take place 7:30 p.m., Oct. 17, at the North Shore Center for the Performing Arts in Skokie and 7:30 p.m., Oct. 18, at the Harris Theater in Millennium Park. The Guardian says of Butt, "it's not just how he handles tempo and gait to make us feel the character of individual movements, but how he turns corners and paces the big picture."
On the cutting edge of eighteenth-century trends, Antonio Vivaldi is regarded as one of the greatest composers of the Baroque era. "Vivaldi & Friends" traces Vivaldi's accomplishments along with those he inspired—and composers who inspired him, too.
Says Butt, "This program shows us something of the birth of the modern concerto, which profiles one or more soloists in a dazzling dialogue of gesture, mood and sheer exuberance. It was Vivaldi who most clearly showed that concertos could profile a broad variety of instruments, while his older contemporary Corelli worked on the harmonious interaction of soloists and orchestra. Bach took all these concerto elements even further and, via his sons, stood in the direct line that led towards the familiar concerto styles of the great classical composers. But this program is hardly just a history lesson: it seeks to show off the wonderful talents of the musicians in Music of the Baroque—how they work as superb soloists on a variety of instruments but also join together to make music together with expertise and joy.
Featured works include:
• Arcangelo Corelli (1653 - 1713) Concerto Grosso in F major, op. 6, no. 6.
While Vivaldi is often credited with "inventing" the concerto, it was Corelli who paved the way, composing and publishing a significant collection of "grand concertos" that swept through Europe and ultimately prompted some of the greatest instrumental compositions of the Baroque era. Vivaldi—like Corelli, a distinguished Italian violinist and accomplished composer—was well aware of his older colleague's significance.  
• Antonio Vivaldi (1678 - 1741) Bassoon Concerto in C major, RV 472
As influential as his fellow musicians were the people for whom Vivaldi composed. Many of his works were intended for young women who lived at the Ospedale della Pietà, a school for orphaned girls who received an excellent musical education at a time when such opportunities were scarce for females.
• Johann Sebastian Bach (1685-1750) Orchestral Suite No. 1 in C major, BWV 1066
Vivaldi had a significant impact on Bach, who transcribed at least nine of Vivaldi's concertos. One of Bach's most well-known orchestral compositions, the Orchestral Suite No. 1 boasts a distinctly Italianate flair.  
• Tomaso Giovanni Albinoni (1671-1751) Oboe Concerto in D minor, op. 9, no. 2
In spite of Vivaldi's prowess with a variety of musical instruments, it was his contemporary and fellow Venetian, Tomaso Albinoni, who composed the first Italian oboe concerto.
Tickets
"Vivaldi & Friends" will be performed at 7:30 p.m. Sunday, Oct. 17 at the North Shore Center in Skokie, 9501 Skokie Blvd. (www,northshorecenter.org) and 7:30 p.m. Monday, Oct. 18 at the Harris Theater in Millennium Park, 205 E. Randolph Dr.(www.harristheaterchicago.org).
Individual concert tickets are $25-$95 and are available at www.baroque.org or by calling 312.551.1414. Discounts for groups, students and seniors are available.
New for this season: Students are able to attend any of Music of the Baroque's seven performances at the Harris Theater during the 2021-2022 season free of charge. Students can reserve up to two complimentary tickets per valid student ID by visiting www.baroque.org or calling 312.551.1414. Student tickets will also be available at the Harris Theater box office starting two hours prior to the performance.
About Music of the Baroque
Under the direction of internationally acclaimed British conductor Dame Jane Glover, Music of the Baroque occupies a special place in the rich cultural life of Chicago. Long recognized as one of the region's top classical groups, Music of the Baroque's professional chorus and orchestra is one of the leading ensembles in the country devoted to the performance of eighteenth-century works.
Over the past five decades, Music of the Baroque has presented premiere performances of many early masterpieces, including Monteverdi's operas and 1610 Vespers, Georg Philipp Telemann's "Day of Judgment," Mozart's "Idomeneo," and numerous Handel operas and oratorios. The ensemble has drawn particular praise throughout its history for its performances of the major choral and orchestral works of J. S. Bach and Handel, Mozart, and Haydn. Opera News calls Music of the Baroque "one of Chicago's musical glories" and the Chicago Sun-Times writes, "Lyric Opera of Chicago and the Chicago Symphony Orchestra may be the big guys on the local classical music scene, but in terms of sheer quality of performance…Music of the Baroque inhabits the same stratosphere."
Music of the Baroque draws audiences from across the Chicago metropolitan area, performing regularly at the Harris Theater in Millennium Park in downtown Chicago and the North Shore Center for the Performing Arts in Skokie, as well as at intimate Chicago and suburban churches. Listeners across the country enjoy the work of Music of the Baroque through radio broadcasts and recordings on 98.7WFMT Radio.
Through its "Strong Voices" program, Music of the Baroque conducts arts education to support and enhance music education programs at Chicago public high schools. Music of the Baroque is a 501(c)(3) non-profit. For more information about Music of Baroque visit www.baroque.org.
Biographies
John Butt (conductor) is an English orchestral and choral conductor, organist, harpsichordist and scholar. He is founder and director of Scotland's Dunedin Consort and is known for his innovation and instrumental virtuosity. Butt holds the Gardiner Chair of Music at the University of Glasgow and as music director of the Dunedin Consort, has made award-winning recordings in historically informed performance. Honors and awards include the Officer of the Order of the British Empire (OBE), Fellow of the Royal Society of Edinburgh (FRSE) and Fellow of the British Academy (FBA). Butt has written several books, including "Bach Interpretation" and "Music Education and the Art of Performance in the German Baroque." His "Playing With History," examining historic performance practices, was shortlisted for the book prize of the British Academy in 2003.