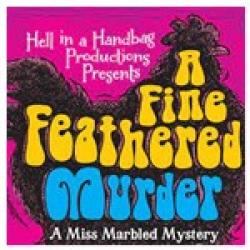 **** Highly Recommended **** Hell in a Handbag is one of my favorite Chicago theater companies.  Their unauthorized parodies of old black and white films and TV shows from the fifties are always packed with double entendres, puns, running sight gags and bad wigs.  Since I love Agatha Christie's mysteries featuring Miss Marple, I was thrilled to see their latest effort, A Fine Feathered Murder featuring the always delightful Ed Jones as Miss Jane Marbled.  Playwright – and incredibly stylish Lady Violetta Fowler – David Cerda has written another hilarious tongue-in-cheek farce.  Be prepared for murder, mayhem and a lot of laughs.   4 BIG Spotlights
Lady Violetta Fowler (David Cerda) has invited her dear friend, Miss Jane Marbled (Ed Jones) and her niece Vivian Birdsong (Caitlin Jackson – with the role beautifully played by understudy Kelly Bolton on the day I attended) to the annual Fine Feathered Ball at the Fowler Estate, the largest poultry farm in England. 
At afternoon tea, while Miss Marbled and Lady Violetta catch up, Vivian does a bit of bragging to the Dowager Countess Edith Fowler (Danne W. Taylor), Charles Fowler (Tyler Anthony Smith), the Fowler son and heir, and some of the other guests.  Although quick to deny a connection to that 'mystery writer's character', she boasts that Miss Marbled is the best in the land at solving murders. 
Lady Violetta's husband, Lord Reginald Fowler (Shane Roberie), who is hosting the annual event beloved by the leaders of the poultry industry, scoffs before going off to his study to practice his speech. 
Meanwhile, the butler, Garson (Michael Rashid), Gerda (Sydney Genco), the maid, and Mrs Hawk, the cook, are preparing for the ball. 
That evening, the guests, wearing their most elegant yet feathered evening clothes, assemble for the ball.  The guests include:
Nigel Brewster (Michael Hampton), a rather pompous blowhard full of his own importance, and his sister, Millicent Lark (Elizabeth Rude)
Chick (Nicky Mendelsohn), a man who's worked with poultry so long he thinks he might be a chicken – and definitely acts like it – and his wife, Prudence Peck
Mrs. Treasure Abundance, the glamour queen of British poultry, and her surprise for the industry, a human-sized chicken on a leash (Lolly Extract)
Lord Reginald and Lady Violetta, in a gorgeous peacock ensemble, welcome their guests, he gives his welcoming speech and they open the ball.  The first dance is, of course, the Chicken Dance, done completely deadpan by the entire cast!
After insulting his wife and son, and offending his guests, Lord Reginald is murdered!  Inspector Byrd (Shane Roberie) and Constable Timothy Hatcher (Ben Stacy) interrogate the guests, but Miss Marbled solved the murder. 
I can't say enough about David Cerda's attention to fowl detail!  He used every chicken joke I've ever heard – and a few that I hadn't.  The character names are almost all bird-related while the characters themselves were eccentric enough to fit into a British murder mystery.  Two mannequins in evening dresses stood off to the side of the ballroom.  At one point, the Dowager wandered over and had a conversation with them!
Kudos to Costume Designers Beth Laske-Miller and Bill Morey.  While all the period costumes were gorgeous, the evening dresses were absolutely gorgeous.  By the way, everyone wore feathers, even the servants.   Kudos to Jabberwocky Marionettes who designed the human-sized chicken which drew so much attention at the ball.  In fact, Kudos to the entire cast and crew, A Fine Feathered Murder was so much fun! 
Note: Guests must show proof of vaccination with photo ID before entering the theater.  Guests are required to wear masks while inside the building.
Hell in a Handbag's production of A Fine Feathered Murder runs through August 13th at the Chopin Upstairs Theatre, 1543 W. Division Street, Chicago.  Free parking is available at Holy Trinity Church, Division & Noble, one block east. Some street parking is also available.  Running time is approximately 2 hours with an intermission. 
Performances are Thursdays, Fridays and Saturdays at 7:30 pm, Sundays at 3:00 pm.  Adults only, please.  Tickets are $42 in advance, $45 at the door, $62 VIP/reserved seating with drink ticket.  FYI  buytickets.at/hellinahandbagproductions.