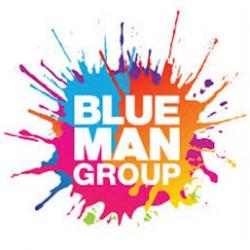 American indie pop trio AJR has debuted their latest music video for "Ordinaryish People," featuring an original composition and appearance by Blue Man Group. Watch it now at https://youtu.be/CkbVu39hTT0.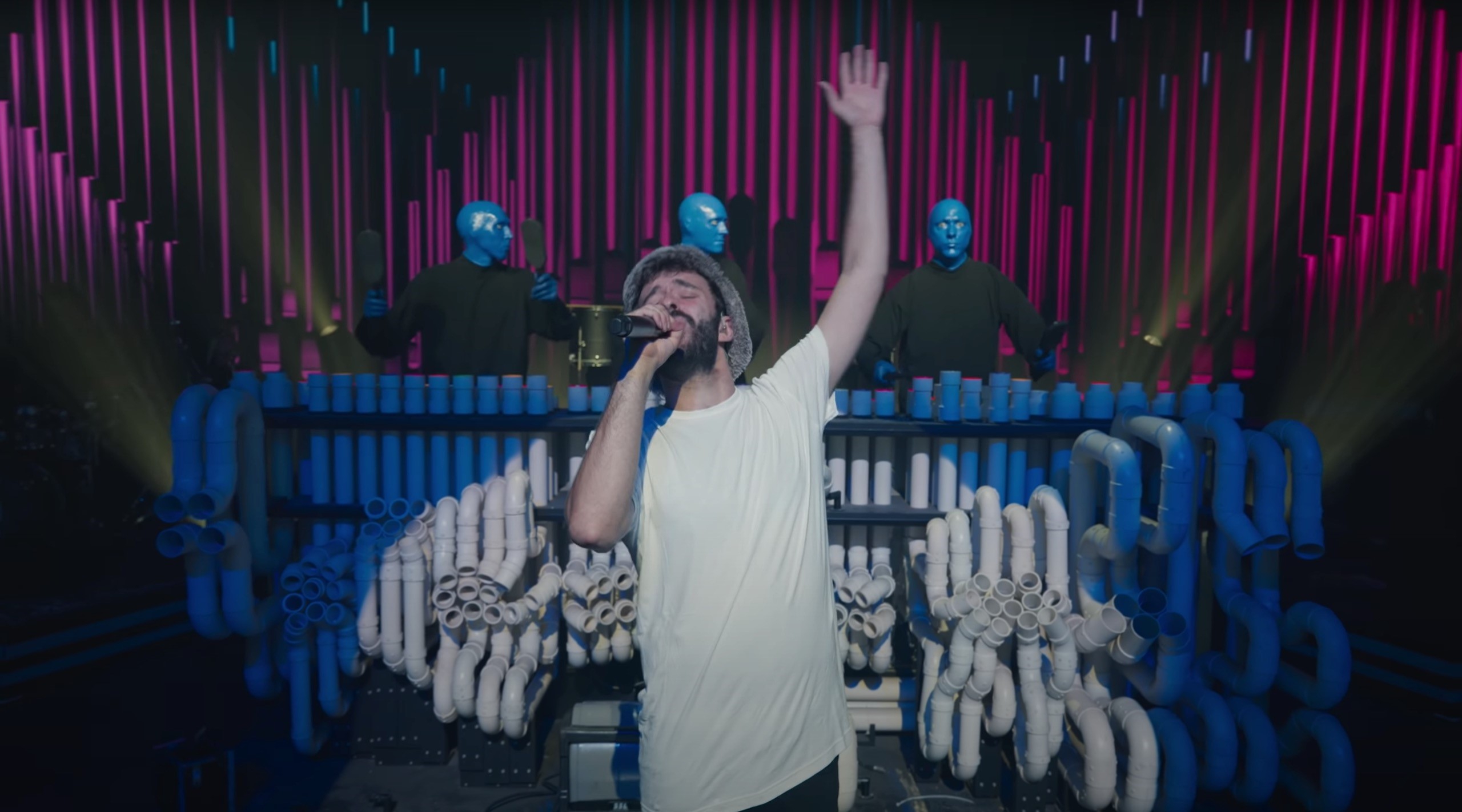 AJR and Blue Man Group in "Ordinaryish People." Photo credit Austin Roa.
"Blue Man Group lives for collaboration—it's how we came to exist. So when this zany, yet incredibly insightful band AJR approached us we were beyond thrilled," said Blue Man Group Head of Artistic Direction Tim Aumiller. "When we walked on set, it was quite exhilarating to see this very clear homage to Blue Man and understand how perfectly suited we were for a match-up."   
Blue Man Group Associate Music Director and Chicago band member Jeff Quay composed an original score for the video featuring Blue Man Group's iconic PVC instrument. The music video features the melodic percussive instrument alongside the colorful, paint-filled interactions that Blue Man Group is known for. 
"The collaboration with AJR was an exciting collision of worlds," said Quay. "During the process, I found that the Blue Man sound is flexible enough to adapt to the 'hyper-pop' world that AJR inhabits. Both AJR and Blue Man Group feel right at home together." 
"We always remember going to our first Blue Man Group show, and being so confused, in the best way. Not knowing what could possibly come next," said AJR. "That's what made them the perfect left turn for the bridge in 'Ordinaryish People.'" 
"Ordinaryish People" appears on AJR's fourth studio album, OK ORCHESTRA. Blue Man Group will join AJR on The OK ORCHESTRA tour in the following five cities later this year:   
Boston: May 20, The Xfinity Center 
New York: May 21, Forest Hills Stadium 
Chicago: June 3, Hollywood Casino Amphitheater
Irvine: June 19, FivePoint Amphitheater 
Las Vegas: June 24, The Chelsea at The Cosmopolitan Las Vegas 
A dynamic combination of art, music, comedy and technology, Blue Man Group encourages audiences to reconnect with their inner (and outer) child in order to see the world through a new perspective. Three bald and blue men explore today's cultural norms with wonder, poking fun at the audience's collective quirks and reminding them how much they all have in common. The show is continually refreshed with new music, stories, custom instruments and state-of-the-art technology.    
About Blue Man Group 
Blue Man Group is a global entertainment phenomenon, known for its award-winning theatrical productions, iconic characters and multiple creative explorations. Blue Man Group performances are euphoric celebrations of human connection through art, music, comedy and non-verbal communication. Since debuting at New York's Astor Place Theatre in 1991, the live show has expanded to additional domestic residencies in Boston, Chicago, and Las Vegas, an international residency in Berlin, and multiple North American and World tours, reaching more than 50 million people worldwide. Blue Man Group is universally appealing to a broad range of age groups and cultural backgrounds, and continually injected with new music, fresh stories, custom instruments and sensory stimulating graphics. Blue Man Group is owned and operated by Cirque du Soleil Entertainment Group. For more information, please visit www.blueman.com.     
About AJR 
Re-envisioning what pop can be in the 21st century, AJR unassumingly emerged as a ubiquitous hit-making outlier and one of the biggest indie bands in the world. Since 2012, the multiplatinum indie pop trio—Adam [bass, vocals], Jack [vocals, guitar], and Ryan [ukulele, piano, vocals]—have generated billions of streams and earned one triple-platinum single, one double-platinum single, four platinum singles, and one platinum album. 2019's Neotheater marked their biggest first-week debut, bowing at #8 on the Billboard Top 200, #1 on the Top Alternative Albums Chart, and #1 on the Top Rock Albums Chart. Cemented as part of the modern zeitgeist, Spotify touted "Sober Up" [feat. Rivers Cuomo] among the "Best Rock Songs of the 2010s," while Apple Music included "Weak" on its "Best Alt Songs of the 2010s."  Not to mention, they remain one of the "500 Most-Listened to Artists" on Spotify. On the heels of Neotheater, they dropped the 2020 platinum blockbuster "BANG!", which they performed on TODAY, The Ellen DeGeneres Show, and even at the Macy's Thanksgiving Day Parade. The song also cracked the Top 10 at three radio formats, peaking at No. 6 on the Top 40 chart, No. 2 on Alternative radio and No. 1 on Adult Pop and marked their first Top 10 entry on the Billboard Hot 100. Now, the band open up their world like never before on their fourth full-length album, OK ORCHESTRA [AJR Productions/BMG] introduced by the single "Way Less Sad."