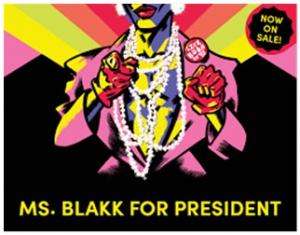 This is not a total biography of Smith's life, and the creators of this show never intended it to be -- hence the title. Rather, it covers a very specific time (1990 to 1992) and place (Chicago) when many marginalized citizens found hope and salvation in an African-American drag queen named Ms. Joan Jett Blakk.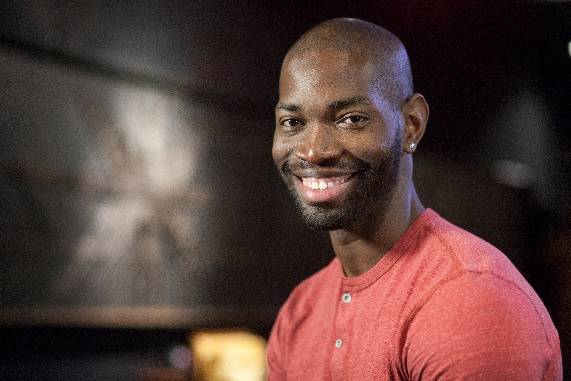 For those of you who may only be familiar with McCraney as a playwright you may be pleasantly surprised by his considerable acting abilities. One can't help but admire the pluck that McCraney brings to this tenacious character. He makes Blakk a larger than life presence that hits the room like a hurricane but leaves it with remnants of joy and good cheer.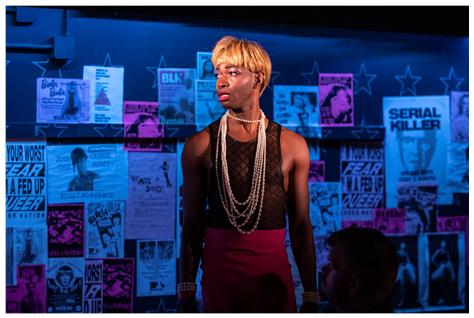 As a political candidate, Blakk first ran for public office as mayor of Chicago in 1990, losing to Richard M. Daley. Backed by Queer Nation, a political action group that wanted to gain as much media attention as possible to bring awareness to the LGBTQ community and the AIDS crisis engulfing the nation, Blakk ran and campaigned on the Queer Nation Party ticket in the 1992 presidential election.
Blending local history and mentioning several key figures from the queer movement in Chicago at the time with a touch of fantasy and urgency makes "Ms. Blakk for President" feel like a fever dream and a rave dance party combined, with an alarming wake-up call as warning for the 2020 presidential election.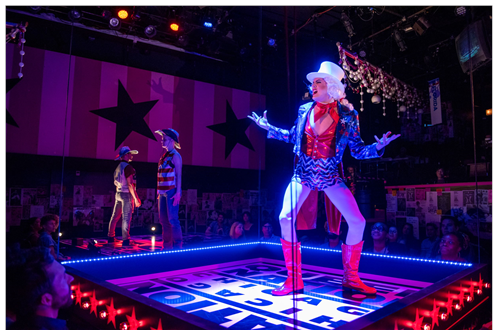 Channeling Marilyn Monroe serenading the birthday boy JFK with David Bowie as Ziggy Stardust and a rhinestone and sequin-dripping Uncle Sam on acid can make for an eye-popping extravaganza. Toni-Leslie James' costumes perfectly capture all of the vibrancy and panache, right down to Blakk's hot pink faux Chanel suit with Madonna Boy-Toy black lace underneath.
David Zinn's scenic design completely revamps Steppenwolf's Upstairs Theatre space. With a central playing area that is a raised zig-zag catwalk, you'll feel like you are at a Marc Jacobs fashion show at the height of his grunge phase or an Alexander McQueen opening in an abandoned warehouse or derelict auto mechanic's garage.
More than anything, "Ms. Blakk for President" is a loving tribute to a man who refused to be silenced and demanded to be taken seriously. What a triumph his life has been. While all around him close friends and associates were dying of a plague, he persevered. This is a jubilant commemoration not only of one person who was there and lived through it all but also a meaningful reminder of how far we have all come in the gay liberation movement since the Stonewall riots exactly 50 years ago.
All of which is most poignantly represented in the play's final scene. After the let-down of leaving Madison Square Garden, where the Democratic National Convention was held and Bill Clinton subsequently won his party's nomination, Ms. Joan Jett Blakk retires to a nightclub with a group of friends. Among them is the young videographer JJ, beautifully played by the ebullient Daniel Kyri, who has been chronicling Blakk's journey. Wanting to be alone for a moment of reflection, Blakk encourages JJ to go out on the dance floor and have some fun and maybe meet someone who might become his partner. The old vanguard making way for the new generation. In a time of so much loss, life must go on.
_____________________________________________________
"Ms. Blakk for President" has been extended to July 21, 2019
Steppenwolf Upstairs Theatre, 1650 North Halsted Street, Chicago, IL
Curtain Times: Tuesday to Friday at 7:30 PM, Saturdays and Sundays at 3:00 PM and 7:30 PM; Wednesdays at 2:00 PM
Ticket Prices: $20 to $94. Prices subject to change.
20 for $20: Twenty $20 tickets are available for subscription shows on the day of the performance at 11:00 AM (Monday to Saturday) and 1:00 PM (Sunday), by phone only at 312-335-1650. Limit 2 per person.
Rush Tickets: Half-price rush tickets are available one hour before each show.
Student Discounts: Limited $15 student tickets are availabe online. (Limit 2 tickets. Must present a valid student ID for each ticket). For additional student discounts, visit www.steppenwolf.org/students.
Group Tickets: All groups of 10 or more receive a discounted rate for any performance.
Running time is one hour and 40 minutes with no intermission.