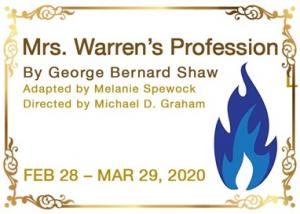 Spewock has taken Shaw's four-act comedic social commentary and pared it down to four scenes (two per act). As she states in the production notes: "Every word...is Shaw's." Expunging what she calls "obscure period references and redundant exposotion" results in a more streamlined narrative and, for the most part, it all feels cohesive, remarkably vibrant and very much still relevant today.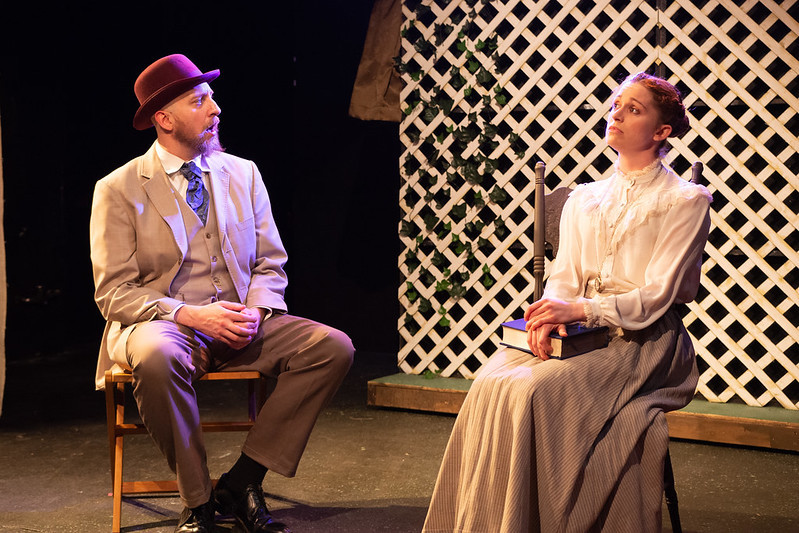 The focus here, however, is clearly on the two female characters. Vivie Warren (Tracey Greenwood) is a recent graduate of the University of Cambridge with honors in mathematics. She is a fiercely independent and forward-thinking young lady with lofty aspirations and solid goals for achieving professional success. Her long-absent mother, Mrs. Kitty Warren (Elaine Carlson) has arranged for an overdue rendezvous at a cottage near Surrey in order to reacquaint herself with a daughter that she barely knows anything about.
Accompanying Kitty on this particular adventure is her long-serving business partner Sir George Crofts (Jared Dennis), a man nearly 25 years older than Vivie but intent on winning her hand in marriage. Also buzzing about is Praed (Ross Frawley), an architect by trade who may also be romantically interested in Vivie and whom Shaw uses primarily for comic effect to critique British society and its obsession with the class system or outdated views regarding gender and sexuality.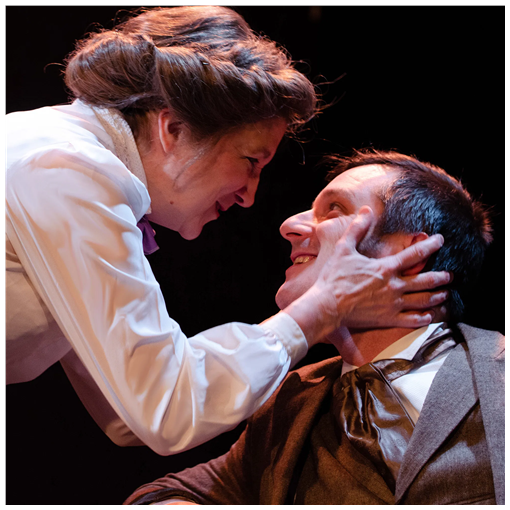 The flip-side of that is represented in the role of Reverend Samuel Gardner (Ted Hoerl), a staunch local minister who seems to have had some sort of history with Kitty in her spirited youthful days. Gardner's son, Frank (Chris Woolsey) is a young man who is enthralled with Vivie and envisions her determination to be financially stable as his ticket out of rural Surrey. Of her many suitors, Frank clearly is the most desirable to Vivie, but she's not entirely certain that she even wants to commit to marriage in the first place.
It is Carlson's stellar performance in the titular role that solidly anchors this version of "Mrs. Warren's Profession." Carlson truly runs the whole gamut of human emotions from free-wheeling frivolity to quiet introspection to the anguish of an uncertain future for Kitty and finally to the grief of rejection and loss. In her lengthy scene that concludes Act One, which is essentially one long monologue with limited interjections from Greenwood as Vivie, director Michael D. Graham has Carlson slowly remove her copious amounts of clothing (nice period costumes designed by Carrie Campana) as Kitty prepares to retire for the evening. In so doing, Kitty recounts her early days struggling while working in a bar at Waterloo Station to make mere shillings per week and how it was her own sister who suggested, due to their limited job opportunities, to delve into the type of work which eventually built Kitty her reputation and small empire. Carlson, once dressed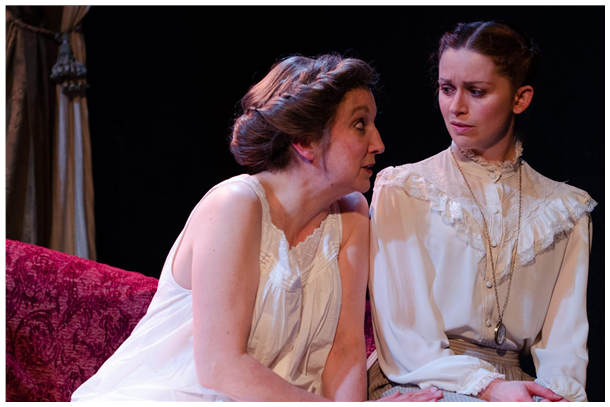 only in her undergarments with corset removed, has shed all her protective armor and we see deeply into Kitty's soul.
Graham has both Carlson and Greenwood on extreme opposite sides of the stage during this entire exchange, and the alienating effect upon their characters is highly evident. When they finally embrace at the end of the act, it is a wonderfully heartfelt reconciliation between a strong but loving mother who is a survivalist and her tenacious young daughter. By the play's final scene, it is now Greenwood's turn to shine and she marvelously handles the tricky decisions that Vivie is forced to make.
This production of "Mrs. Warren's Profession," which is one of Shaw's most rarely performed plays, is a complete joy. Hopefully it will introduce many people to Shaw's biting wit and bring his abundant wisdom to an entirely new -- and younger -- generation.
_____________________________________________________________________________
"Mrs. Warren's Profession" continues to March 29, 2020
Promethean Theatre Ensemble at Otherworld Theatre, 3914 North Clark Street, Chicago, IL
Performances: Thursdays to Saturdays at 7:30 PM, Sundays at 2:30 PM plus an added performance on Monday, March 16 at 7:30 PM
Tickets: $30 general admission (seniors $25, students and military personnel $15)
Tickets available at www.dime.io/events/MrsWarrenPTE
Info at www.prometheantheatre.org
Running time is 2 hours and 10 minutes with one intermission