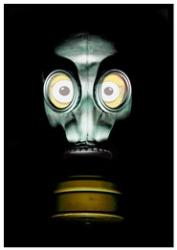 *** Recommended "Mr. Burns, a post-electric play" portrays life after an apocalypse which somehow caused the electrical grid to fall.  This play is about a group of survivors who found a unique way not only to survive, but to stay san and recall their lives before … retelling episodes of The Simpsons.  Theater Wit's reprise of Mr. Burns isn't just timely, it seems serendipitous.  With three acts, it does run a trifle long.  3 Spotlights
It's taken me a long time to write this review because I've never watched The Simpsons. I have no frame of reference.  I didn't even know Mr. Burns was a famous villain.  , so I had no idea whether the characters' recollections are even close to accurate – although I have to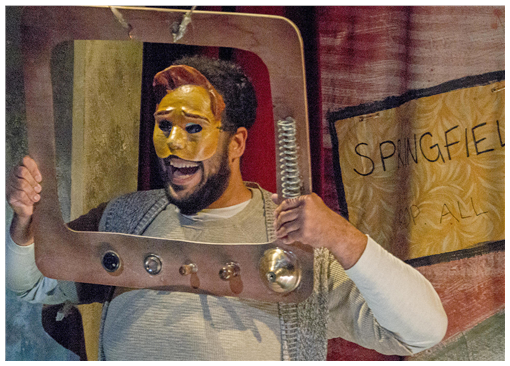 assume they were at least close since the rest of the audience laughed frequently. 
On a chilly night, people are gathered around an open fire telling stories.  Since there are tents and trees around, you might assume they're telling ghost stories, but you'd be wrong.  They're trying to remember an episode of The Simpsons, with everyone chiming in.  Hearing a noise, they all alert, guns pointed at a man stumbling into camp who convinces them he's harmless – and he can sing Gilbert & Sullivan!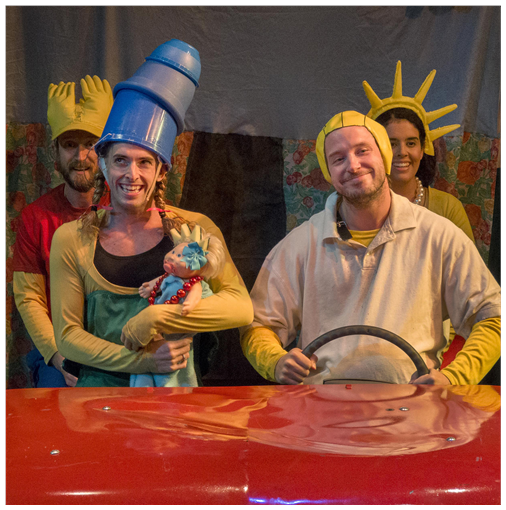 Seven years later, the group has become a travelling show, surviving and thriving by staging episodes of The Simpsons.  Today they're rehearsing a new episode with commercials when the big guy hears something setting off his PTSD.  Since everyone understands, they ignore the whole thing.  They're more worried about the difficulty of getting new lines from The Simpsons, and their competition, Richard's troupe.    
Act III, 25 years later, a troupe stages a full production of a Mr. Burns episode of The Simpsons on a cheesy set, all wearing weird make-up, strange wigs including Marge's towering blue hair and bright shiny costumes.   
Since the cast plays survivors as well as characters from The Simpsons, I'm listing them here: 
Quincy/Bart……Leslie Ann Shepherd
Matt/Homer/Scratchy……Daniel Desmarais
Colleen/1st FBI Agent/Itchy…… Eileen Dorn
Sam/Burns……Andrew Jessop
Lisa……Tina Muñoz Pandya
Marie/2nd FBI Agent/Marge……Ana Silva
Jenny/Marge/Mrs. Krabapel…..Will Wilhelm
Gibson/Sideshow Bob/Homer……Jonah D. Winston
"Mr. Burns, a post-electric play" is in an open run at Theater Wit, 1229 W. Belmont, Chicago.  Parking is available in Theater Wit's lot across the street.  Running time is 2 hours, 40 minutes with two intermissions.   Performances are Wednesdays through Saturdays at 7:00 pm, Sundays at 2:30 pm.  Tickets range from $36-$54.  FYI (773) 975-8150 or www.theaterwit.org. 
Note: Guests must show proof of vaccination before entering the theater.  Guests are required to wear masks while inside the building.