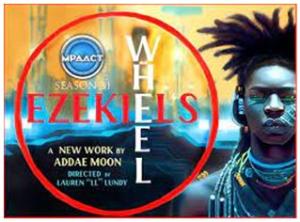 MPAACT presents Ezekiel's Wheel  *  Season 31 World Premiere 
Written By: Addae Moon  *  Directed by: Lauren "LL" Lundy
The Greenhouse Theatre Center  *  2257 N. Lincoln Ave Chicago, IL 60614
Box Office: (773) 404-7336 
Running:
Previews – January 20 – 28, 2023
Full run: January 29 - March 5, 2023
All Show Times:
All Thursday - Saturdays 8pm
All Sundays 3pm
Mainstage: $20 - $40 single tickets. Group tickets available.
About MPAACT
MPAACT was founded in 1991 by a group of like-minded individuals who shared an artistic vision and who wanted to develop, nurture, and sustain Afrikan Centered Theatre, which is grounded in the many cultures and traditions of the African continent and its Diaspora. With a vision focused on creating new work and collaborative art, MPAACT produces and educates with the goal of increasing understanding and appreciation of Afrikan Centered Theatre and its interrelated disciplines, including not only main stage and standing productions but also a playwright's laboratory, original music, a publishing company (Sakhu Publications), an arts education program, and many workshops and master classes.
About the Play
In the not too distant future two brothers, Drew and Zeke, search for their kidnapped father as they try to navigate depleting resources, their strained sense of loyalty and a prophecy they are beholden to but refuse to embrace. Addae Moon's Ezekiel's Wheel is grounded in, and inspired by, the rich tradition of Black Speculative Fiction by Octavia Butler, Samuel Delaney, Frances Harper and Martin Delaney.
From the Playwright
Beginning with the publication of Blake, or the Huts of America in 1859 by abolitionist, journalist and early "Black Nationalist" Martin Delaney, Black artists have been actively engaged in creating speculative fiction as both a means of entertainment and a liberatory tool that might be used to inspire our people to create new realities for themselves.
As both a theatre artist and a lifelong student of the Black speculative canon, Ezekiel's Wheel is the first in a series of plays where I wish to explore these ideas on a 21st century theatrical stage while being in conversation with this rich and underappreciated literary tradition. Afro-futurism has become the catch-all phrase to describe Black speculative narratives in contemporary pop culture, but it's important that we - like the Sankofa bird - look backwards and engage with those creative ancestors who were creating new futures for themselves and our people. It is my hope that Ezekiel's Wheel not only honors that tradition but inspires others to create more of these stories on American stages. - Addae Moon
About the Director
Lauren "LL" Lundy is a graduate from The Theatre School at DePaul University. Her MPAACT mainstage credits include Spoken Word, Swamp Baby, Starting Over, and Blood Mural. Continuing to advance her craft, LL has also helmed Half Life (Broken Nose - Bechdel Fest), One Direction (Black Lives, Black Words), The Rocky Horror Picture Show Live! (Underscore), The Seventh Night (MPAACT Summer Jams) Songs I Don't Know (MPAACT Signature Series), The Sacred Mother Tongue (MPAACT Signature Series), The Promotion (Steep), and a workshop of Evolve - Transformations (Red Door - Portland, OR). During the pandemic LL expanded her work into audio media, where she helped launch MPAACT into the digital marketplace with PODCAST PLAYS (MPAACTPLAYS.COM). She had the joy of reimagining three of her signature shows for the Audio Multiverse – Spoken Word, Swamp Baby and Starting Over. To Addae, the cast and extended MPAACT family thank you for making yet another world with me. Childhood dreams do come true.
The Players
Tamarus Harvell (Andrew Baker) is happy to be back working MPAACT. He was last seen in Invictus Theatre's production of Ruined which won the Black Theatre Alliance Award for best ensemble. He has worked with several theatre companies in Chicago including Black Ensemble, Raven Theatre and The Gift Theatre Company. He has starred in several short films that have premiered in different festivals across the United States, including Chicago's Black Harvest Film Festival. He is currently represented by Big Mouth Talent Inc. He would like to thank his wife and parents for their love and support.
Jordan Gleaves (Ezekiel Baker) returns to MPAACT after just featuring in the company's world premiere of Ride or Die. Local credits: TimeLine Theatre Company's production of Relentless (u/s) at both Goodman Theatre and Theater Wit, Sunset Baby (Fleetwood-Jourdain Theatre), and Aloft (Collaboraction). Regional credits: Macbeth and Julius Caesar, (The Nashville Shakespeare Festival), plus Othello and Love's Labour's Lost (Montana Shakespeare in the Parks). Short-film features: Downstate by Jordan Tragash and himself, Cig by Jordan Tragash, and The Weather Outside Is Frightful by Jamie Kreppein. He holds an MFA in Acting from the University of Illinois at Urbana-Champaign and a BA in Drama from Morehouse College. Jordan is represented by Stewart Talent.
Darren Jones (Johnathon "Baba" Baker) Darren's 31st theater season continues with a return to MPAACT. His recent stage credits include American Son (Fleetwood-Jourdain Theatre); Richard III (Promethean Theatre): Wellesley Girl (Compass Theatre); Hamlet (Invictus Theatre); American Son (Beverley Arts Center); Labyrinth (Broken Nose Theatre); King Lear (Redtwist Theatre); One for the Road, Never the Milk & Honey (MPAACT); Crime and Punishment, The Heavens are Hung in Black (Shattered Globe Theatre Company), where he is an Artistic Associate. Television credits include the 2022 Emmy Award winning The Trial in the Delta: The Murder of Emmett Till (NBC/Collaboraction): Chicago PD (NBC), Chicago Fire (NBC). Movie credits include Hyde Park, Runner, Chi-Raq, Hood, Road to Freedom, Mo'Money. He's done commercials for Blue Cross Blue Shield, Anheuser Busch, State Farm, Northwestern Medicine, Rivers Casino, Brookfield Zoo, and Metfile along with training and industrial films for CareerBuilder, Accenture, Walgreen's and Sears Auto Center.Darren is represented by Lily's Talent Agency.
Robert Howard (Chancellor Stewart Bridgeport) is thrilled to make his MPAACT debut with Ezekiel's Wheel. Robert has been seen on stage at several theatres including The Steppenwolf Theatre, Milwaukee Repertory, The Gift, City Lit, Stage Left & Jackalope Theatre to name a few. He has lent his voice to several commercials & also spent a while voicing The Monster's Inc Laugh Floor at Walt Disney World in Orlando Fl. Most recently he played Reverened John Hale in Edge of The Wood's production of The Crucible. Robert attended The Theatre School at DePaul University & was also the recipient of The School at Steppenwolf's Acting Fellowship in 2014.
Noelle Klyce (Sargent Emita) holds an Acting BFA ('18) from University of Illinois at UrbanaChampaign. Her most recent theatre credits include Marianne Angelle in The Revolutionists (UIUC Illinois Theatre), a vocalist in ShakesFest: A Chicago Shakespeare Community Cabaret (Chicago Shakespeare Theater in the Parks), Mistress Page in Merry Wives of Windsor (Hoosier Shakespeare Festival), Lady Macduff/Hecate/Donalbain/Menteith in Macbeth (Hoosier Shakespeare Festival), Maven in It's Just Like Coming to Church at Black Ensemble Theater (nominated for a 2022 Black Theater Alliance Award for The Eartha Kitt Award: Best Featured Actress in a Musical), Lana Sherwood in It's a Wonderful Life: A Live Radio Play (Oil Lamp Theater), Ted Sorensen in Thirteen Days (City Lit Theater), and Alonsa in The Tempest (Oak Park Festival Theatre). She is also an Arts Partner with Chicago Shakespeare Theater and a voiceover artist. 1 John 3:1