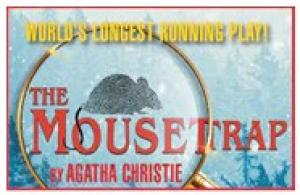 I just saw Agetha Christie's murder mystery, The Mousetrap at Citadel Theatre. It is the longest running (premiered 1952) stage play ever! It is old but… it was new, at this theater. 
Director, Scott Westerman, added a whole new dimension to an old 'who done it' production. He added 60 LED signs in the form of an animated winter backdrop and pictures on the walls. These produced not only visual enhancements but background clues implicating each character as the subject murderer. Westerman is not new to screen enhancement as he did a similar thing in last year's Citadel production of "The Christians".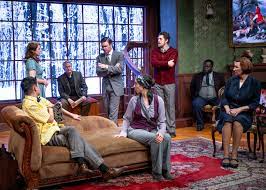 All the characters were wonderfully acted, and suspicious. As usual it is hard to pick the culprit and so much fun making wrong guesses.  At the end, you'll take a deep breath and mutter…of course!
Mary Margaret McCormack and Jack Sharkey play Mollie and Giles Ralston – proprietors of Monkswell Manor.  Their guests include Christopher Wren (Jesus Barajas), a peculiar-acting young man who is first to arrive at the hotel; the hypercritical Mrs. Boyle (Kristie Berger); retired Army Major Metcalf (William Ryder); the strangely aloof Miss Casewell (Amy Stricker) and Mr. Paravicini (Reginald Hemphill) who seems to be wearing makeup to appear older and faking a foreign accent.  Sergeant Trotter is played by Sean Erik Wesslund.  
The set, special LED and sound effects make this old stage play exciting. Artistic Director, Scott Phelps has created another winner in his small neighborhood theater. Support this production of Agatha Christie's "The Mousetrap"…it's worth the trip! 
The Mousetrap plays through October 15th at Citadel Theatre located in the West Campus building of the Lake Forest School District, 300 S. Waukegan Rd., Lake Forest.  Performances are Thursdays through Saturdays at 7:30 pm, Sunday at 3:00 pm, with Wednesday matinees on  September 20th and 27th at 1:00 pm and a Saturday matinee October 7th at 2:00 pm.  There will be no performances Fridays, September 22nd and 29th.  Tickets range from $40-$45.  FYI (847) 735-8554, ext. 1 or www.citadeltheatre.org