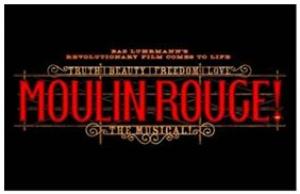 **** Highly Recommended **** Moulin Rouge! The Musical is truly spectacular!  Your experience begins before you're even seated.  There's a working windmill, outlined in white lights, on the left, a huge purple elephant on the right.  On the stage, all lush red also outlined with white lights, Moulin Rouge (also in white) is emblazoned across a graduated series of hearts (with more even white lights).  As you look closer, you'll notice cast members, dancing, doing circus stunts, performing in slo-mo, even before curtain.  Totally unexpected and a great start for an amazing experience.  4 BIG Spotlights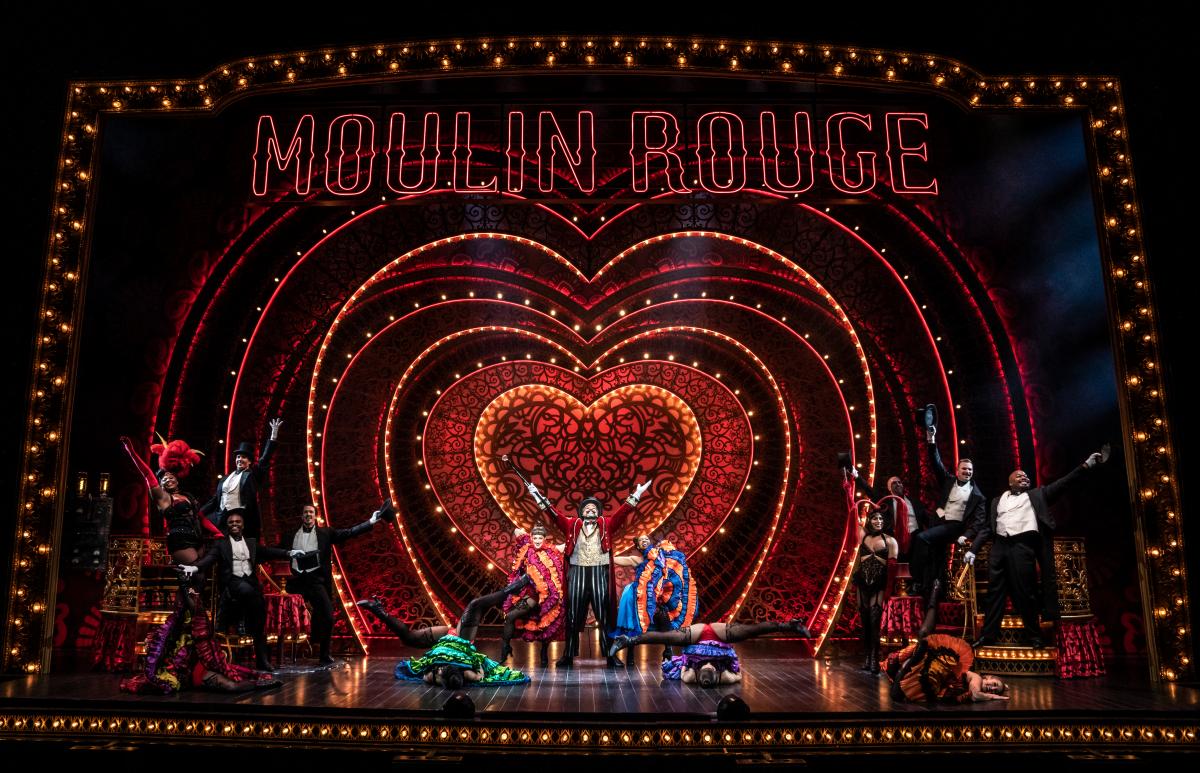 The Moulin Rouge (Red Windmill) has been a nightclub/cabaret in the Montmartre section of Paris since 1889.  If you're in Paris, it's worth a visit.  You'll see a revue with gorgeous costumes, cabaret acts and of course, the Can-Can, which originated at the Moulin Rouge. 
Moulin Rouge! The Musical is a jukebox musical, but the songs were recorded by different artists with distinctly different styles.  The music runs the gamut from Broadway and film to the charts, everything from rock to hip hop.  What made it fun for me was trying to identify the snippets before they segued into something else.  I heard bits of Can't Help Falling in Love (Elvis Presley), Crazy (Patsy Cline), You Can't Always Get What You Want (Rolling Stones), Diamonds are a Girl's Best Friend (Carol Channing), What's Love Got to Do with It (Tina Turner), Single Ladies (Put a Ring on it), (Beyoncé). Material Girl (Madonna), I Will Always Love You (Whitney Houston), Sweet Dreams Are Made of This (Eurythmics) and many more. 
Moulin Rouge! The Musical opens with a dynamic number in which the entire ensemble, wearing gorgeous glitzy costumes performs, beginning with Patti Labelle's Lady Marmelade, and its distinctly French refrain, "Voulez vous coucher ave moi c'est soir?" which segues into an energetic Can-Can danced to Fatboy Slim's Because We Can.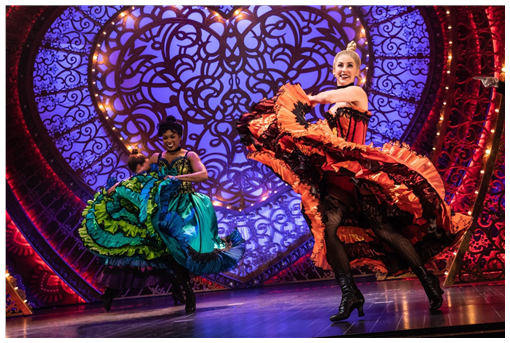 Meanwhile, Christian (Jack Cahill-Lemme), an aspiring young American songwriter, hanging about Montmartre looking for inspiration met up with two struggling playwrights, Toulouse-Lautrec (Denzel Tsopnang) and his dear friend, Santiago (Travis Ward-Osborne), an Argentinian.  The three decide to work together.
After the number, Harold Zidler (Austin Durant), Major Domo and owner of the Moulin Rouge, greets the Duke of Monmoth (David Harris), whom he hopes will become a financial backer.  As an incentive, he offers him Satine (Courtney Reed), whom he describes as the gem of the Moulin Rouge.  After her performance, she will welcome him in her dressing room in the elephant.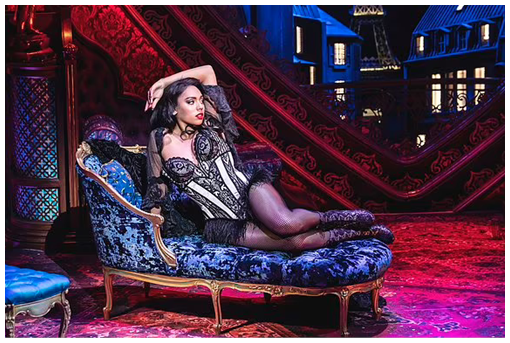 That same evening, Christian wandered into the Moulin Rouge looking for inspiration.  Sitting in a box opposite to the Duke, he falls instantly in love with Satine (Courtney Reed).  She, knowing she must entertain the Duke, looks to the wrong box and mistakes Christian for the Duke, thinking it wouldn't be that hard to be nice to him. 
Christian goes to meet Satine, but brings Toulouse-Lautrec and Santiago along so they can pitch their new play to her, hoping she'll recommend it to Harold.  When the Duke arrives, they convince him that they're there to audition a new show for him.  After running through the plot, he agrees to back it, the three friends leave him and Satine alone.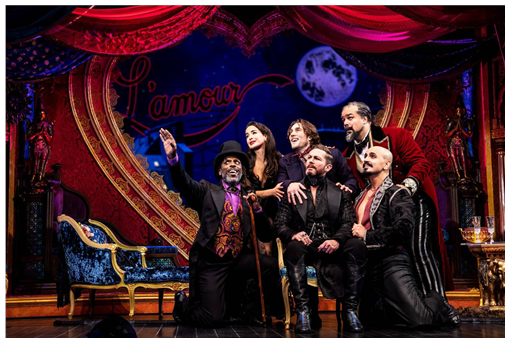 Moulin Rouge was family for Harold, Satine and everyone working there.  Without the Duke's money, they would all end up on the streets, so Satine knew what she needed to do.  In a lot of ways she reminded me of Mimi in La Bohéme, loving desperately while knowing she'd never be with Christian. 
As I watched Moulin Rouge! The Musical, I only noticed one tiny glitch – when a chair leg broke as the Duke sat down.  The Duke changed chairs and Santiago moved the broken one out of the way.  Otherwise the show ran seamlessly. 
After the performance, I learned that three of the stars were out with Covid, so understudies had stepped in as Christian, Toulouse-Lautrec and Santiago.  It was exciting to see Chicago's own Jack Cahill-Lemme and Denzel Tsopnang get their chance.  Kudos to understudies!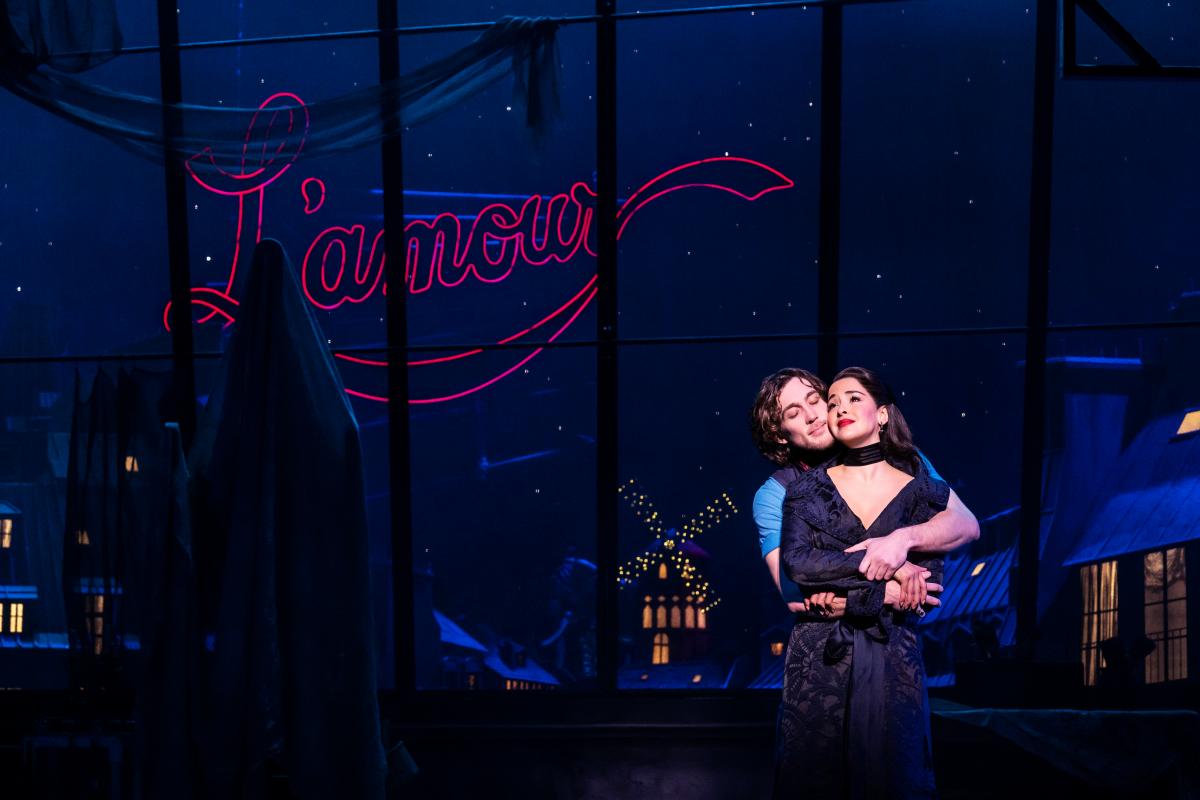 Note: Guests must show proof of vaccination with photo ID before entering the theater.  Guests are required to wear masks while inside the building.
Moulin Rouge! The Musical runs through May 14th at the James M. Nederlander Theatre, 24 W. Randolph Street, Chicago.  Running time is 2 hours, 35 minutes with an intermission. 
Performances are Tuesdays through Fridays at 7:30 pm; Saturdays at 2:00 and 8:00 pm; Sundays at 2:00 pm; special 7:30 pm performances on May 1st & May 8th; with additional 2:00 pm matinees on Wednesdays, April 13th, April 20th & May 11th; and Thursdays, April 7th & May 12th.  Note: Some weekend performances are sold out. 
Tickets start at $52.50.  FYI (800) 775- 2000 or www.BroadwayInChicago.com.