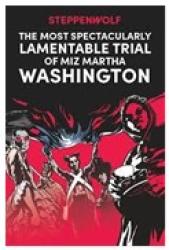 ** Somewhat Recommended ** The Most Spectacularly Lamentable Trial of Miz Martha Washington felt like a 60s acid trip – with real people chanting horrible, hurtful words, morphing into nightmarish specters in vicious, swirling colors threatening sanity.  I know that slavery was evil, repugnant and a blot on our American history, but I still cringed at the level of torture portrayed on Steppenwolf's stage.  Honestly, I'd take the acid trip over this play.  2 Spotlights
In James Ijames's play, George Washington has died, and the enslaved people on the Washington plantation at Mount Vernon have somehow learned about his will.  Word has spread – when Martha Washington (Cindy Gold) dies, they will be free. 
One bedridden old woman lies between them and freedom!  What will they do?  Will anyone help her as she lies in her bed?  Will her house servant, Ann Dandridge (Nikki Crawford) continue to take care of her or will she walk away?  The answer is obvious, at least in this play, they'll walk away – and be as cruel about it as they can.
Is it a dream or is it reality as Priscilla (Sydney Charles), Davy (Carl Clemons-Hopkins), Doll (Celeste M. Cooper), William (Victor Musoni) and Sucky Boy (Donovan Session), circle Miz Martha, chanting and taunting?
Can she change? Can she understand their wish to be free, or will she double down on her privileged attitude and superiority? 
In her fevered dream, Abigail Adams and Betsy Ross – wearing sequined dresses and odd colored wigs – commiserate with her.  When she wonders why George did this to her, they agree that men mess everything up.  Men are awful but what's the alternative, she wonders. 
Suddenly she's in the middle of a trial with a judge and defense attorney.  When they call George – another caricature in sequins – to testify, he tells lies. 
Finally, Ann Dandridge, her maid who might have been sired by her father, walks away.  In the end, Ann's son refuses to give Miz Martha a drink of water, drinking it himself. 
The Most Spectacularly Lamentable Trial of Miz Martha Washington runs through October 9th in the Downstairs Theatre at Steppenwolf Theatre, 1650 N. Halsted Street, Chicago.  Self-parking is available in the Steppenwolf Garage, accessible parking in the lot north of Front Bar.  Valet parking is also available.  $15.  Running time is 90 minutes, no intermission. 
Performances are Tuesdays through Fridays at 8:00 pm, Saturdays at 3:00 & 8:00 pm, Sundays at 3:00 pm.  Tickets range from $20-$60.  FYI (312) 335-1650 or www.steppenwolf.org.