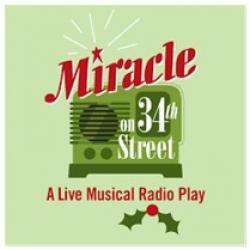 You know the story – as Macy's Thanksgiving Day parade is about to start, Santa is found to be inebriated, so a nice gentleman (Kris Kringle) with a white beard is drafted.  He's so good Doris Walker hires him as a full-time Santa.  When he tells a frazzled mother to go to another store to find a toy, he's fired.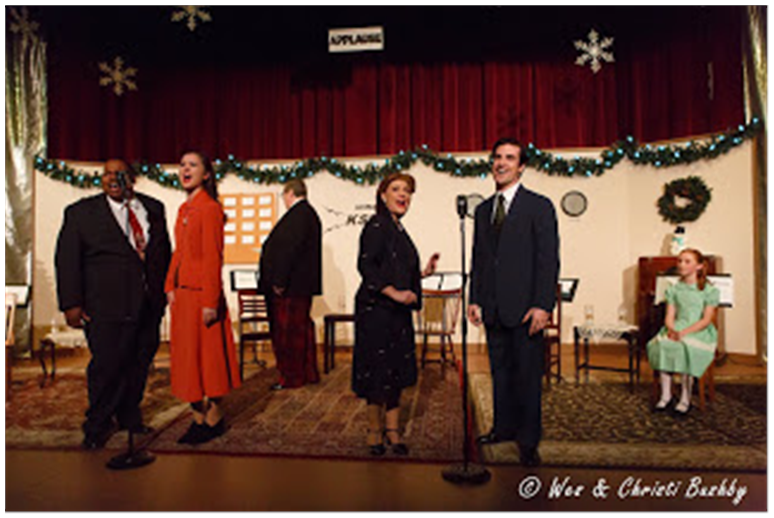 Since that brought in more shoppers, Mr. Macy loved him, so he was rehired.  Doris's daughter Susan, who doesn't believe in Santa Clause, thinks he's a nice old man.  When Kris crosses the store psychologist, he had him committed.  At Susan's urging, Doris's neighbor, Fred Gailey defended him in court. 
Holiday decorations set the mood in the KSDMT studio (set), which has multiple clocks on the wall set on Eastern, Central and Pacific time.  Scripts are waiting on six music stands next to six chairs arranged in a semi-circle.  At the front, three microphones are waiting.  When the Director, Jeff Casey, takes the stage, he explains that everyone should clap whenever the APPLAUSE sign hanging overhead lights up.    
The actors and their parts: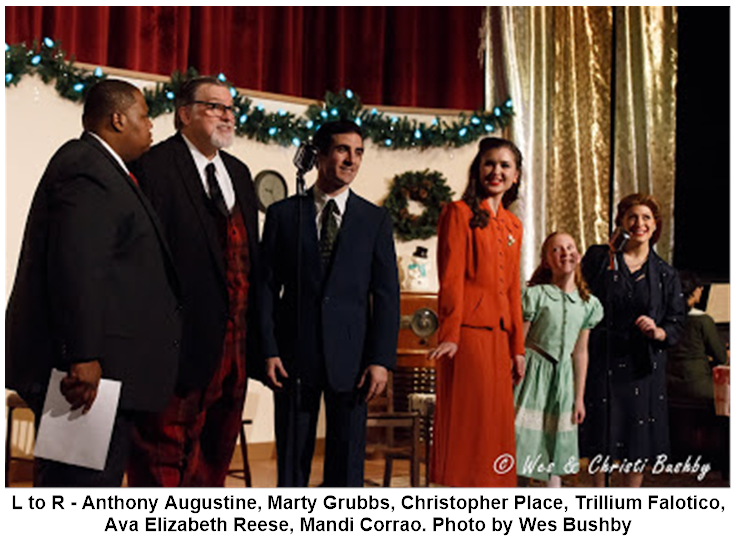 Anthony Augustine plays Wallace Ainsley – as multiple characters
Mandi Corrao plays Cornelia Ragsdale – as Doris Walker
Trillium Falotico plays Olivia Glatt – as multiple characters
Marty Grubbs plays Kristopher Van Lisberg – as Announcer & Kris Kringle
Christopher Place plays Grady Williams – as Fred Gailey
Ava Elizabeth Reese plays Gracie Delmarco – as Susan Walker
Elizabeth Tuazon plays Alexandra Maildo – Foley Artist & Pianist
Since this is 'live', the Announcer, Kristopher Van Lisberg, introduced all the actors – character names, of course.  Cornelia Ragsdale and Grady Williams are clearly the stars of the show, while child actress Gracie Delmarco gets top billing too.  By changing their voices/inflections/accents, Anthony Augustine and Trillium Falotico play multiple parts.  At one point Augustine plays both Mr. Macy and Mr. Gimbel – at the same time.  As that frazzled mother, Ms. Falotico's Brooklyn accent was almost perfect. 
Kudos to Towle Vocal/Music Director Elizabeth Tuazon who not only plays the piano for this show, but also acts as the Foley Artist - producing all the sound effects. 
When it's time for a song, the actors put down their scripts and gather at the mics.  The three males on one side, the females on the other singing a jingle for Tupperware, Macy's or Gimbels'; an original like Macy's Parade Song, Toy Department Song, or Macy's vs. Gimbels' Mash-Up; or a familiar carol with a slight twist like Sleepy King Wenceslaus or Rest ye Merry, Gents.
"Miracle on 34th Street: A Live Musical Radio Play" runs through December 22nd at the Towle Theater, 5205 Hohman Avenue, Hammond.  Parking is free.  Running time is just about two hours with an intermission.  Performances are Fridays and Saturdays at 8:00 pm; Sundays at 2:00 pm.  Tickets are $19.  FYI (219) 937-8780 or www.towletheater.org.