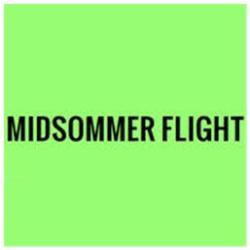 For its tenth annual summer production of free Shakespeare in Chicago's parks (one each year since 2012, except for the pandemic years of 2020-2021), Midsommer Flight will perform the romantic and fantastical adventure CYMBELINE. One of the Bard's last plays, CYMBELINE is set in ancient Britain and its plot includes mistaken identities, a cross-gender disguise, children lost at birth and reunited, and star-crossed lovers. In the way its plot concerns the scheming of those who seek to succeed Cymbeline as King, it might be described as a family-friendly GAME OF THRONES. In reviewing a 2012 production of CYMBELINE by Canada's Stratford Festival, Toronto's GLOBE AND MAIL said, "If William Shakespeare were writing today, he'd be signed to HBO. Certainly, CYMBELINE has enough beauties, battles and beheadings to be adapted into a fine cable television series."  CYMBELINE will be performed over six summer weekends in six different Chicago parks, including first-time stops in Harold Washington Park at 5200 S. Hyde Park Boulevard in Hyde Park, and Kelvyn Park at 4438 W. Wrightwood in the Belmont Gardens neighborhood.  Opening night is Friday, July 7 at 6 pm at Chicago Women's Park and Gardens, 1801 South Indiana Avenue in the South Loop (Near South Side).
 
Midsommer Flight Founding Artistic Director Beth Wolf (she/her/hers) announced her cast today. Appearing as King Cymbeline, who must deal with his duplicitous wife and the conniving stepson Cloten who seeks his throne, is Barry Irving (he/him/his). Irving appeared as Peter Quince and Egeus in Midsommer Flight's 2022 A MIDSUMMER NIGHT'S DREAM and also appeared recently in RICHARD III with Promethean Theatre Ensemble and  RUINED and HAMLET with Invictus Theatre Company. His daughter Imogen, who has rebelled against her betrothal to Cloten by secretly marrying Posthumus, will be played by Ashley Graham (she/her/hers). Talia Langman (she/her/hers), who earned praise for her portrayal of Ruth Bader Ginsburg in PrideArts's 2022 WHEN THERE ARE NINE, will be Imogen's evil stepmother, the Queen. The three young men who pursue Imogen will be played by John Drea (Orsino in Midsommer Flight's 2022 TWELFTH NIGHT and the title character in CHAGALL IN SCHOOL with Grippo Theatre, he/him/his) as Cloten, Keenan Odenkirk (Nick in Invictus Theatre Company's WHO'S AFRAID OF VIRGINIA WOOLF?, he/him/his) as Posthumus, and Shane Rhoades (STOP KISS for PrideArts, he/him/his) as Iachimo. Bernadette Carter (PETER AND THE STARCATCHER at Citadel Theatre, she/her/hers) will be Imogen's faithful servant, Pisanio.
 
Also in the cast are Jessica Goforth (Belarius/Frenchman, she/her/hers), Juliet Kang Huneke (Arviragus/Ensemble, she/er/hers) Jillian Leff (Gentleman 1/Lord/Cornelius/Roman Soldier, she/her/hers), Chris Lysy (Caius Lucius/Philario, he/him/his), Andi Muriel (Gentleman 2/Lord/Messenger/Brit Captain/Gaoler, she/they), and Aloha Rasmussen (Guiderius/Ensemble, she/her/hers), Understudies are William Rowland-Jackson Crowder (Cymbeline/Caius Lucius, he/him/his), Alexandra Jaymes (Guidarius/Pisanio/Gentleman 2, she/her/hers), Samie Jo Johnson (Belarius/Queen/Gentleman 1, she/they), Connor O. Locklin (Posthumus/Iachimo/Cloten, he/him/his), and Dina Perez (Arviragus/Imogen, she/her/hers).
Top row L-R: Bernadette Carter, John Drea, Talia Langman, Jessica Goforth, Ashley Graham.
Second row L-R: Juliet Kang Huneke, Barry Irving, Jillian Leff, Chris Lysy, Andi Muriel.
Third row L-R: Keenan Odenkirk, Aloha Rasmussen, Shane Rhoades, William Rowland-Jackson Crowther, Alexandra Jaymes.
Fourth row L-R: Samie Jo Johnson, Connor O. Locklin, Dina Perez.
The CYMBELINE production team includes Jeremiah Barr (Scenic/Props Designer, he/him/his), Rachel M. Sypniewski (Costume Designer, she/her/hers), Jack Morsovillo* (Music Director/Composer, he/him/his), Christina Casano (Assistant Director, she/her/hers), Hazel Marie Flowers-McCabe (Stage Manager, she/her/hers), Miguel Salgado Jr (Assistant Stage Manager), Addoris Davis (Production Manager), Meredith Ernst* (Text Coach, she/her/hers), Maureen Yasko* (Intimacy Director, Associate Fight Director, she/her/hers), Chris Smith* (Fight Director, Associate Intimacy Director, he/him/his), Amy Malcom* (Resident Vocal Coach, she/her/hers), and Karissa Murrell Myers (Casting Director, she/her/hers). * indicates Midsommer Flight ensemble member.
 
"CYMBELINE has been one of my favorites for a very long time," shares director Beth Wolf. "I was disappointed when we had to cancel our planned production of CYMBELINE in 2020, and I'm thrilled to be able to bring it to life now. If anything, I think it's even more timely now than it was before the pandemic: after all we've been through collectively over the past three years, we could all stand to escape into a fairy tale for a summer evening."
 
Midsommer Flight's productions are performed in natural sunlight and without amplified sound, much as they were done in the Bard's day. Midsommer Flight has become one Chicago's best-loved and most highly regarded producers of free summer Shakespeare. Sarz Maxwell of BUZZ CENTER STAGE, in reviewing 2022's A MIDSUMMER NIGHT'S DREAM, said "Director/Founder Beth Wolf has brought Midsommer Flight triumphantly through a decade of productions." Kerry Reid, writing for the CHICAGO READER, said of 2019's THE TEMPEST, "Wolf's compact staging comes in at a tidy 90 minutes, but nothing feels rushed here… it wears its ingratiating charms with a light but sure-handed touch." RESCRIPTED's Sierra Carlson said, "Under the clever direction of Beth Wolf, however, Midsommer Flight revels in theatricality and proves that THE TEMPEST has a role in our daily lives."
Ebby Offord (Puck) and Joshua Pennington (Oberon) in Midsommer Flight's 2022.A Midsummer Night's Dream. Photo by Steven Townshend, Distant Era.
 
LISTING INFORMATION
CYMBELINE
By Shakespeare
Directed by Producing Artistic Director Beth Wolf
July 7 – August 13, 2023
Fridays and Saturdays at 6 pm, Sundays at 2 pm
Admission is free (donations gladly accepted)
Opening night – Friday, July 7, 6 pm in Chicago Women's Park and Garden, 1801 S. Indiana Ave, 60614
Performed in six different Chicago Park District parks
July 7, 8, 9 @  Chicago Women's Park and Garden, 1801 S. Indiana Ave, 60614
July 14, 15, 16  @ Gross Park, 2708 W Lawrence Ave, 60625
July 21, 22, 23 @ Kelyvn Park, 4438 W. Wrightwood, 60639
July 28, 29 30 @ Harold Washington Park, 5200 S Hyde Park Blvd, 60615
Aug. 4, 5, 6 @  Lincoln Park, 2045 N. Lincoln Park West, 60614
Aug. 11, 12, 13 @ Touhy Park, 7348 N. Paulina, 60626
Midsommer Flight's annual summer production of free Shakespeare in Chicago parks continues with CYMBELINE. The play has true love, adventure, disguised identities, adulterous schemes, an evil stepmother queen, and even a potion whose effects mimic death. There are also timely questions of equity, gender roles, power, and deceit.
Audiences are encouraged to come early and bring a picnic to enjoy this free programming. Reservations are not required but will be available on the company's website in June for audience members who wish to receive event reminders, last-minute weather cancellation information, COVID updates, and more. Seating is first come, first served, and audience members can bring their own blankets or chairs. Show information on website at www.midsommerflight.com, including detailed schedule and info about directions and parking at each park.
 
ABOUT MIDSOMMER FLIGHT. Midsommer Flight is a theatre company dedicated to presenting high quality, accessible productions of Shakespeare's plays in Chicago communities. After the company's well-received inaugural production of A MIDSUMMER NIGHT'S DREAM in 2012, the Chicago City Council honored Midsommer Flight with a resolution praising "the Midsommer Flight theater troupe on their dedication to bringing the arts to underserved communities."  The company incorporated as a not-for-profit in the state of Illinois in early 2013 and has produced ROMEO AND JULIET (2013), MUCH ADO ABOUT NOTHING (2014), MACBETH (2015), TWELFTH NIGHT (2015, 2016, 2017, 2018, 2019, 2021, 2022) AS YOU LIKE IT (2016), HAMLET (2017), THE TWO GENTLEMEN OF VERONA (2018), THE TEMPEST (2019), and A MIDSUMMER NIGHT'S DREAM (2012 AND 2022). The company was nominated in 2019 for the third time for the League of Chicago Theatres "Emerging Theatre Award."
 
Midsommer Flight is committed to presenting financially accessible theatre. Productions are 100% free to the public (donations gratefully accepted). Audiences are encouraged to come early and bring a picnic to enjoy this free programming. For more information visit www.midsommerflight.com.
 
ABOUT NIGHT OUT IN THE PARKS
 
CYMBELINE is presented as part of the Chicago Park District's Night Out in the Parks series, supported by the Mayor's Office and Chicago Department of Cultural Affairs and Special Events. The Night Out in the Parks program presents cultural events year-round in neighborhood parks throughout the city. The Chicago Park District in partnership with 100 local artists and organizations, present engaging events and performances that enhance quality of life across Chicago and amplify the artistic and cultural vibrancy in every neighborhood. Through multiple disciplines, which include theater, music, movies, dance, site-specific work, nature programs, and community festivals, the series aims to support Chicago-based artists, facilitate community-based partnerships and programs, cultivate civic engagement, and ensure equity in access to the arts for all Chicagoans. For more information, please visit 
www.nightoutintheparks.com.