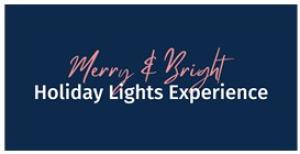 Munster Education Foundation's 4th Annual Merry & Bright Holiday Lights Experience is ready to make your holidays a delight! This year's fundraising event is scheduled for Dec. 1 - Dec. 31.
The Holiday Lights contest begins with Light the Night, an annual tree-lighting ceremony sponsored by the Munster Education Foundation, the Munster Civic Foundation, and the Munster Chamber of Commerce, on Dec. 1 at Munster Town Hall. This event will feature festive food, local vendors, and fun for all ages.
There are four ways to support this seasonal event:
1. Register your house to be featured in our month-long self-guided holiday light home tours.
2. Buy a ticket for a seat on a festive, fun bus tour of the Merry & Bright homes. Every rider will receive a pair of 3-D glasses and a sweet treat.
3. Reserve a private trolley. Every rider will receive a pair of 3-D glasses and a sweet treat.
4. Buy a Holiday Kit, which includes a map of participating homes, hot chocolate, 3D glasses to view lights, and more!
Support the Munster Education Foundation with the purchase of a holiday lights viewing kit! Your kit will include everything your family needs to feel merry as you tour the lights of Munster. You'll receive a map of participating homes, hot chocolate, 3D glasses for viewing the lights, and more. Order your kit today! $20 Orders due by: Nov. 24
(Holiday kit pickup will take place Dec. 1 at our Light the Night event at Munster Town Hall (from 5:30-6:30 p.m.) or Dec. 2 from 11 a.m. to 2 p.m. at Toluka Paperie)
Ride a fun, festive bus or trolley around Munster and view the beautifully decorated homes participating in the Holiday Lights contest! Bus and trolley rides leave from Munster Town Hall on Dec. 8, 9, and 10, with each ride lasting one hour. Festive bus rides are $15 a person and 14-seat private trolleys are $300, while 34-seat private trolleys are available for $700. Every rider will receive a pair of 3-D glasses and a sweet treat.
Purchase a ticket for a festive bus ride.
Interested in reserving a private trolley? View our registration page.
Do you love decorating for the holidays? Participate in our fourth-annual holiday decorating contest! Dig out those lights and decorations and make your home sparkle this holiday season. It's a great opportunity to get into the holiday spirit and engage in some friendly competition in your neighborhood and town, all while benefiting local schools. Cost per entry: $15 for a single home entry and $50 for block party registration.
MEF also encourages neighborhood blocks to register together—the Block Party award will be given to a neighborhood group that exhibits the most fun and festive lights and decorations on their block. Not only will you win bragging rights, but also some fabulous prizes.
This year's awards include:
People's Choice Award - $250 Gift Card
Clark Griswold Award - $250 Gift Card
Incredible Inflatables - a new inflatable to add to your collection
Newbie Award - Leg Lamp Best in Show - will be awarded a festive school bus ride for 48 of your closest friends to tour next year's lights
Block Party - $200 in gift cards for food to be used at your summer Block Party.
Contest starts Dec. 1.