The Munster Police Department currently has assigned two school officers who assist with staff safety training, D.A.R.E. instruction, safety talks, security during special events, and more.  Both officers have received training through the National Association of School Resource Officers (NASRO) and the Indiana School Safety Specialist Academy.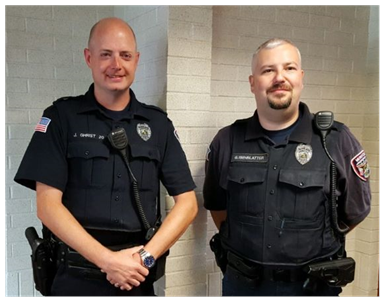 Officer James Ghrist (pictured left) works in the public and parochial elementary schools and is also available for car seat checks, security assessments, safety talks, and station tours.
Officer Gabriel Isenblatter (pictured right) works in the secondary schools and runs the Munster Police Explorers Program.
Please contact our school officers if you need assistance during the school year.