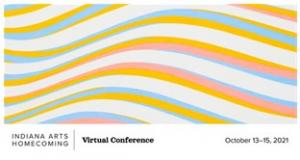 The Indiana Arts Homecoming would not be possible without the support and guidance of the Steering Committee. Steering Committee members guide the direction of the conference theme, make selections for conference sessions, and provide their expertise to the planning process. 
2021 Steering Committee Members:
Jingo de la Rosa, Illustrator and Teaching Artist (Marion County)- Co-Chair
Anna Ross, Audiences Unlimited (Allen County)- Co-Chair
Kelsey Peaper, Educator and IAC Commissioner (Marion County)
Alia Hawkins, Beachfront Dance (Lake County)
Aaron Robles, Founders Spark (Allen County)
Lacey Bohlen, Indiana Dept. of Education (Marion County)
Ploi Pagdalian, Arts for Learning (Marion County)
Kara Barnard, Musician and Instructor (Brown County)
Rachel Wilken, Columbus Symphony Orchestra (Bartholomew County)
Danicia Malone, Purdue Black Cultural Center (Tippecanoe County)
Cheryl Burress, Vevay Main Street (Switzerland County)
Merrick Korach, Community One, Inc. (Vanderburgh County)
Thank you to our Steering Committee for your support of the
Indiana Arts Homecoming!
Interested in presenting or have an idea for a session that you would like to see at the conference? The submission deadline is June 10!
Have questions about the call for content or the Homecoming in general? Reach out. I'm here to help! 
Paige Sharp (email)
Deputy Director of Programs
Indiana Arts Commission
Requests for accommodation should be sent to Stephanie at shaines@iac.in.gov or by calling (317) 450-9973.
The Indiana Arts Homecoming is made possible by the Indiana Arts Commission, National Endowment for the Arts, and Indiana General Assembly.
The Indiana Arts Commission is committed to inclusion, diversity, equity, and accessibility in our programming and services.
@INArtsCommission facebook
@INArtsComm instagram
@IndianaArt youtube