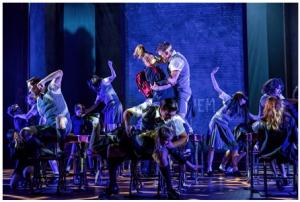 Kudos to Dialect Coach, Kate DeVore, the accents were impeccable – and the children enunciated their words clearly.  I remember when I wrote about the touring company, I was critical because it sounded like the children were swallowing their words. 
Speaking of the children, they were absolutely wonderful.  Matilda (Audrey Edwards was just about perfect in the role on opening night).  By the way, she alternates with Natalie Galla).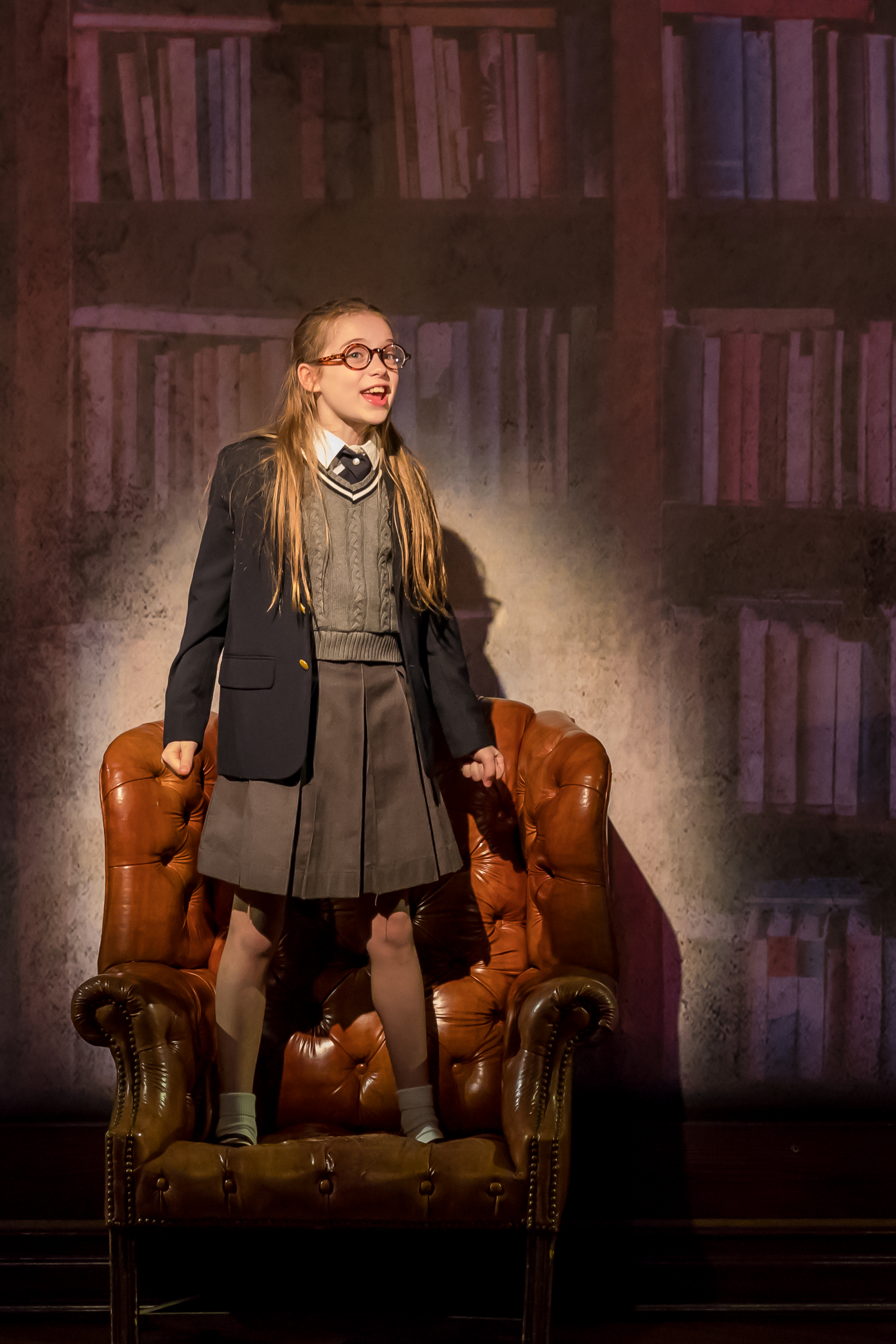 The rest of the children – Nathaniel Buescher, Saige Chaseley, Andrea Crisp, Anna Fox, Carter Graf, Nolan Maddox, Patrick Scott McDermott, Bailey Mosbacker, Lilliana Rene Renteria, Ava Tommasone and Joshua Zingerman – sang and danced their way into our hearts.   
They were terrified when Miss Trunchbull (Sean Fortunato) was the scariest and just as terrifying when they got their revenge on the bullying headmistress!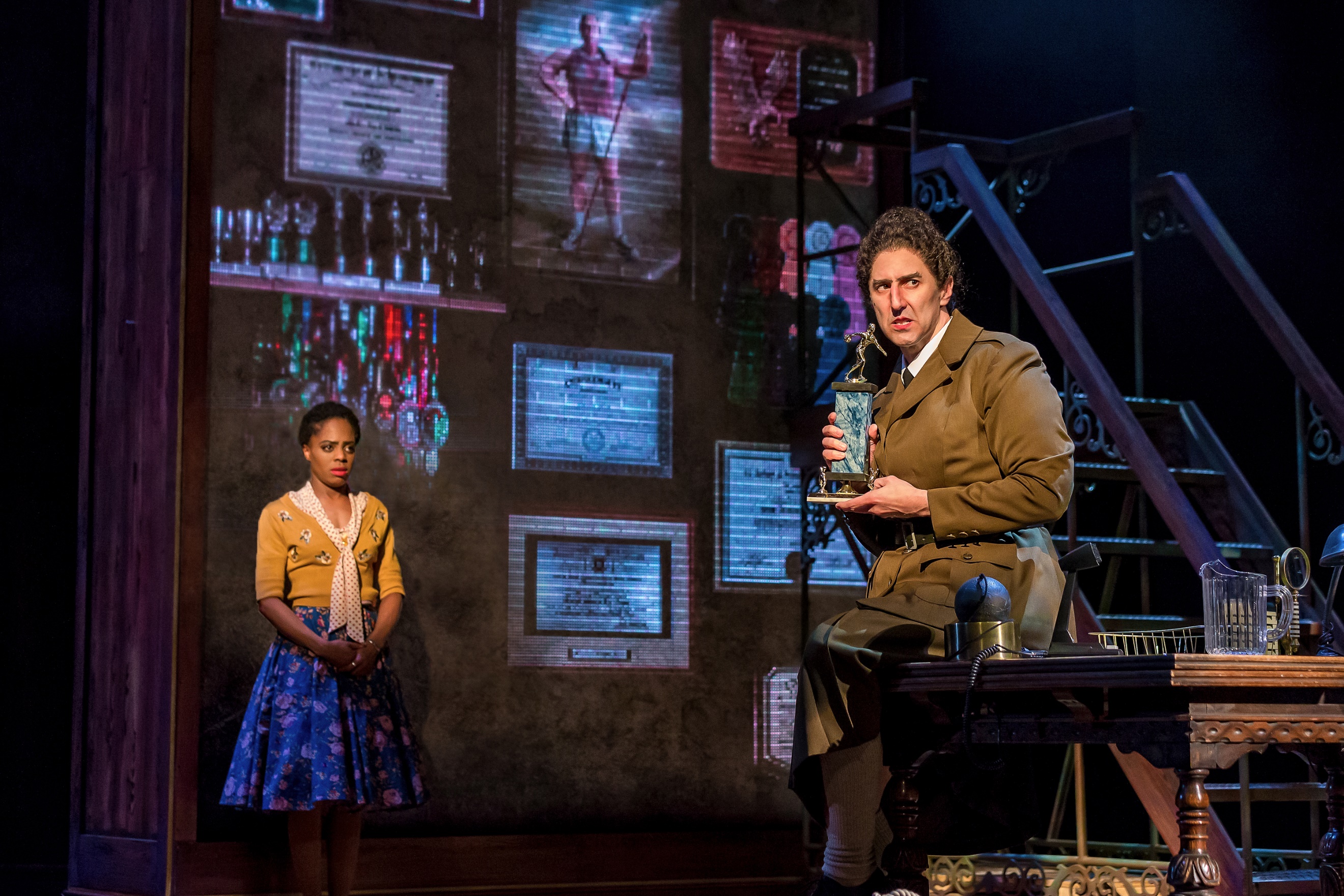 By the way, Sean Fortunato stole the show as the nasty, nasty Miss T. who raised bullying to an art form.  She absolutely loves punishing the children in rather horrible ways.  She used her training in throwing a shotput to launch one little girl into space!  , I thought I'd die laughing at Miss T., wearing her flippy little blue skirt, blowing her whistle and leading the exercise class.
Although Matilda's parents were deplorable, they were also hilarious.  Mrs. Wormwood (Stephanie Gibson) had to miss an important ballroom dance competition in order to give birth.  Mr. Wormwood (Jackson Evans) was so busy looking for a boy, he didn't recognize that he had a baby girl.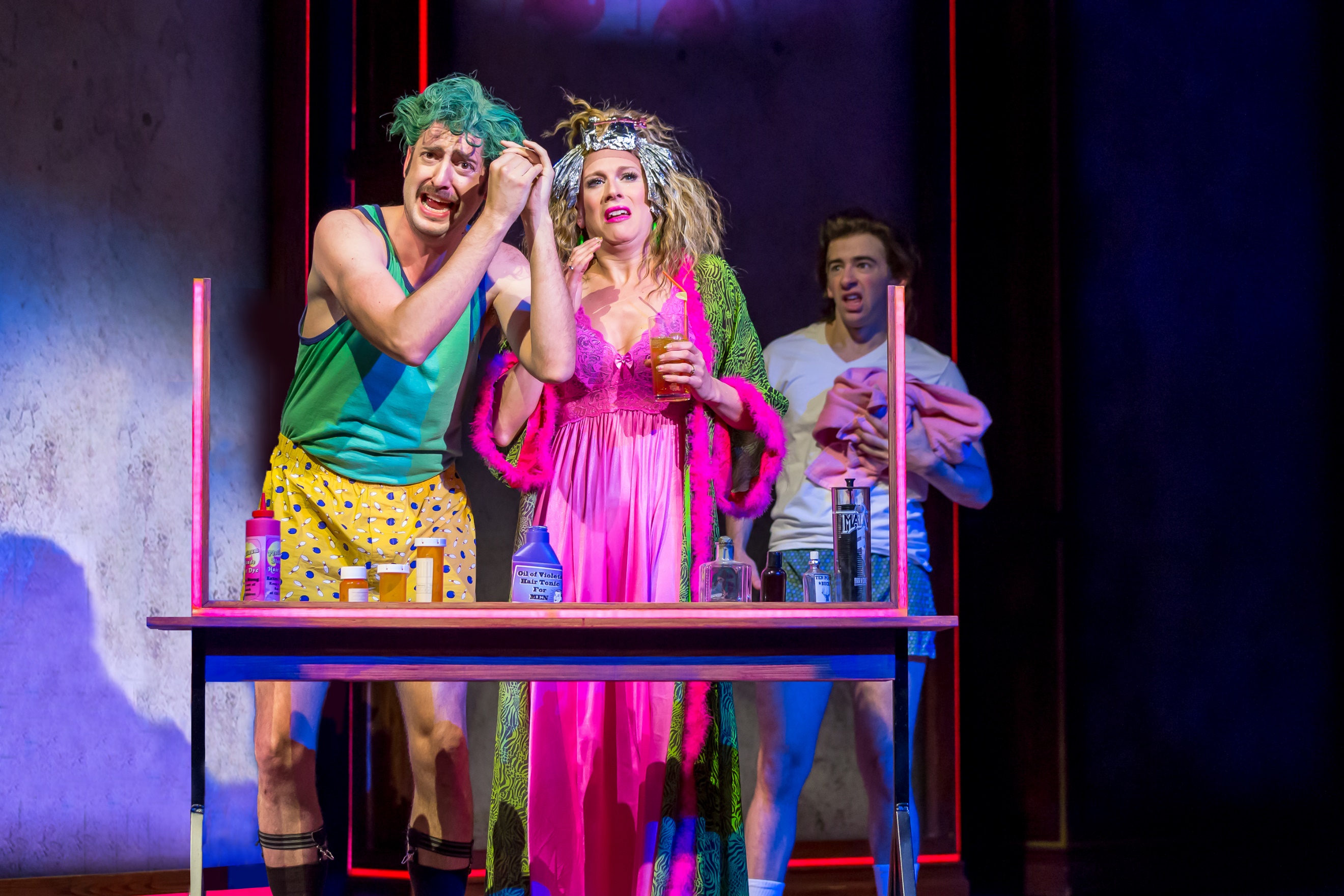 As Matilda was growing up, her father was always mean to her, calling her names and refusing to recognize that she was a girl.  He hated to see her reading, one time ripping pages out of her book.  Matilda loved to play pranks on her father – dying his hair green, gluing a hat to his head – and the broad humor worked.  Meanwhile, her mother was too busy dancing with her sexy partner to pay attention to her. 
Matilda's happy place is the library where she tells serialized stories about The Escape Artist and The Acrobat to her friend, Mrs. Phelps (Linda Bright Clay).  Although Miss T. dislikes her (actually Miss T. dislikes all the children), she really likes her teacher, Miss Honey (Eben K. Logan), who recognizes her intelligence.  Miss Honey even stood up to Miss T., not that it did much good. 
Kudos to the Drury Lane ensemble: Alex Benoit, Lydia Burke, Andrea Collier, Lexis Danca, Evan C. Dolan, Annie Jo Ermel, Austin Ryan Hunt, Paul-Jordan Jansen, Andrew MacNaughton, Liam Quealy and Casey Sanders. 
In addition to modern clothes, Theresa Ham's costumes included school uniforms, sexy dance outfits, old-fashioned circus costumes, Victorian mourning dress complete with veils, and Miss Trunchbull's unique, vaguely military, brown suit and unusual exercise outfit. 
"Matilda The Musical" runs through June 23rd at the Drury Lane Theatre, 100 Drury Lane, Oakbrook Terrace.  Parking is free, but valet service is available.  Running time is 2 hours, 25 minutes, with an intermission.  Performances are Wednesdays at 1:30 pm; Thursdays at 1:30 and 8:00 pm; Fridays at 8:00 pm; Saturdays at 3:00 and 8:00 pm; and Sundays at 2:00 and 6:00 pm.  Tickets range from $55-$70.  FYI (630) 503-0111 or www.drurylanetheatre.com.