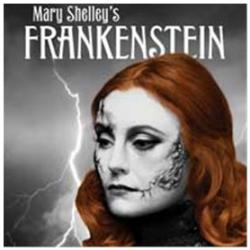 The story takes place where a group of friends are enjoying an evening of ghost stories, and as Mary Shelley ( Cordelia Dewdney is sheer perfection in this role) starts her story about Victor Frankenstein ( deftly handled by Walter Briggs, who also plays Mary's husband Percy) we watch this gothic tale come to life on this stage and surrounding theater. There are only five actors in this tale of love, horror and the power to create life, but with Caitlin's direction, the transitions are smooth and seamless.  
Part of what this epic tale is telling us is that within each and every one of us, a monster might exist. On the same topic, perhaps within each monster, there is also a man. Caitlin, who has given us some glorious adaptations over the years does brilliant work with this story. Many audience members are only familiar with the
classic film, the younger ones, only with "Young Frankenstein" as seen thru the eyes of Mel Brooks. This is a special work of art that allows us to see the story of creation, rejection and destruction. It is a story about love lost as well as love found. Whether or not you believe that life can be created as Dr. Victor Frankenstein did, experiencing the sensations of getting into the hearts and souls of these people, and their ghosts, provides an amazing evening of entertainment.
The rest of the cast of five are:Debo Balogun as Dr. John Polldori, Keith D. Gallagher as both Lord Byron and "the monster" and the incredible Cruz Gonzalez-Cadel ( making her Lookingglass debut)as Claire . This cast, while small in numbers truly shows us the power of live theater and how we the audience get caught up in their story.
The production team is a special one for this production. It cannot work without their expertise, so we really must give them a tip of the hat. Daniel Ostling's set is powerful and intriguing. The sound and music by Rick Sims adds a great deal to the storytelling as do the lighting effects (William C. Kirkham). The costumes by Sully Ratke are very fitting of the period and the circus design ( this is Lookingglass, after all) is by Sylvia Hernandez-DiStasi.The props are handled by Amanda Herrmann ( what a monumental job this is) and the production manager Sarah Burnham makes sure that everything is where it should be.
"Mary Shelley's Frankenstein will continue at Lookingglass Theatre located in the Water Tower , 821 N. Michigan Avenue ( entrance on Pearson) thru August 4th with performances as follows:
Tuesdays   7:30 p.m. ( June 11th and 25th, July 2nd, 16th and 30th)
Wednesdays  7:30 p.m.
Thursdays  2 p.m. May 30th, June 6th and 20th, July 11 and 25th) and 7:30 p.m. except July 4th
Fridays   7:30 p.m.
Saturdays  2 p.m. and 7:30 p.m.
Sundays  2 p.m. and 7:30 p.m.
added: Wednesday, July 3rd at 2 p.m.
Running time two hours and thirty minutes with one intermission.
For special access performances, visit http://www.looingglasstheatre.org/access
Tickets range from $45-$86 and can be purchased at the box office, by calling 312-337-0665 or online at www.lookingglasstheatre.org
Parking at a discount at Olympia Parking on Chicago Avenue. Bring your ticket for validation.