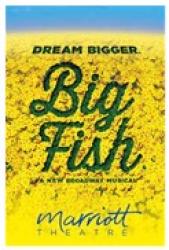 ***** Highly Recommended ***** Marriott Theatre's Big Fish, an old-fashioned feel-good musical about an American family, is imaginative, fantastical and an all- around good time.  Spoiler warning – it can be a bit of a tear-jerker, too.  Although I didn't see the Tim Burton film, I did read Daniel Wallace's book.  I think the musical nails the feel of the book.  I loved Big Fish and I give it 4 BIG Spotlights.   
Big Fish is an intimate story about a father and son's fraught relationship.  I think the reason the Broadway production never really worked was because the venue/stage was just too big.  Marriott's smaller in-the-round stage is perfect.  I also think the Broadway producers lost track of that in their zeal for all the scenery and special effects.  The people got lost in the razzle-dazzle.  Kudos to Henry Godinez for keeping our attention exactly where it belongs – on the people.  
Edward Bloom (Alexander Gemignani) loves to tell stories – and some of them might be true.  The proverbial traveling salesman, Edward collected people and stories wherever he went.  All of the most important events of his life, like the day he met his wife and the love of his life, Sandra (Heidi Kettenring), are marked with stories. 
In the opening scene, young Will (William Daly or Archer Geye) reproaches Edward for missing his game.  Since it was soccer, which Edward doesn't consider a sport, he gives himself a pass.  When Will asks Edward to read him a story, he tosses the book and tells his own story, The God's Honest Truth – a fish story about the day Will was born.    
When Edward takes Will fishing, nothing is biting, so he teaches his son how to fish the Alabama way.  As they do the Alabama Stomp, fish leap right into their arms. 
By the way, my Dad was a great story teller, and growing up, we just listened to the stories and laughed.  You can't get mad like Will did, you have to take it all with a grain of salt, and know there's some truth there somewhere. 
As he was getting ready for his wedding to Josephine (Lydia Burke), Will (Michael Kurowski) makes Edward promise not to tell any stories.  At the reception, when Will thanks the guests, Edward grabs the microphone to tell everyone about the day his son was born.  Later, as Will and his bride have their first dance, Edward cuts in to show his son how to dance.  He also blurts out Will's secret, making it all about himself.
When Will gets a phone call from his mother, telling him that Edward is ill, he and Josephine rush home.  Will just can't get past his anger, so he assumes Edward is leaving his mother penniless.  When he finds something suspicious in his father's files, he automatically leaps to the worst conclusion. 
Meanwhile, Edward, who always claimed he knew how he would die because a witch told him, repeats that story.  He and his friends were walking through a dark, scary forest, when the trees suddenly start to move.  All motion stops when the guys turn around.  As the dancers circle them, the Witch (Lucy Godinez) pulls out a crystal ball.  When she offered to tell their fortunes, his friends ran, but Edward stayed to hear a secret. 
Edward grew up in a small town called Ashton.  In high school, quarterback Don Price (Brandon Dahlquist) and his sidekick, Zacky (Christopher Kale Jones), bullied him.  One day, Edward meets up with a mob out to hunt down a giant who's scaring everyone in town.  Edward volunteers to go find the giant's cave and confront him.  Instead, he talks to the giant, learns his name is Karl (Jonah D. Winston), and he's really quite brilliant.  When he brings Karl into town, the girl he's crushing on, Jenny Hill (Alison Sill), suddenly notices him. 
Karl needs a job, so they head for the circus.  As they arrive, three girls who call themselves the Alabama Lambs are auditioning for the Ringmaster, Amos Calloway (Emma Rosenthal).  Edward is lovestruck when he spots one of them, a pretty red-head (Heidi Kettenring), and begs the Ringmaster to tell him about her.  He even volunteered to work without pay just to get her name.  After three years of dribbling out hints about the girl, Amos finally relents and tells him her name – and that she's going to Auburn University. 
Wanting to get there as fast as possible, Edward becomes a human cannonball. When he finally finds Sandra, she's engaged to his nemesis, Don Porter.  When Don starts beating Edward, Sandra pitches a fit and breaks the engagement.  Since her favorite flower is the daffodil, Edward sings Daffodils as stagehands wearing yellow coveralls kneel and fan (with oversized yellow fans), releasing thousands of yellow petals – an amazing special effect. 
Will thinks he found evidence that his father was having an affair, so he left for Ashton to confront Jenny.  Although he never actually used the word, Jenny knew exactly what he meant.  Then she explained that Edward saved Ashton. 
I'd wondered how Marriott would handle this scene.  So, the people of Ashton stand in a circle holding doll houses, even a barn – all different.  When the 'flood' came, all the houses vanished from the stage – a very cool effect.
Note: Guests are encouraged but not required to wear masks while inside the building. 
Big Fish runs through March 19th at the Marriott Theatre, 10 Marriot Drive, Lincolnshire.  Parking is free; valet parking is also available.  Running time is 2 hours, 30 minutes, with an intermission.  
Performances are Wednesdays at 1:00 & 7:30 pm; Thursdays at 7:30 pm; Fridays at 8:00 pm; Saturdays at 4:00 and 8:00 pm; Sundays at 1:00 and 5:00 pm with select Thursday 1:00 pm matinees.  There are a limited number of dinner-theatre packages available on Wednesdays and Thursdays.  Tickets range from $59-$64 excluding tax & handling fees.    FYI (847) 634-0200, www.ticketmaster.com or www.marriotttheatre.com.