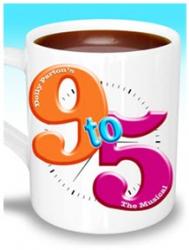 The show opens with alarm clocks ringing, people getting ready for work while singing title song, "9 to 5."  Violet (Jayma Kay Emerson), a single mother, is hoping for a promotion.  Doralee (Nora Wargg) is deeply in love with her husband Dwayne.  Newly divorced (her husband left her for a bimbo named Mindi), Judy (Shannon Hayes) is starting her very first job. 
It's going to be another hellish day at Consolidate Industries, working for the lying, cheating, conniving, sexist boss, Franklin Hart, Jr. (Jonathan Fetsch).  The men in the office join Hart in lusting after his secretary, Doralee – they all assume she's sleeping with him.  The women really resent being called his "girls" and they don't like Doralee – same reason as above – and they all watch out for the office snitch, Roz (Karin Coleman).
Hart humiliates Judy when she can't operate the Xerox machine.   Violet learns that he's passed her over for a promotion and given the job to a man that she trained.  Doralee learns that he's started a rumor about their 'affair' which infuriates her.   After smoking a joint at Violet's house, each woman fantasizes Hart's murder – Judy as a femme fatale in "The Dance O' Death", Doralee as a rodeo star "Cowgirl's Revenge", Violet as a deranged Snow White, surrounded by strange animals, "Potion Notion". 
The very next day, Violet gives Hart coffee she's accidentally laced with rat poison – after all , the boxes are both yellow!  While hiding in a bathroom stall, Roz overhears Violet telling Doralee and Judy that's she's poisoned the boss and immediately runs and tattles to Hart. 
When Hart tries to blackmail Doralee into sleeping with him, she pulls a gun and hogties him with the telephone cord.  Violet and Judy help her move him to his home where they jerry rig a hoist from the garage door opener, and leave him hanging. 
The next day, Violet takes over Hart's job.  After the three friends send Roz off to learn French, using Doralee's ability to forge Hart's signature, they institute new employee friendly policies, raising morale and productivity.
"9 to 5, The Musical" is based on the film "9 to 5" starring Dolly Parton, Jane Fonda, Lily Tomlin and Dabney Coleman.  If you've never seen the 1980 movie, rent it.  It's in my top 10 funniest shows. 
In contrast to the strong voices of Jayma Kay Emerson and Shannon Hayes, Nora Wragg has a much softer voice.  I had a hard time hearing the words to some of her songs, a problem a mic would have solved. 
"9 to 5, the Musical" runs through November 17th at Marian Theatre Guild, St. John's Auditorium, 1849 Lincoln Ave., Whiting.  FYI (219) 473-7555.