Hyde Park Art Center, the renowned non-profit hub for contemporary art located on Chicago's vibrant South Side, announces a major new group exhibition, The Language Between Worlds, featuring works by five artists that examine the racial inequality learned through systems that create American society, on view July 16 - October 29, 2022. Curated by Art Center Director of Exhibition & Residency Programs, Allison Peters Quinn, the exhibition includes artists Nyame Brown, Nicole Marroquin, Jessica Vaughn, and the Art Center's former resident artists Chris Pappan (2019/20) and Bethany Collins (2016/17).
In this exhibition, the artists devise their own language of symbols, visual cues, and narrative structures that highlight the racial inequality woven into American society. Written and coded methods of communication are tools these artists employ in their paintings, drawings, textiles and prints to translate important lessons of protests and cultural preservation. Whether fact or folktale, the stories they choose to tell are revived through a modernist or conceptual approach and directly connect the past to the future, while challenging the author of history itself.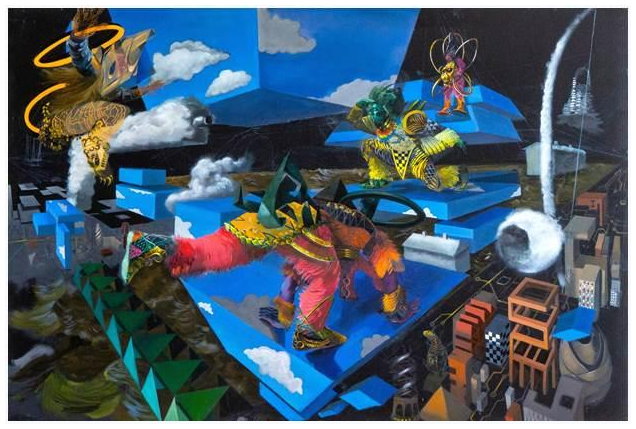 Photo: Nyame O. Brown, Galo Canto, 2021, oil on blackboard, 4 x 6 ft. Courtesy of the artist.
The title of the exhibition references Ta-Nehisi Coates' nonfiction book Between the World and Me (2015), in which Coates' tender narrative written to his son teaches the human toll of racial disparity and discusses the various systems in place that support a segregated America. Similarly, the artists in the exhibition borrow historic texts and materials that represent values-based behaviors—from Brer Rabbit and Homer's Odyssey to newspapers, maps and manuals—and expose embedded systems of inequity, while suggesting methods to circumvent said systems.
Peters Quinn explains the genesis and urgency of curating this exhibition, "I began working on this show during the years of the Trump administration when examples of white privilege were obvious, unescapable, and detrimentally emboldened. It's important that this show features voices of Black and Brown artists who approach the subject of racial injustice from perspectives of enlightenment, correction, speculation, and hope. Through the work, the artists challenge aspects in American education and social traditions that perpetuate discrimination, while offering space to chart a new path towards racial equity." She goes on to point out the consistent connection between the Art Center's curatorial practice and residency program, "As a white curator, I am grateful to have had conversations about race during the process of making this show with thoughtful and critical artists such as Pappan and Collins from the art center's Residency program. The Residency program strives to support art practices that have a relationship to community and a demonstrated commitment to dismantling inequities through their work. Both of these artists are clear examples of the integrity that we look for in our resident artists' work."
The Language Between Worlds is generously supported by Abakanowicz Arts and Culture Charitable Foundation.
Admission, hours, and COVID-19-related safety protocols
Exhibition admission is free and allows walk-ins. Masks are required to enter the building. Hyde Park Art Center views its community's health and safety as the number one priority and is utilizing the guidance from the City and State to inform its safety protocols. For latest exhibition hours and COVID policy, visit https://www.hydeparkart.org/plan-your-visit/.
About the Hyde Park Art Center
Hyde Park Art Center, at 5020 South Cornell Avenue on Chicago's vibrant South Side, is a hub for contemporary arts in Chicago, serving as a gathering and production space for artists and the broader community to cultivate ideas, impact social change, and connect with new networks. Since its inception in 1939, Hyde Park Art Center has grown from a small collective of quirky artists to establishing a strong legacy of innovative development and emerging as a unique Chicago arts institution with social impact. The Art Center functions as an amplifier for today and tomorrow's creative voices, providing the space to cultivate and create new work and connections.
For more information, please visit www.hydeparkart.org.
Artist bios
Nyame O. Brown is an Afrofuturist installation artist working in the media of painting, drawing and cut paper. Brown's work addresses the Black imagination as a space for new ways to perceive Diaspora not just through unity and similarities but looking at the dynamics of difference to further comprehend diaspora. He uses the folklore cultural practices and symbols from the Diaspora to make paintings of contemporary black mythologies.  Brown received a MFA at the School of the Art Institute of Chicago, taught at Hyde Park Art Center previously. He has been living and working in the Bay Area since 2001. 
Bethany Collins creates interdisciplinary work that is conceptually-motivated by her understanding of the black American experience and how it manifests in language and American history. During her 2016 participation in the Jackman Goldwasser Residency at Hyde Park Art Center, she continued her research of the 16th Street Baptist Church bombing in Birmingham, AL which grew into a pressed paper series in blind emboss. Collins grew up in Montgomery, AL and lives and works in Chicago, Illinois where she is faculty in the Department of Visual Arts at the University of Chicago. She is represented by Patron Gallery, Chicago.
Jessica Vaughn is an interdisciplinary artist whose practice encompasses working with discarded and mass-produced materials to create artworks and installations that convey complex histories of place, production, and use. Her textile series Receipt of a Form features fabric sourced from a CTA upholstery manufacturer and references the fraught history of transportation in Chicago and its influence on segregation. Vaughn grew up in Chicago and teaches at Tyler School of Art and Architecture in Philadelphia, PA. She lives and creates her artwork in Brooklyn, New York.
Chris Pappan is a painter and leger artist of Kanza, Osage and Lakota descent. His cited influences are Heavy Metal and Juxtapoz magazines, and the Lowbrow art movement with its cultural roots in 1970s underground comics, punk, and hot rod cultures. His art reflects the dominant culture's distorted perceptions of Native peoples. He works to dispel myths forced on his traditions through his art practice. During his participation in the 2019 Jackman Goldwasser Residency, he developed his series, Of White Bread and Miracles.  In these figurative leger paintings, he reclaims the spiritual act of dance appropriated in Boy Scout manuals instructing participants to dance for a pow wow. Originally from Colorado Springs, CO, Pappan has lived in Chicago for nearly twenty years.
Nicole Marroquin is an educator, activist, and artist working primarily sculpture and print work to create radical forms and content addressing social injustice.  Her series on student uprisings in Chicago Public Schools from 1967-74 and queer Chicanx public memory bring much needed attention to the decades long struggle for justice over the decades. Marroquin is the Chair of the Art Education Department and Associate Professor at the School of the Art Institute of Chicago and often collaborates with Just Seeds and Hoofprint in Chicago.
Curator bio:
Allison Peters Quinn is the Director of Exhibition & Residency Programs at Hyde Park Art Center. Her curatorial practice focuses on projects that address intersections between art, public space, and civically-minded practices. Over the past twenty years, she has organized significant exhibitions  and published essays for emerging and established contemporary artists such as Candida Alvarez, Theaster Gates, Susan Giles, and Jefferson Pinder.