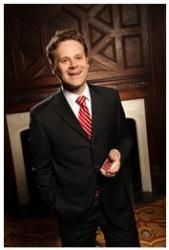 Beginning May 1, third-generation magician and mind reader Dennis Watkins' popular virtual offering, "The Magic Parlour at Home," will continue on Saturday nights through June 30, 2021. The show will then go dark in July to prepare for an in-person re-opening in late summer at Chicago's Palmer House Hilton. Watkins will continue to offer private in-person and corporate virtual events on an ongoing basis.   
What began as a temporary pivot in response to the pandemic has now run for more than nine straight months. During that time, Watkins and his team have produced nearly 400 virtual performances including corporate and private events in almost all 50 states as well as internationally for notable companies lie Amazon, Apple, Spotify, Uber, LinkedIn, and Hewlett Packard, among others.  
Audiences of all ages have been "wow-ed" by Watkins' world-class virtual mind reading and interactive magic that has been brought directly to their homes for the past year. In a time when being physically together has not been possible, The Magic Parlour at Home has offered families, co-workers, and friends a joy-filled experience and sense of community.  
"The Magic Parlour at Home has been an amazing and hope-filled journey in a complicated time. The virtual world has allowed me to craft new magic and introduce myself to audiences I likely never would have met otherwise," said Watkins. "I look forward to continuing to bring my show to virtual audiences while also returning to my treasured in-person performances! My team is working closely with the Palmer House to develop our re-opening plan and I am excited to share more information in the near future."  
Tickets for "The Magic Parlour at Home" are now available for $49 and can be purchased online at themagicparlourchicago.com. A maximum of 30 tickets will be sold for each performance. Designed for family and group viewing, each ticket admits one "household" or "group."  All performances will take place via Zoom and require a computer with a functioning camera and microphone to participate as well as a high-speed internet connection. After tickets are purchased, patrons will receive an email containing instructions and a link to access the performance. 
"The Magic Parlour at Home" is recommended for adult audiences. Guests ages 10 and up are welcome to join, while guests under the age of 18 must be accompanied by an adult. For a fully immersive experience, guests are recommended to sport cocktail attire and bring their own deck of cards. 
A complete list of May and June performance dates is below.  
Saturday, May 1 at 8 p.m. CST 
Saturday, May 22 at 8 p.m. CST 
Saturday, May 29 at 8 p.m. CST 
Saturday, June 5 at 8 p.m. CST 
Saturday, June 12 at 8 p.m. CST 
Saturday, June 19 at 8 p.m. CST 
Saturday, June 26 at 8 p.m. CST 
For complete details and information on "The Magic Parlour at Home" and Watkins' other virtual experiences including corporate and private events, please visit: themagicparlourchicago.com 
About Dennis Watkins' The Magic Parlour 
The Magic Parlour is an intimate evening of classic magic and mind-reading featuring the work of third-generation magician Dennis Watkins. Guests to this intimate, magic-packed evening gather at Potter's in the Palmer House lobby before Watkins personally escorts them to the performance space. Once inside, the audience participates in much of the performance as Watkins wows the room with classic sleight of hand, unbelievable mind-reading and magical wisdom passed down from his grandfather. 
 Since opening at the Palmer House on New Year's Eve of 2011, Dennis Watkins' The Magic Parlour has enjoyed phenomenal success and unimagined growth. With fewer than 50 seats available per show, The Magic Parlour has entertained over 45,000 guests in its decade-long run. Additionally, it has hosted more than 1,300 ticketed audiences and dozens of private groups, facilitated three truly magical wedding proposals, and has been featured in two books (Chicago Magic: A History of Stagecraft and Spectacle and 100 Things to do in Chicago Before You Die).