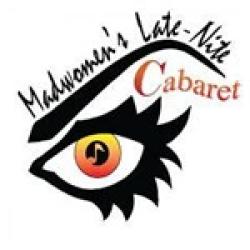 **** Recommended **** Hammond Community Theatre's latest show is a totally macabre musical revue – and it's hilarious!  No kidding, Madwomen's Late-Nite Cabaret will have you laughing from the very first song all the way to the finale.  You will not believe how perfectly certain well-known songs certain maligned women's lives/death scenes.  This is a don't miss show!   
Lizzie Borden, aka my former insurance agent and good friend, Jim McNabney, provided piano accompaniment for the show, waving his axe after every number.  Some of you might remember Jim dabbling on the piano at Hammond Rotary meetings.  Don't miss his rendition of They're Coming to Take Me Away! 
Wearing a beaded black dress and heels, Ethel Merman (Dean Johanson) was the Mistress of Ceremonies for the evening's festivities, leading off with a lusty rendition of Nothin' Like A Dame. 
Some of my favorite moments:
Joan of Arc (Abigail Pennanen) singing Smoke Gets in Your Eyes
Eve (Shannon Knoerzer) singing about Kids.
Typhoid Mary (Maggie Reister) singing Fever
Three famous disembodied heads, Mary Stuart (Amanda Tomczak), Anne Boleyn (Charlene Ahrens) and Marie Antoinette (Brizieda Bueno) singing I Ain't Got No Body & Don't Get Around Much
Medusa (Bonnie Johnson) and the three heads singing Hair.
Mata Hari (Alayna Prisby) singing Do You Want to Know a Secret
Mary Jane (Pennanen) singing You're Getting to be a Habit
Sybil (Amy Bannister) singing Personalities and My Own Best Friend
There were plenty more madwomen singing funny songs:  Motherless Child, Eve; Sisters, Procne (Prisby) & Philomena (Tana Jackson); I'm Still Here, Mother Nature (Linda Slankard); Bein' Green, Wicked Witch (Bueno); Bare Necessities, Lady Godiva (Diana Smoot); and I Don't Want to Get Thin, Sophie Tucker (Cari Labok).
Act II had a couple of group numbers, including I Feel Pretty with Ethel, Procne, Typhoid Mary & Wicked Witch; Who Are You to Say We're Crazy with Mata Hari, Mary Jane, Sybil & Eve.
Mother Nature and the Cast sang Don't Rain on My Parade, followed by Eve and the Cast with Respect, and Ethel and the Company singing I Don't Care.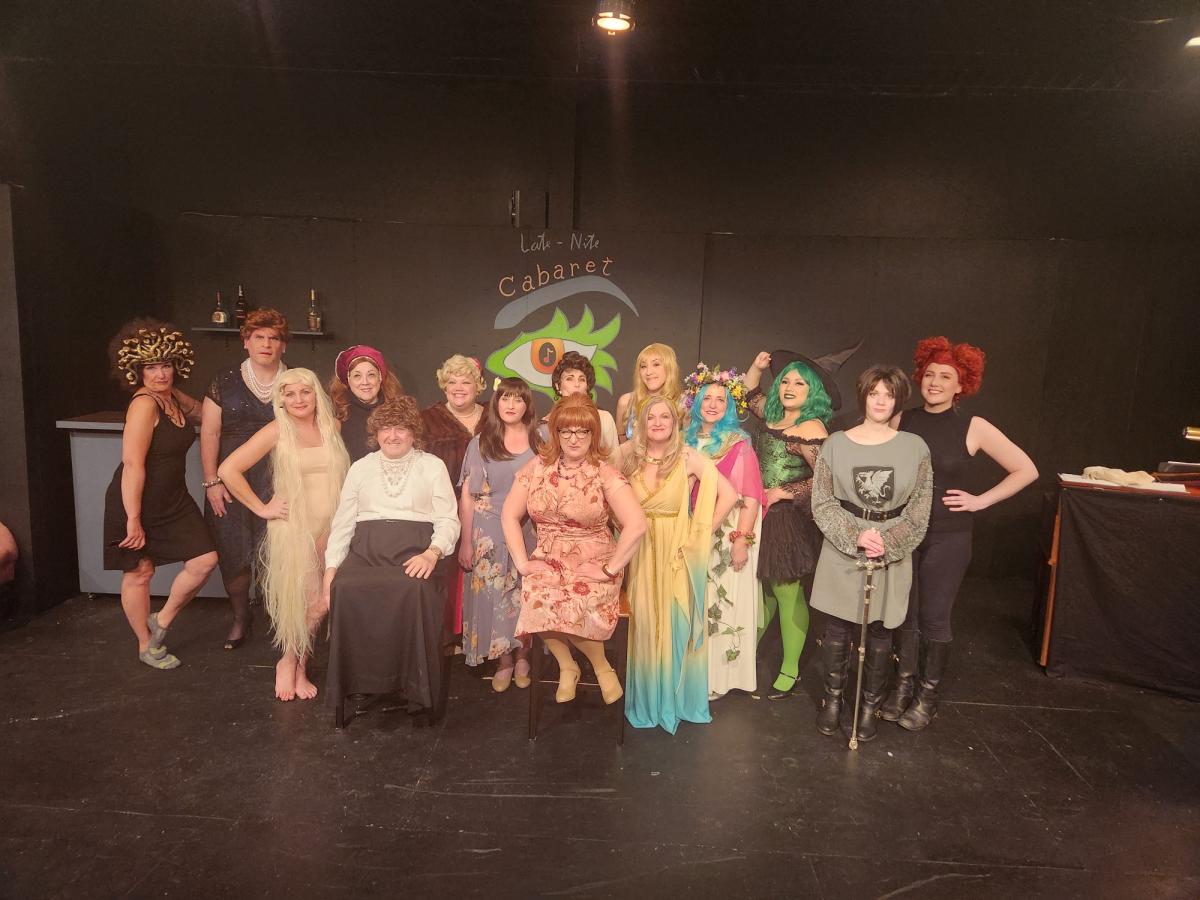 The Hammond Community Theatre production of Madwomen's Late-Nite Cabaret runs through April 2nd at Beatniks on Conkey, 481/420 Conkey Street, Hammond.  Street parking is free.   Running time is approximately 2 hours including an intermission.  Performances are Friday & Saturday at 7:30 pm, Sunday at 2:00 pm. Tickets are $20.  FYI (219) 852-0848 or www.hammondcommunitytheatre.org/madwomen