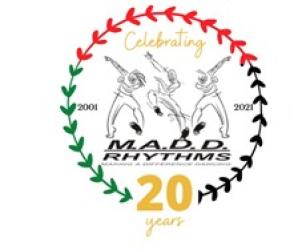 CHICAGO - M.A.D.D. Rhythms, Chicago's premier tap collective, launches 2023 with the announcement of current 2023 events, new company members, monthly Community Tap Jams, classes, a fundraiser, new podcasts and more. Additional 2023 events and updates may be found at MADDRhythms.com. 
M.A.D.D. Rhythms current updates and events include:
NEW COMPANY MEMBERS
M.A.D.D. Rhythms is proud to announce the addition of three new professional company members: Ashton Carter, Devin Mosley and Davon Suttles.
Ashton Carter (she/her/hers) is originally from Dallas, Texas, and has been trained in a variety of different dance genres at Next Step Dance Performing Arts Center. She was trained under Malana Murphy, director of RIFF Dallas and Woodshed Experience and Katelyn Harris, past member of Tapestry Dance. When she was 16 years old, she began to spread her love of tap dance by teaching for a youth company. It is here that she discovered her true passion for sharing tap dance to those who were eager to learn, like herself, and has been teaching young dancers ever since. Carter was recently a part of The School at Jacob's Pillow 2021 Tap Performance Ensemble. Here, she was given the opportunity to work alongside ten other dancers for two weeks, under the direction of Michelle Dorrance, Dormeshia and Derick Grant. She is now a resident of Chicago and is currently a student at Roosevelt University majoring in digital marketing. She started her training with M.A.D.D. Rhythms in the fall of 2021 and since has done a multitude of performances with the company such as Summer Dance Celebration at Millennium Park, "Feeling Good: A M.A.D.D. Rhythms Tribute to Nina Simone", "A M.A.D.D. Mixtape" and others. 
At the age of eight, Devin Mosley (he/him/his) started dancing at Studio One Dance Theater. There he learned the dancing styles of hip hop and tap dance. At the age of 14, Moslet was hired as an assistant stage manager expanding his knowledge of tap dance under M.A.D.D Rhythms West: BBF Crew run by M.A.D.D Rhythms own, Bril Barrett, as well as his hip hop knowledge with HiDef Dance Ensemble run by Tanji Harper. Wanting to expanding his knowledge even more, at the age of 16 Devin started apprenticing under the professional company and thus has been in many performances/productions such as "Feeling Good: A M.A.D.D Tribute to Nina Simone," its Annual Kwanzaa Festival at Chicago State and debuted with the company on many news channels. Mosley has a history with the company and is on the path and very close to becoming a professional company member.
Davon Suttles(they/them/theirs/he/him/his), is an emerging artist in Chicago, who grew up studying and performing American tap dance in Keane Sense of Rhythm's Youth Tap Ensemble. Suttles is also an actor and an alumnus of both Saint Paul Conservatory for Performing Artists and Columbia College Chicago's Musical Theatre Performance program.
In 2019, Davon received the Cultural Community Partnership Grant from the Minnesota State Arts Board for their first self produced work "MELANIZED," a multimedia tap dance show about living as a person of color. This show addressed macro- and microaggressions towards people of color, as well as showcased the beauty of living as a POC.
Suttles is a past member of Stone Soup Rhythms, under Dani Borak and has performed with the Children's Theatre Company in Shrek the Musical and Bare: A Pop Opera. In 2018, they were a featured dancer in the new hit adaption of 42nd Street, at Drury Lane Oakbrook Terrace, choreographed by Broadway performer, Jared Grimes. And in the fall of 2019, they returned to Drury Lane to join the ensemble of Mary Poppins.
Currently, Suttles is dancing with M.A.D.D. Rhythms, a non profit tap company based on the South Side of Chicago, whose mission is to preserve, promote and contribute to this art form called tap.
NEW WEBSITE
M.A.D.D. Rhythms began the new year with the debut of its redesigned website featuring events, calendar, class information and more. See the new site at MADDRhythms.com. 
INDIVIDUAL TAP ARTIST GRANT
Making A Difference Dancing Rhythms Organization, the non-profit arm of M.A.D.D. Rhythms, announces the recipients of the 2022 Individual Tap Artist Grant, a monetary grant for Chicago-based artists who exhibit exceptional skill and dedication to the art of tap dance. The Individual Tap Artist Grant is a flexible $5,000 annual grant and is designed to conform to the financial needs of the selected artists. "The Martha Struthers Farley and Donald C. Farley, Jr. Family Foundation has been the organization who makes these grants possible. Their support offers a rare opportunity for dancers to explore Tap on an individual level while increasing their knowledge of its rich history and enhancing and building their skills," said Alexandrya Fryson.
The 2022 recipients are Ivy Anderson, Tristan Bruns, Andrew Carr, Starinah "Star" Dixon, Sterling Harris, Alexandrya Fryson, Caleb Jackson, Donnetta "LilBit" Jackson, Case Prime and William Whims.
CLASSES
M.A.D.D Rhythms Tap Academy
Winter Session: January 11 - March 25
Spring Session: April 5 - June 17
Summer Session: July 5 - August 10 
Harold Washington Cultural Center, 4701 S. King Dr. (47th Street entrance)
The M.A.D.D. Rhythms Tap Academy returns in the new year with "Tap for Tots" for kids, "Grown & Sexy" for adults and more. Registration is available now for beginners, ages 3 years old and older, adults and professionals. Classes are offered in person and are taught by Bril Barrett, Starinah "Star" Dixon and members of M.A.D.D. Rhythms.
M.A.D.D. RHYTHMS AT THE 33RD INTERNATIONAL CONFERENCE AND FESTIVAL OF BLACKS IN DANCE
Sheraton Centre Toronto Hotel, Toronto
M.A.D.D. Rhythms will participate and perform at The International Association of Blacks in Dance's 33rd Annual International Conference and Festival of Blacks in Dance in Toronto, Canada, in partnership with dance Immersion. Continuing its legacy as the broadest international gathering of Black Dance professionals, agents, artistic directors, artists, choreographers, company managers, executive directors, historians, presenters, scholars, teachers and many others, the conference and festival remains the most diverse place to share ideas, cultures and experiences.
A pioneering four-day dance experience where attendees will engage in a multitude of invaluable opportunities expanding their understanding of dance history and technique through Conference and Festival programming that includes an awards celebration, meals and social events, a membership town hall, performances and sessions.
CULTURE SNAPS
Friday, Feb. 3 and 17 at 2 p.m.
Saturday, Feb. 4 and 18 at 2 p.m.
Chicago Cultural Center, 77 E. Randolph St.
Tickets: FREE
Culture Snaps features people, places and things nominated and recognized for a cultural contribution to their neighborhood's vitality and celebrating cultural assets in Chicago's varied and vibrant 77 community areas. 
M.A.D.D. Rhythms will host an hour-long engagement as part of the Culture Snaps program February 3 and 4 and 17 and 18 from 2 - 3 p.m. at the Chicago Cultural Center. 
In addition, M.A.D.D. Rhythms will have a limited number of buttons in the Chicago Cultural Center's Art-o-mat machine in the lobby during the engagement. 
VALENTINE'S DAY TAP WORKSHOP
Tuesday, Feb. 14 at 6 p.m.
Harold Washington Cultural Center, 4701 S. King Dr. (47th Street Entrance)
Tickets: $20 per person, $35 per couple
Starinah "Star" Dixon hosts a special Valentine's Day event for couples celebrating that features dance lessons, chocolate covered strawberries, a champagne toast and more. Perfect for a romantic evening together or an opportunity to learn something new and have fun with any special someone. 
THE RETURN OF "FEELING GOOD: A M.A.D.D RHYTHMS TRIBUTE TO NINA SIMONE"
Sunday, Feb. 26 at 4 p.m.
Harold Washington Cultural Center, 4701 S. King Dr. (47th Street Entrance)
Tickets: $15
As part of Chicago Theater Week, M.A.D.D. Rhythms' 2018 premiere returns. Bril Barrett has always had a deep respect, love and admiration for the music of the legendary Nina Simone. He embarked on creating work with M.A.D.D. Rhythms that pays the utmost respect and homage to Nina Simone. The performance includes choreography by Barrett, Tristan Bruns, Starinah "Star" Dixon, Alexandrya Fryson, Donnetta "LilBit" Jackson and improvography by all performers
Working with musical director/Drummer Ben Jammin Johnson and some of Chicago's most legendary jazz vocalists and musicians, his goal for each piece is to exude a different part of Simone's career and aesthetic.
COMMUNITY TAP JAMS
Friday, March 10 at 8 p.m. 
Friday, April 14 at 8 p.m.
Friday, May 12 at 8 p.m.
Hosted by Bril Barrett or members of M.A.D.D. Rhythms professional company 
Harold Washington Cultural Center, 4701 S. King Dr. (47th Street Entrance)
Tickets: FREE
In-Person and streamed LIVE on M.A.D.D. Rhythm's YouTube channel,
Community Tap Jams are free and open to the public celebration of Tap. This monthly event returns in March and continues every second Friday of the month. Individuals may join in person, following all social distancing protocols. Community Tap Jams, encourage members of the community to discover Tap or to improve their skills through paying homage to the hoofers of old and the traditions they have set and helping individuals learn to create, communicate and express themselves. Community Tap Jams is a unique event involving members of the M.A.D.D. Rhythms' company, guest artists and includes live musicians.
M.A.D.D. RHYTHMS PODCAST NETWORK
M.A.D.D Rhythms launches the second season of it's M.A.D.D. Rhythms Podcast Network which includes the podcasts, "Gasps From A Dying Art Form," hosted by Company Member Tristan Bruns and "The Either/And Podcast w/ Bril Barrett," hosted by Executive Director Bril Barrett.  
"Gasps From A Dying Art Form" is a niche podcast for tap dancers and the dance's relationship to history and philosophy. "Gasps" episodes range from historical research, philosophical musings, book reviews and interviews. 
"The Either/And Podcast w/ Bril Barrett" is Bril Barrett doing what he does best, talking about Tap dance and how it's connected to more than you know. What happens in the Tap world is a microcosm of what's happening in the real world. 
The second season begins this winter. 
2023 FUNDRAISER
Support M.A.D.D. Rhythms
M.A.D.D. Rhythms continues its journey as Chicago's premier Tap organization. The Company is poised to continue on its upward trajectory, which continues with a fundraising campaign with the goals of improving its studio, bolstering the community tap dance programs, paying the dancers an equitable wage and supporting its Tap Academy classes with this fundraiser. 
M.A.D.D. RHYTHMS MAKES ITS AUDITORIUM THEATRE DEBUT
Saturday, April 22 at 7:30 p.m.
Auditorium Theatre, 50 E. Ida B Wells Dr.
Tickets: $25.00 - $69.00
Three masters of rhythm, Dorrance Dance, Trinity Irish Dance Company and M.A.D.D. Rhythms, take to the historic Auditorium Theatre stage for a percussive evening full of spirit and dance. This performance marks M.A.D.D. Rhythms' first appearance at the Auditorium Theatre. 
"THE ONE!" STREET DANCE SHOWCASE RETURNS
Saturday, April 29 at 7:30 p.m.
Harold Washington Cultural Center, 4701 S. King Dr.
Tickets: TBA
After a three year hiatus due to COVID, M.A.D.D. Rhythms will perform in one of the Midwest's biggest and most prestigious dance shows returns for one night only. "THE ONE!" is presented by Hip Hop ConnXion and features performances by a variety of dance styles and talents. 
HAROLD WASHINGTON CULTURAL CENTER GALA
M.A.D.D. Rhythms and other organizations that call the Harold Washington Cultural Center home gather for "The Culture of Soul" fundraising gala for the Center. For more information email events@HWCCChicago.com.
NATIONAL TAP DANCE DAY 2022
Saturday, May 20 and Sunday, May 21
Commemorating National Tap Dance Day, M.A.D.D. Rhythms partners with Chicago Tap Theatre for a weekend of classes, tap dance footage night and a Community Tap Jam. 
JUNETEENTH CELEBRATION
Monday, June 19 at 1 p.m.
Harold Washington Cultural Center Parking Lot
2701 S. Dr. Martin Luther King Dr.
FREE
M.A.D.D. Rhythms returns with the arts partners of the Harold Washington Cultural Center and Bronzeville businesses for its annual Juneteenth celebration. This afternoon celebration includes live dance, DJ and music, complimentary food, workshops, raffles, art and children's activities. 
CHICAGO TAP SUMMIT 2023
Friday, Sept. 29 - Sunday, Oct. 1 
Directed by Company Member Tristan Bruns
Times vary by event
Harold Washington Cultural Center, 4701 S. Dr. Martin Luther King Jr. Dr.
Various costs
The premier Illinois tap dancing event of the year presented by M.A.D.D. Rhythms is the Chicago Tap Summit. The Tap Summit includes three days of dance, discussion and classes while celebrating the tap dance community and premiering a new M.A.D.D. Rhythms' performance piece. 
COMPANY UPDATES
M.A.D.D. Rhythms Named an Inaugural Cohort in FRWD Program
FRWD is a two-year program, sponsored by The International Association of Blacks in Dance, supporting smaller budget-sized dance organizations utilizing customized consultancies, cohort check-ins and convenings. This cohort of up to 25 organizations will operate with a shared concern for strengthening the next phase of the Black dance sector. A key focal point for this work is growth and sustainability and how that is achieved through the cultivation of dance artists and administrators at varying stages of their journey. The inaugural FRWD cohort will achieve program goals through virtual financial and organizational management sessions, general operating support, peer-to-peer learning opportunities, access to consultancies and in-person convenings.
Bril Barrett named one of Newcity's 2023 50 Players
Executive Director Bril Barrett was named one of Newcity's "Players 2022
The Fifty People Who Really Perform for Chicago" in the publication's January 2022 issue. 
Bril Barrett was one of five Chicago-area artists to receive The Helen Coburn Meier and Tim Meier Charitable Foundation for the Arts in December
The Foundation recognizes Chicago-based artists in mid-career who push the artistic envelope. In addition to Barrett, the 2022s awardees are painter and muralist Ruben Aguirre, artist Kate Berry Brown, jazz cellist Tomeka Reid and poet and interdisciplinary artist avery r. young. Since its inception, the Foundation has presented 59 Chicago-area artists with awards. There are no applications, no project to submit, and no outcome measurements. This follows Tim Meier's directive, "No strings." For more information, go to MeierFoundation.org.
Starinah "Star" Dixon named Chicago Dancemakers Forum 2022 Lab Artist  
Assistant Director Starinah "Star" Dixon's tenure as a 2022 Chicago Dancemaker in Residence at the Rebuild Foundation ends this March. Dixon is spending her residency exploring the Rebuild Foundation's Johnson Publishing Library and the Ed Williams Collection to research the course of rhythms. 
Tristan Bruns Receives Grants
M.A.D.D. Rhythms company and Board member Tristan Bruns received grants from Chicago's Department of Cultural Affairs, the Illinois Arts Council Agency and Changing Times Dance Co. in 2022. 
Sterling Harris Named Chicago Tap Theatre Artistic Associate
In December, Chicago Tap Theatre announced Company Member Sterling Harris has been promoted to artistic associate, a new position at Chicago Tap Theatre.
Caleb Jackson and Andrew Carr Star in Queens of the Policy
Company members Caleb Jackson and Andrew Carr star in the return of Tobacco Road Incorporated's Queen of the Policy, February 17 - 19 at the Harold Washington Cultural Center. Set in the late 1940s, Queens of the Policy tells the story of four women in Chicago striving to carve out their own niche in the male dominated world of policy—a predecessor of today's American lottery system. Based on the true stories and lives of real people, this production takes you on a historical and entertaining journey of intrigue, danger and ultimate triumph. Tickets at Eventbrite.com. 
All programs, events and performers are subject to change. 
ABOUT M.A.D.D. RHYTHMS
M.A.D.D. (Making A Difference Dancing) Rhythms, now in its 22nd year, is a phenomenal tap dance collective whose "SOLE" purpose is to spread the love and joy of tap worldwide. What started as Bril Barrett and Martin Dumas III's formula for giving back, is now, in its 21st year, a full-fledged 501 (c) 3 performing arts company, quickly gaining a reputation for representing the true essence of tap: RHYTHM! The company is composed of young, versatile tap dancers from all over Chicago. Their ages range from 17 to 45 years old, and their backgrounds are equally diverse. The one thing they all have in common is a love for "the dance."
M.A.D.D. Rhythms' mission is to preserve, promote and contribute to this art form called tap. They teach its history, represent its culture and advocate for its future. M.A.D.D. Rhythms use this beautiful dance/music form to make a difference in the under-served communities of this world by connecting and caring for the youth of this world. Believing that having access and options gives a child a greater chance at a positive life, M.A.D.D. Rhythms spread the joy, love, discipline and expression of tap to as many children as they humanly can!
M.A.D.D. Rhythms' performance opportunities, in short, have included: Dance Africa Chicago, Dance Chicago, The Stars of "Dance Chicago" in Istanbul, Turkey, M.A.D.D. Rhythms Canada's "Release Yourself" and "Great Feets of Rhythm," Downbeats Canada's "Embrace the Rhythm," Miami's Art-Deco Festival, An Expo for Today's Black Woman, Kwanzaa Festival, The African Festival of the Arts, St. Louis Tap Festival, Boys and Girls Clubs National Conference, the Chicago Historical Society's Summer Performance Series, and DuSable Museum's educational theater series. They have also produced ten full-length productions, created the annual Chicago Tap Summit and educated more than 200 students via The M.A.D.D. Rhythms Tap Academy.
In an effort to continuously give back to their communities, they have also worked with many public and private schools and volunteered performances for various community affiliated organizations including A.C.E.S. (Athletes Committed to Educating Students), Children Affected by AIDS Foundation, Nikola Tesla Alternative High School for Girls, TCA Health and Nutrition Fair, Sigma Gamma Rho Sorority, Inc. and Rainbow House.
M.A.D.D. Rhythms acknowledges support from the Illinois Arts Council Agency, Chicago's Department of Cultural Affairs and Special Events and the International Cohorts of Nonprofits.
M.A.D.D. Rhythms is proud to announce the addition of three new professional company members: (L to R) Ashton Carter, Devin Mosley and Davon Suttles. Photos by William Frederking
The world premiere of "A M.A.D.D. Mix Tape" at the 2022 Chicago Tap Summit, created, directed and choreographed by Donnetta "LilBit" Jackson featuring M.A.D.D. Rhythms, Creation, Ayodele and DeejayD9_3. photo by Theon Reynolds
The world premiere of "A M.A.D.D. Mix Tape" at the 2022 Chicago Tap Summit, created, directed and choreographed by Donnetta "LilBit" Jackson featuring M.A.D.D. Rhythms, Creation, Ayodele and DeejayD9_3. photo by Theon Reynolds
The world premiere of "A M.A.D.D. Mix Tape" at the 2022 Chicago Tap Summit, created, directed and choreographed by Donnetta "LilBit" Jackson featuring M.A.D.D. Rhythms, Creation, Ayodele and DeejayD9_3. photo by Theon Reynolds
The world premiere of "A M.A.D.D. Mix Tape" at the 2022 Chicago Tap Summit, created, directed and choreographed by Donnetta "LilBit" Jackson featuring M.A.D.D. Rhythms, Creation, Ayodele and DeejayD9_3. photo by Theon Reynolds