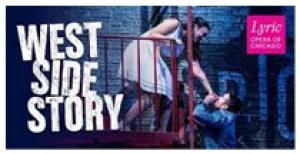 **** Highly Recommended This season's West Side Story at Lyric Opera is a must-see, whether you've seen it (many times) before, or are new to the wonders of the Leonard Bernstein score and songs, flawless Stephen Sondheim lyrics, and still-fresh mesmerizing choreography of Jerome Robbins.
It is the same production Lyric brought to the stage in the 2018-19 season, but this version seems better, partly because the direction this time around is less frenetic and not trying as hard to impress. Still full of energy, this season's production has better pacing, letting each scene flow seamlessly to the next, and the complex characters reveal themselves more organically in their dialogue, songs and dances.
Director Francesca Zambello perhaps was the perfect choice to direct this production, as she did for the 2018-19 season. She brought such humanity and magic to last season's debut production of Florencia en el Amazonas, a 1996 opera in Spanish that embraces magical realism and is rife with exciting plot twists and lush, beautiful music.
This season, she provides the same steady confidence to this production, letting the musical and dramatic elements of the story resonate without resorting to audience manipulation; not every scene is pivotal, not every song should be treated like a blockbuster. This season's production feels more assured.
Zambello's direction allows the story to unfold steadily, scene by scene, song by song, dance by dance -- allowing it to build to the inevitable tragic end. The bedroom scene of "I Feel Pretty" is among the best examples of her ability to make stage artifice feel natural and draw the audience into the world on stage, whether it's an intimate, cozy, touchingly shabby girl's bedroom, or the slightly menacing urban no-man's land under the highway. There is no over-acting or grandiosity in this production, which, of course, is why it is so fresh and so moving, even to those who have seen it many times before.
This production hews pretty much to the original 1957 Broadway debut and 1961 movie, though Doc here is also female, as she was in Stephen Spielberg's well-done 2021 remake that showcased Rita Moreno – Anita in the 1961 movie -- as Doc 60 years later. And Anybodys, updated in the 2021 movie as an openly trans character, here is cast as a girl tomboy who wants the Jets to recognize her for her toughness and courage, though audience members are left to decide for themselves how she actually identifies gender-wise.
The cast is stellar and memorable, bringing a depth to their roles not always achieved in other productions. 
Kanisha Feliciano as Maria and former Disney channel star Ryan McCartan as Tony bring a captivating charisma to their roles, with gorgeous voices, and other standouts are Yurel Echezarreta as Bernardo, Amanda Castro as Anita (also in 2018/19), and Mark Daniel as an especially torn and confused Chino.
This updated re-telling of Shakespeare's "Romeo and Juliet" has always felt timeless, a testament to Bernstein's creative genius and that of playwright Arthur Laurents. And it's always been political – an overt call to end and transcend racism and discrimination, and social violence.
But given the recent years of not only increasing gun violence, but also a hardening of views between groups toward those who are different, and a hyped up rhetoric of nastiness, what director Zambello calls an "us/them view of society" in her program notes, "West Side Story" is more current and timely than ever.
Still, despite the flawed and gritty society it depicts, and the tragic ending, there is hope and beauty embodied in this show, which is probably why it endures.
Even through one's tears at the end, where needless death and hate seem to have triumphed, the characters' humor and humanity also stay with you, the songs and exuberant dancing resonating in your mind. Which is probably why it's worth seeing again, or for the first time. The songs and dancing and youthful humor of "West Side Story" somehow balance the sting of lost innocence and tragedy and leave one hopeful, feeling uplifted -- against all reason and evidence to the contrary.  
West Side Story continues through June 25th at the Lyric Opera House, 20 N. Wacker Drive, Chicago.  Closest parking option is the Poetry Garage, 201 W. Madison.  $13 evening and weekend parking available on performance dates.  Running time is approximately 2 hours and 10 minutes with an intermission.  Performances are Tuesdays, Thursdays & Fridays at 7:00 pm; Wednesdays & Saturdays at 1:30 & 7:00 pm; Sundays at 1:30 pm.  Tickets start at $40.  FYI (312) 827-5600 or www.lyricopera.org/westsidestory.