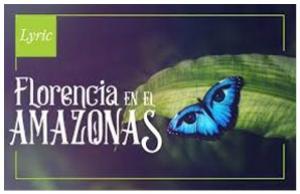 **** Recommended **** A new opera at Chicago's storied and beloved Lyric Opera is always a welcome event, especially this season, which marks a joyous return for Midwest opera-lovers after a closed house last year due to the Covid 19 pandemic. The Lyric premiere of a new production of Florencia en el Amazones, a 1996 opera by famed late Mexican composer Daniel Catan, is cause for celebration. It debuted at Civic Opera House Saturday night, Nov. 13.  4 Spotlights
Commissioned by Houston Grand Opera 25 years ago and billed as Lyric's first Spanish-language production, this newcomer to Chicago is a musical, visual and dramatic triple threat.
Director Francesca Zambello, who directed the opera's inaugural run in Houston, brings the same insight and careful staging to "Florencia" that she did two seasons ago to Lyric's beautiful production of Verdi's "Luisa Miller."
A major component of the opera's story pays homage to the literary genre of magical realism, in particular the late Colombian author Gabriel Garcia-Marquez's novel "Love in the time of Cholera" -- which lends an aura of mysticism and exotica to the production.
But equally appealing, the c
haracters' musical conversations also feel grounded in the real world of actual people struggling to find or rediscover "love, their true selves and the deeper meaning of life," in the words of soprano Ana Maria Martinez, who beautifully portrays central character Florencia. The diva Martinez embodies the diva Florencia with poignant fluency, perhaps because she was friends with Catan, and also played the opera's role of Rosalba in earlier productions.
Librettist Marcela Fuentes-Berain's philosophical insights bring each character to life as a complex, intriguing individual and reveal a deep knowledge of human nature -- our tendency to be cautious, as well as our yearning to take risks and live fully. Fuentes-Berain is a screenwriter and Hollywood script consultant, well-versed in the nuances of dialogue,
which is perhaps why the characters have interesting conversations, even while singing beautiful music at the same time.
The story begins in the early 1900s as the passengers embark on the El Dorado, a steamship that will follow the Amazon River to an opera house in Manaus that is to be reopened with a concert given by the legendary diva, Florencia Grimaldi. Traveling incognito, Florencia is returning to her native Brazil after a 20-year absence. Taking stock of her life and the successful career she chose over love -- the love she also admits gave her her luminous voice -- she is consumed by the hope that she will find and reunite with her long-lost lover, the butterfly-hunter Cristobal, who disappeared into the jungle
pursuing the exotic Emerald Muse.
The passengers include an older couple in the grip of a joint midlife crisis, Paula and Alvaro, sung by mezzo-soprano Deborah Nansteel and baritone and Lyric Ryan Opera center alumnus Levi Hernandez, their marriage having devolved into an endless round of bickering, misunderstanding and unspoken fears. They are hoping to rekindle their love by attending Florencia's concert at Manaus, though such a romantic feat seems hopeless for them at this point.
The two other key characters, who explore different aspects of the meaning of love, are the journalist Rosalba, sung by Gabriella Reyes, who hopes to
write a biography of the elusive Florencia, and the captain 's nephew Arcadio, sung by Mexican tenor Mario Rojas, a Lyric Ryan Opera center alumnus, who loathes his life helping his uncle maneuver the ship, and longs instead to be a pilot. These two are intent on avoiding love and its messy uncertainties yet are drawn to each other, sharing ideas and dreams despite their mutual wariness.
Peter J. Davison's set is a study in contrasts. The center of the action, the steamship moves about to evoke an actual river cruise; as it rotates, it reveals different apartments and areas where the various scenes take place.
Imposing and realistic-looking, the steamship is framed by a magical Amazonian jungle of ever-changing technicolor hues, created by Mark McCullough, and arresting screen projections by S. Katy Tucker, as well as five river sprites who represent various aspects of the river and the jungle, shape-shifting as the journey evolves. 
Their antics are performed by Joffrey Ballet company members, which lends yet another layer of intrigue and beauty to the story. It is not clear if the original or subsequent productions of "Florencia" included dancers, but, given Lyric's and the Joffrey's 10-year agreement to share the Civic Opera House for productions, the addition of dancers to the production is a fitting and lovely enhancement.
Suddenly, a terrifying storm upends everyone's expectations and hopes and plunges the steamship into rushing currents and pouring rain, awesomely rendered with colorful visual pyrotechnics and thunder claps.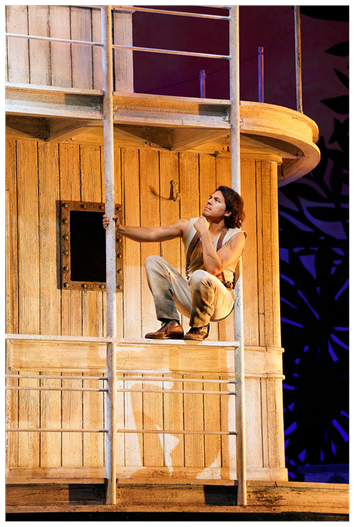 The mysterious character Riolobo, sung by Ethan Vincent in his Lyric debut, who initially appears to be just a porter and ship's helper, subsequently emerges as a shaman of sorts; it is he who tells Florencia of Cristobal's uncertain fate early on, and, during the storm, transforms into a giant flying creature who implores the river gods to show mercy and end the deluge.
The unsettled characters and their grim circumstances appear to be doomed – Rosalba loses her notebook to the river, destroying two years of careful notes for her biography; Alvaro falls overboard and is lost after saving the boat from being crushed by tree trunks, plunging Paula into despair; the captain is knocked unconscious -- and Florencia doesn't know if she is alive or dead.
What's more, no one can disembark at Manaus, because of a cholera outbreak on shore.
But, true to the opera's core theme of magical realism, the characters' fates are not quite what they seem. With the intercession of the enchanted Riolobo, dire situations transform, and a mood of hope and well-being emerges.
The piece de resistance is the unexpected final scene. In one of the more stunning visual effects to grace the Lyric stage in the past three decades, a profusion of giant, gorgeously hued butterflies descend to surround Florencia with an uplifting – and dramatically moving -- spiritual grace.
Let us hope this lush, fresh work joins Lyric's repertory of favorites that it revives from time to time, as it is doing this season with Puccini's "Tosca," last performed in 2015 and, before that, in 2009 and 1988. 
"Florencia en el Amazonas" is two hours including a 25-minute intermission and runs through Nov. 28.
Remaining performances are:
November 18 at 7:00 PM 
November 21 at 2:00 PM 
November 26 at 7:00 PM                    
November 28 at 2:00 PM
Tickets start at $39.  Buy tickets at  lyricopera.org/florencia.