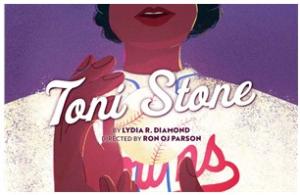 **** Recommended **** The Goodman Theatre's latest production, Toni Stone, is a great baseball story.  If you have a baseball lover in the family, take them to see this unique play.  This is a darn good story based on a real person, Toni Stone, the first woman to play professional baseball.  Kudos to Director Ron OJ Parsons on a delightful story.  Aside from the history, Toni Stone would be worth seeing for the baseball anecdotes alone!  4 Spotlights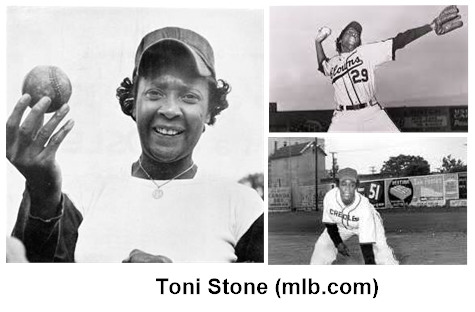 Toni Stone was born in 1921 in West Virginia.  When she was 10, her family moved to Minneapolis.  Although her mother disapproved, she loved playing baseball with the boys in her neighborhood.  When the coaches wouldn't let her play in a boys' league, she tried softball, but hated it.  She hung around the St. Paul Saints baseball school until the coach, Gabby Street, gave her a chance.  By the time she turned 16, she was playing for the Twin City Colored Giants, earning $2-$3 a game.  She played for multiple teams in the Negro Leagues, until she got a contract to play second base with the Indianapolis Clowns. 
Toni Stone (Tracey N. Bonner) wants to make something perfectly clear.  She is a baseball player who wears the team uniform – and she won't wear a cute skirt to draw more customers.  Toni has a treasure trove of baseball stories and she's always willing to share.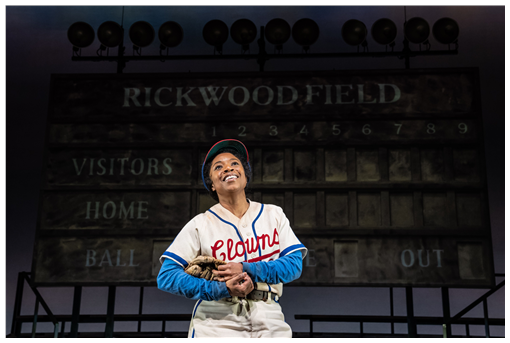 Although Toni and her teammates swing a lot of bats, they don't actually hit any balls, although they certainly catch a lot of random balls.  Although the Clowns are known for their clowning around during games, they play serious baseball too. 
The Clowns are: King Tut (Kai Early), Elzie (Joseph Aaron Johnson), Stretch (Travis Knight), Jimmy (Victor Musoni), Spec (Edgar Miguel Sanchez) and Woody (Terence Sims). 
One Day, when she was having a drink at her favorite bar, Jack's Tavern, a man offered to buy her a drink.  She said no, finished what she had and left.  Next time she was at Jack's, he was back again.  Eventually, she let Alberga (Chiké Johnson) buy her a drink.  He was relentless in his pursuit, and eventually they married.  Unfortunately for Toni, everyone – especially the team's manager expected her to quit baseball, which she did, but returned the next season.    
Jon Hudson Odom was terrific – flirty voice, sexy walk and all – as Millie, a lady of the night.  Millie was Toni's friend – and sometimes a voice in her head telling her to take a chance on Alberga.    
Kudos to Todd Rosenthal for the baseball set which includes three sets of bleachers.  On one side of the stage, the Clown's dugout is set in front of the bleachers.  With a couple of adjustments, the bleachers on the opposite side of the stage become Jack's Tavern.  The bleachers to the rear of the stage roll out to center stage to become the team bus.  There's a scoreboard to the rear, half a baseball diamond on the floor, even lights above the field.  
Note: Guests are encouraged but not required to wear masks while inside the building. 
Toni Stone runs through February26th in the Goodman Theatre's Albert Theatre,170 N. Dearborn, Chicago.  Most reasonable parking option for the Goodman is the Government Center garage on Lake between LaSalle and Dearborn, online advance payment at www.interparkonline.com/goodmantheatre. 
Running time is 2 hours and 30 minutes with an intermission. 
Performances are:  
Wednesdays at 7:30 pm
Thursdays at 7:30 pm
Fridays at 8:00 pm
Saturdays at 2:00 and 8:00 pm
Sundays at 8:00 pm
Accessible & Special Performances:
Touch Tour & Audio-Described Performance: February 25th, 12:30 pm Touch Tour, 2:00 pm Performance
ASL Interpreted Performance, February 24h at 8:00 pm
Spanish Subtitles, February 25th at 8:00 pm. 
Open Captioned Performance, February 26th at 2:00 pm.
Tickets $25-$80.  FYI (312) 443-3800 or www.goodmantheatre.org/Ripple.