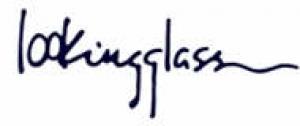 Lookingglass Theatre Company commemorates the start of the 1919 Chicago race riots, incited by the tragic murder of Eugene Williams, a Black teenager stoned to death after drifting into a "whites only" section of Lake Michigan. By establishing an artistic ritual featuring music, movement, art and word, Sunset 1919 is meant to peacefully honor the lives of Black humans impacted by the deadly racial attacks that swept the nation that summer, the roots of which stretch back across centuries, and the fruits of which we continue to pluck – a moment in an unbroken line.  
You're invited to join Lookingglass for Sunset 1919: A Ritual on Tuesday, July 27 at 7PM at the Eugene Williams Memorial Marker; 125 Fort Dearborn Drive, Chicago (¼ mile north of 31st Street Beach). Sunset 1919: A Ritual is free to attend, we ask that you sign up to receive event updates. 
Sign up and more information: https://lookingglasstheatre.org/event/sunset-1919-a-ritual/
Watch the 2020 Sunset 1919 short film produced by Lookingglass Theatre Company here:  
Sunset 1919: A World Premiere Short Film 
Getting There and Parking  
The site is accessible by foot, chair, bike, motor vehicle, and public transportation. It is located roughly .3mi north (along the Lakefront Trail) of the 31st Street Beach main entrance. If driving, paid parking is available at the site location in the lot between Fort Dearborn Drive and the Lakefront trail (accessible by turning north from 31st Street). Paid garage parking is also available at 31st Street Beach (from which attendees would walk/wheel approximately .5mi northward on the Lakefront Trail to reach the site). Cyclists can access the site by biking the Lakefront Trail to roughly 2900 S, however there are no bike racks in the immediate vicinity. If arriving by CTA, disembark at Rhodes & 31st on the #31 bus and walk/wheel (.7mi) east to 31st Street Beach and north along the Lakefront Trail to the site, or disembark at King & 31st on #3 bus and walk/wheel (.9mi) east to 31st Street Beach and north along the Lakefront Trail.   
Health and Safety  
The health and safety of our audiences, artists, and staff are a top priority. In accordance with the most recent City of Chicago Phase V guidelines, individuals who have received the COVID-19 vaccine are not required to wear a mask outdoors. If you are unvaccinated and attending, please wear a mask. We ask that you keep a physical distance of six feet from those not in your group. Thanks! 
About the Artists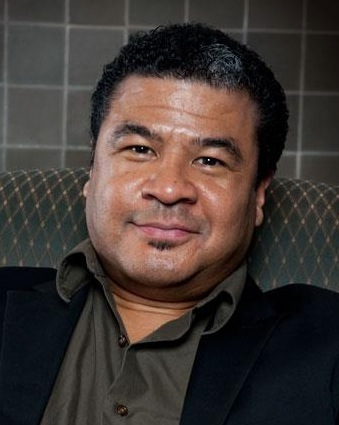 ERNIE ADAMS (he/him/his) - Percussion Drummer, percussionist, composer, producer and educator Ernie Adams has been playing professionally since age 15. He has played, toured and/or recorded with artists including Ramsey Lewis, Stanley Turrentine, Dizzy Gillespie, Joe Williams, Patricia Barber, Dianne Reeves, James Moody, Rufus Reid, Joe Zawinul, Slide Hampton, Frank Morgan, Arturo Sandoval, Wycliff Gordon, Clark Terry, Pharoah Sanders, Ahmad Jamal, and others. Adams is a member of Akalibrio, an intellipop band and music production company.  He also has jazz, funk, hip hop and worldbeat concerts and projects under his own name. Adams appears on over 100 recordings and his performance and production credits include movie soundtracks and radio and television jingles. In particular, he performed and co-wrote the soundtrack, and appeared in, the 1995 motion picture A Family Thing starring Robert Duvall and James Earl Jones.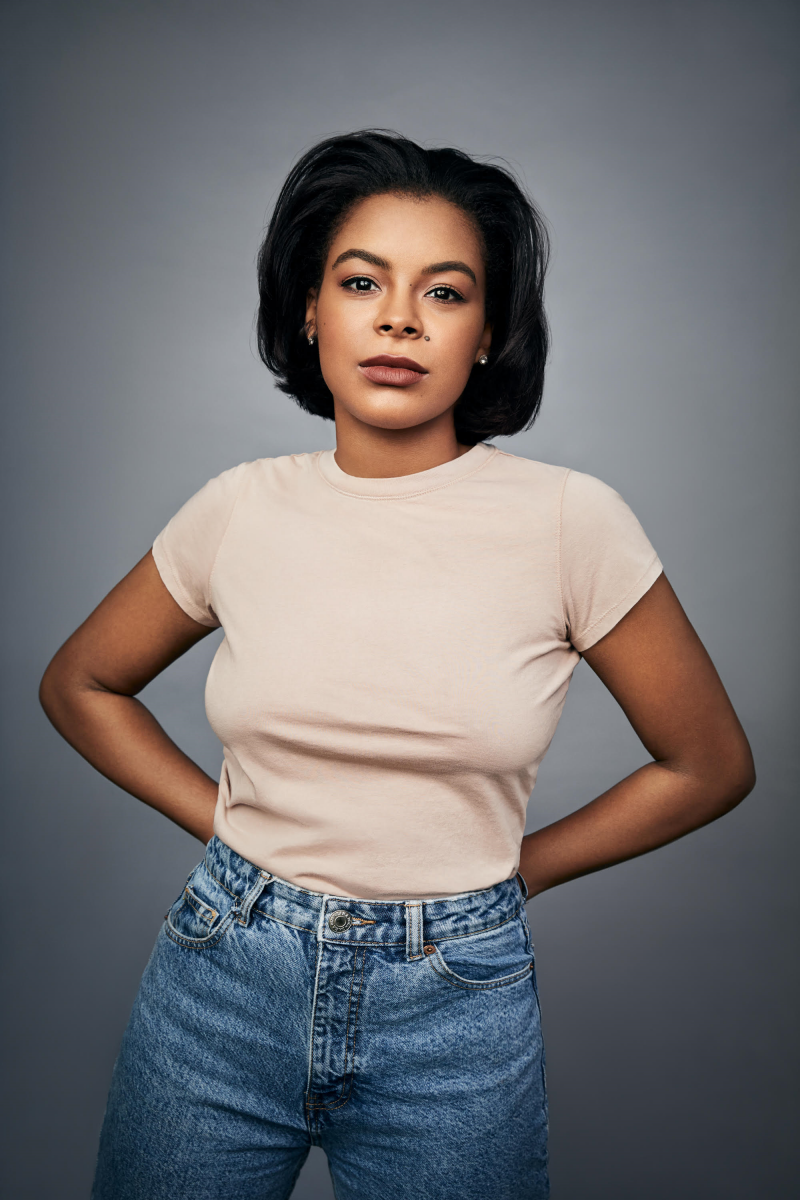 AYANNA BRIA BAKARI (she/her/hers) - Reader Ayanna Bria graduated with a BFA in acting from The Theatre School at DePaul University in 2017. Since graduating, some of her theatre credits include Cat in The Originalist at Indiana Repertory Theatre, Izzie Mae/ Clerk Son in Robert O'Hara's Insurrection: Holding History with Stage Left Theatre (Jeff nominated), Sister Felicity in Suddenly Last Summer at Raven Theatre, Evelyn in Too Heavy For Your Pocket at Timeline Theatre, Natalie Charles in the world premiere of How To Catch Creation by Christina Anderson at Goodman Theatre, Zoe Reed in The Niceties (Black Theater Alliance Award Recipient) and Cheryl in Lydia Diamond's Stick Fly, both at Writers Theatre. Ayanna Bria's film and television credits include Holiday Heist on BET, Chicago PD, Chicago Fire, Empire, 61st Street and recurring roles on The CHI, and the Hulu original series Wu-Tang: An American Saga. Ayanna Bria is currently a governing ensemble member with The Story Theatre and is represented by Stewart Talent. Asante Sana!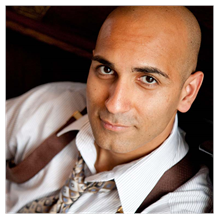 KAREEM BANDEALY (he/him/his) - Curator/Coordinator Kareem has previously appeared at Lookingglass in 20,000 Leagues Under the Seas, Blood Wedding, Moby Dick (2015 & 2017), The Little Prince, Big Lake Big City, Bengal Tiger at the Baghdad Zoo, The Last Act of Lilka Kadison, and Peter Pan (A Play). His play, Act(s) of God, had its world premiere at Lookingglass in early 2019. Other Chicago credits: A Christmas Carol (2014–2019), Rock N' Roll, Gas For Less, and King Lear at Goodman Theatre; The Wheel at Steppenwolf Theatre Company; Oklahoma! at Paramount Theatre; Mother of the Maid at Northlight Theatre; The Good Book xand The Illusion at Court Theatre; Julius Caesar, Hamlet, The Caretaker, and Heartbreak House at Writers Theatre; A Midsummer Night's Dream, Edward II, and Romeo & Juliet at Chicago Shakespeare Theater; A Disappearing Number and Blood and Gifts at TimeLine Theatre Company; Othello (as Othello) at The Gift Theatre, and many others. Regional credits include The Merry Wives of Windsor, The Three Musketeers and The Tempest at Illinois Shakespeare Festival; Love's Labours Lost at Notre Dame Summer Shakespeare; Julius Caesar and Stuff Happens at PICT Classic Theatre, and four seasons with Orlando Shakespeare Theater. He has appeared in several films including The Merry Gentleman directed by Michael Keaton, on TV in Chicago Fire (NBC), and is a recipient of the 2011 3Arts Artist Award. Kareem is an Ensemble Member of and Artistic Producer New Works for Lookingglass Theatre Company. He lives in Albany Park with his two children Reza and Anouk.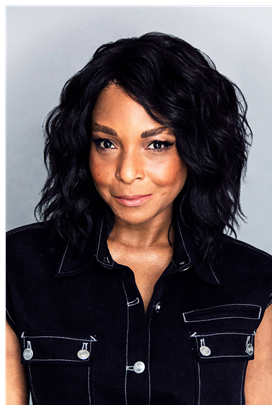 J. NICOLE BROOKS (she/they) - Poet/Choreographer J. Nicole Brooks is an actor, author, director, educator, gremlin, star gazer and social justice warrior based in Chicago. Brooks' writing practice includes playwriting, screenwriting, essays, and poetry. As a theatre artist Brooks is an Ensemble Member and Mellon Foundation Playwright in Residence at the Tony Award-winning Lookingglass Theatre Company. Other artistic affiliations include artistic membership at Collaboration and Sideshow Theatre Company. As a playwright Brooks has created original works including Black Diamond: The Years the Locusts Have Eaten, Fedra Queen of Haiti, HeLa, and the award winning Her Honor Jane Byrne. Upcoming writing projects and commissions include an adaptation of Eve L. Ewing's book of poetry 1919 for Steppenwolf Theatre, Rainbow Beach for Chicago Childrens Choir, a science play for Manhattan Theatre Club and various audio and screenplays.  
Brooks has also served as director and associate director mounting successful theatre productions of Mr. Rickey Calls A Meeting, Thaddeus & Slocum A Vaudeville Adventure, Her Honor Jane Byrne, Sex with Strangers and Black Diamond the Years the Locusts Have Eaten. Honors include TCG Fox Foundation, 3Arts, Mellon Foundation, National Endowment for the Arts Kilroy List. Brooks is also an award-winning actor appearing in theatrical productions at Goodman Theatre, Lookingglass, Court Theatre, Mark Taper Forum, and Theatre at Boston Court. Recent television credits include guest recurring roles on the cult fav South Side (Comedy Central, HBO Max), The Chi (Showtime), Chicago Fire (NBC, Hulu) and the critically acclaimed chapter four of Fargo (FX Network) starring opposite Chris Rock. Brooks will also appear in the highly anticipated horror film CANDYMAN (Say My Name) directed by Nia DaCosta produced by Jordan Peele. @doctaslick on the socials.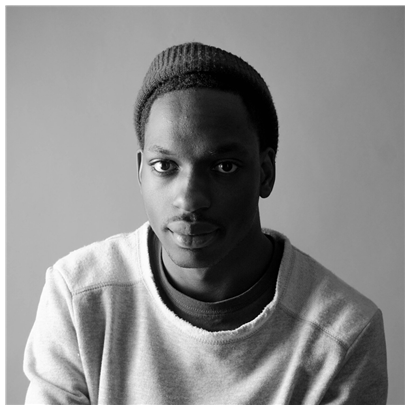 PIERCE I. CRUZ (he/him/his) - Chalk Artist Pierce I. Cruz is a Chicago-Born Artist residing on the far Southwest Side. His work is inspired by his journey through life. Growing up as a black gay male, he was highly influenced by society, media, and peers throughout childhood. Using the guidance of everyday life, Pierce's work serves as documentation for his thoughts, reflections, and overall environment as he continues to grow. Through drawing, painting, and photography, Pierce is constantly exploring his identity in the world and his relationships within.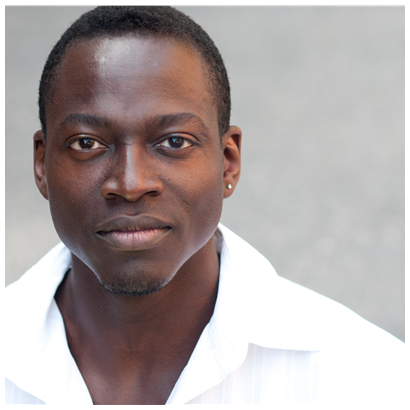 ADEOYE (he/him/his) - Eugene Adeoye has called Lookingglass home since 2007, when he arrived as an actor in Black Diamond. He has since played in Icarus, Peter Pan, The Little Prince, and three tours of Lookingglass Alice. Most recently he sailed with the national tour of Moby Dick. In Chicago, he has appeared at Goodman Theatre, Steppenwolf Theatre Company, Victory Gardens Theater, and The House Theater of Chicago. Regionally, he has performed at Kansas City Repertory Theatre, Clarence Brown Theatre, Actors Theatre of Louisville, The Guthrie Theater, Spooky Action Theatre, The Adrienne Arsht Center for the Performing Arts and The Denver Center for the Performing Arts. He earned his MFA at The Academy for Classical Acting, The Shakespeare Theatre's conservatory at George Washington University in Washington, D.C. He became a Teaching Artist in 2014 and loves sharing his particular craft in the vernacular of Lookingglass.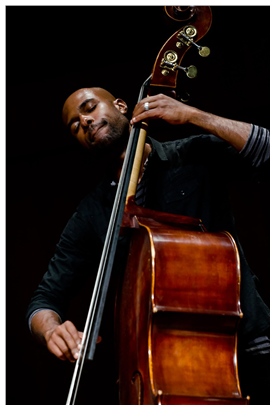 JUNIUS PAUL (he/him/his) - Bass Junius Paul, composer, bandleader & acoustic and electric bassist, born in Chicago and raised in the Chicago area, is a graduate of St. Xavier University (Chicago). An internationally established bassist, some of Junius' performance and/or recording credits include The Art Ensemble Of Chicago, numerous configurations of ensembles led by Roscoe Mitchell, Famoudou Don Moye Sun Percussion Summit, AACM Small Ensemble & Big Band, Kahil El'Zabar, Makaya McCraven, The Fred Anderson Trio, Georgia Anne Muldrow, Jeff Parker, Vincent Davis & Percussion Plus, Dee Alexander, The Curtis Fuller Quintet, Oliver Lake, Willie Pickens, Dee Dee Bridgewater, Marquis Hill, KRS-One and Donald Byrd among others. In 2013-14, Junius served as music department faculty for Trinity Christian College (Palos Heights, IL). In 2017, Junius was the featured artist and honoree for his alma mater, St. Xavier University's Jazz Weekend. Junius' debut album, "Ism", was released in November 2019 via International Anthem Recording Company to critical acclaim, receiving a 4 star rating from Downbeat Magazine and an 8 out of 10 rating from Pitchfork. 
Learn More about the 1919 Chicago Race Riots 
City On Fire: Chicago Race Riot 1919 (WBEZ) 
Chicago 1919- Winner of the 2020 Outstanding Public History Project Award National Council on Public History (Newberry) 
Chicago Race Riot of 1919 Commemoration Project 
Ensuring the Chicago Race Riot Is Not Forgotten (TIME Magazine) 
Mapping the 1919 Chicago Race Riots (U Chicago) 
Red Chicago (PBS) 
The Red Summer of 1919 (National WWI Museum and Memorial) 
About Lookingglass' 2021-22 Upcoming Season 
Lookingglass Theatre Company is emerging. After the uncertainty that has defined the past year plus, the Company's coming back! Having weathered the virus thanks to stalwart support from its community, Lookingglass forges into the future with imaginative, boundary-breaking art focused on that community. The upcoming 2021-22 season aims for more inclusion, better representation, and a renewed sense of purpose and growth in multiple directions. All pieces plotted are original works that have been incubated and developed by the brilliant artists in the Lookingglass Ensemble and Artistic Associate collective. If it is, indeed, all about the journey, here's the course they intend to follow... 
In late July, the Company commemorates the start of the Chicago Race Riots with a simple ritual, Sunset 1919. In the fall, watch the first five short films of an epic exploration of our city from an artist's point of view, 50 Wards: A Civic Mosaic. November marks a return to the theatre in Water Tower Water Works with the award-winning play all Chicagoans should see, Her Honor Jane Byrne. Spring will unveil a brand-new raucous musical, Lucy and Charlie's Honeymoon, and finally, the joyful and awe-inspiring signature Lookingglass production, Lookingglass Alice will make a return in Summer 2022. 
Ticket packages go on sale mid-July! 
Sign up for our email list to be notified when tickets go on sale 
About Lookingglass Theatre Company    
Inventive. Collaborative. Transformative. Lookingglass Theatre Company, recipient of the 2011 Regional Theatre Tony Award, was founded in 1988 by eight Northwestern University students. Now in its 33rd Season, Lookingglass is home to a multi-disciplined ensemble of artists who create story-centered theatrical work that is physical, aurally rich and visually metaphoric. The Company, located in Chicago's landmark Water Tower Water Works, has staged 70 world premieres, received 161 Joseph Jefferson Award Nominations, and produced work all across the United States. In 2016, Lookingglass received the MacArthur Award for Creative and Effective Institutions and in 2017, was the recipient of the League of Chicago Theatres' Artistic Achievement Award.    
 
Lookingglass continues to expand its artistic, financial, and institutional boundaries under the guidance of Artistic Director Heidi Stillman, Executive Director Rachel L. Fink, a 29-member artistic ensemble, 22 artistic associates, an administrative staff, and a dedicated board of directors led by Chair Nancy Timmers and President Richard Chapman.  
For more information, visit lookingglasstheatre.org.    
Engage with us on Social Media: Facebook, Twitter, Instagram, YouTube, and LinkedIn. #LookingglassTheatre