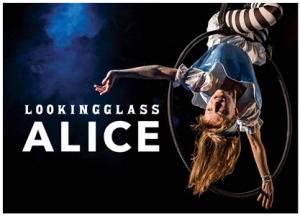 **** Highly Recommended **** Lookingglass Alice is quite simply the most fascinating show of the season, and exactly the pick-me-up we need!  Forget those silly cartoons, this Alice flies through the air, the Red Queen walks on bouncy stilts and the White Knight rides a unicycle.  Children (over age 5, please) will love this whimsical show produced by Lookingglass Theatre in association with The Actors Gymnasium.  I was enthralled from start to finish.  4 BIG Spotlights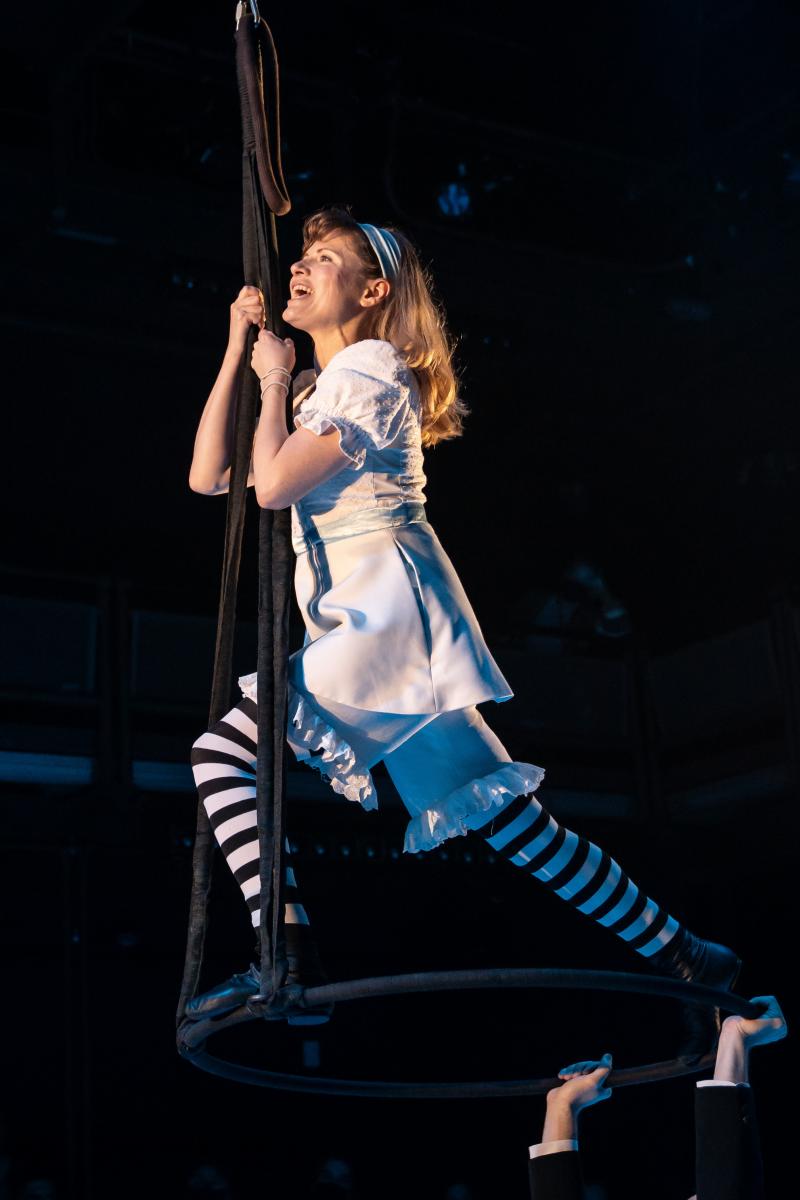 As I've said before, I love going to Lookingglass Theatre!  You never know what to expect.  It's like going to a different theater for every show.  The most flexible theater space in the city is a different theater for every show, as everything from stage location to seating changes for every production.  I can remember sitting in baseball bleachers for one play, and rough, wooden Chautauqua pews for another.  For "Lookingglass Alice", there's a blackout curtain dividing the house, with seating on the east and west sides of the space.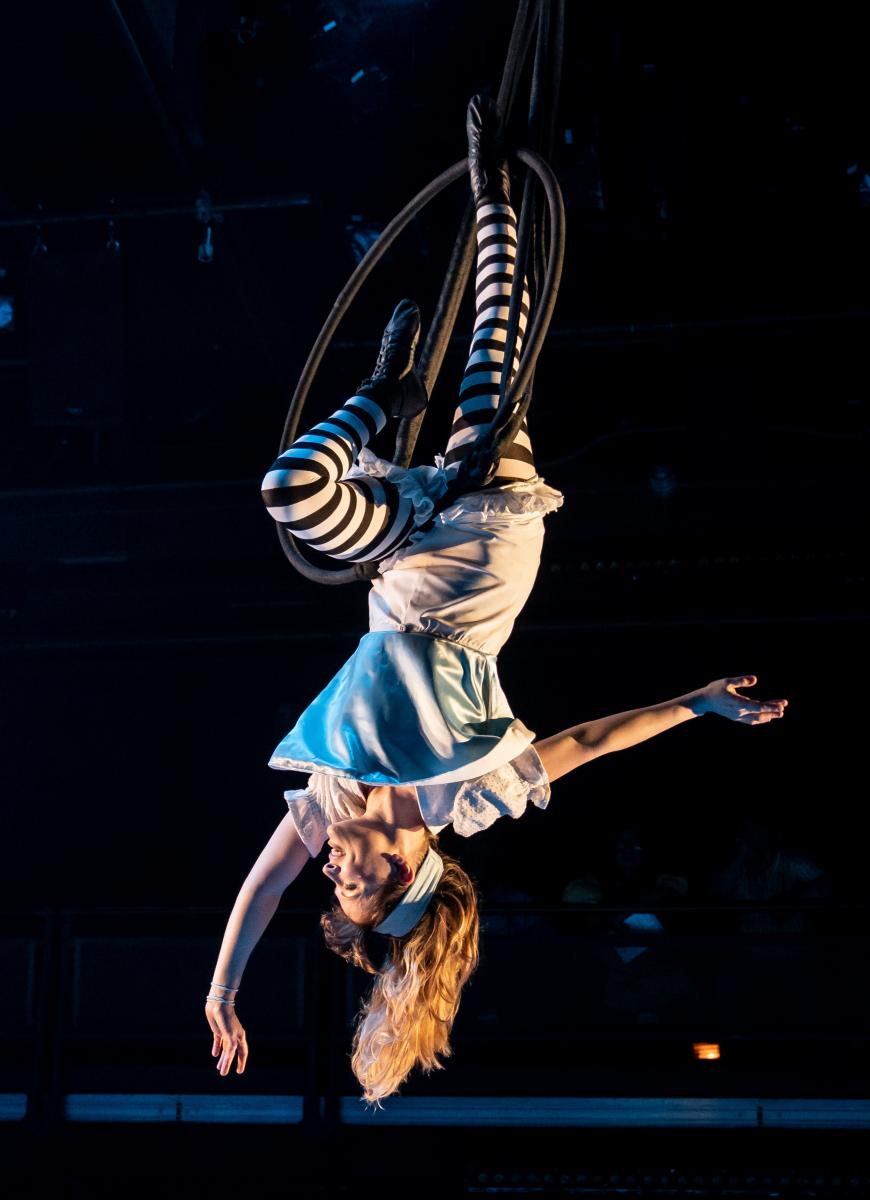 On my side, there was an armchair next to a fireplace with a mirror hanging above the mantle.  I can only assume everyone on the other side is seeing the same thing.  A man in a cutaway coat sat down and began to speak.  Whenever he paused, we could hear a girl's voice.  Comparing notes with a friend, I learned that a girl sat in the chair.  He got up to look in the mirror, but his reflection had vanished!  Instead there was a girl mimicking his movements.  By the way, the girl is Alice (Lindsey Noel Whiting alternating with Molly Hernandez), the man is Lewis Carroll (Samuel Taylor).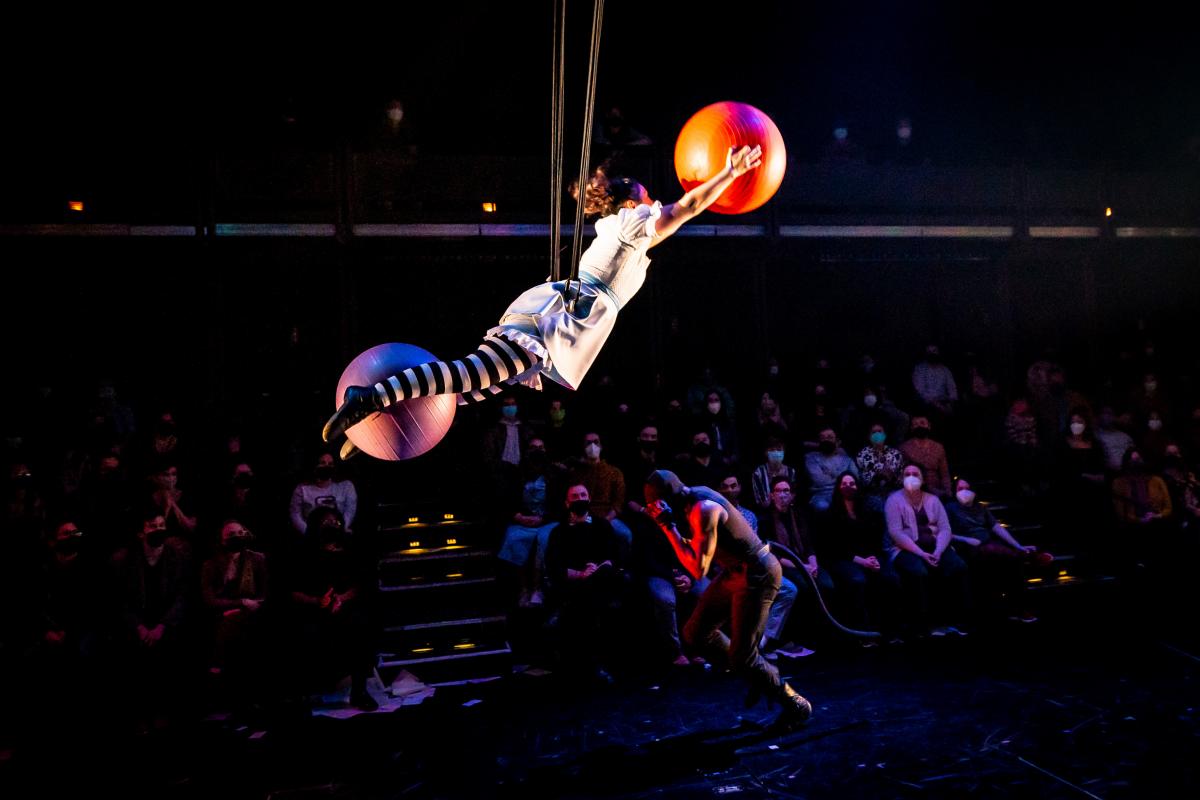 When Alice climbs up onto the mantel and through the looking glass, the black curtain comes flying down accompanied by a very loud noise!  Lewis Carroll is suddenly holding a hoop suspended in the air and which he says is a rabbit hole.  When Alice grasps the hoop, it soars into the air and she does an incredibly gymnastic aerial routine.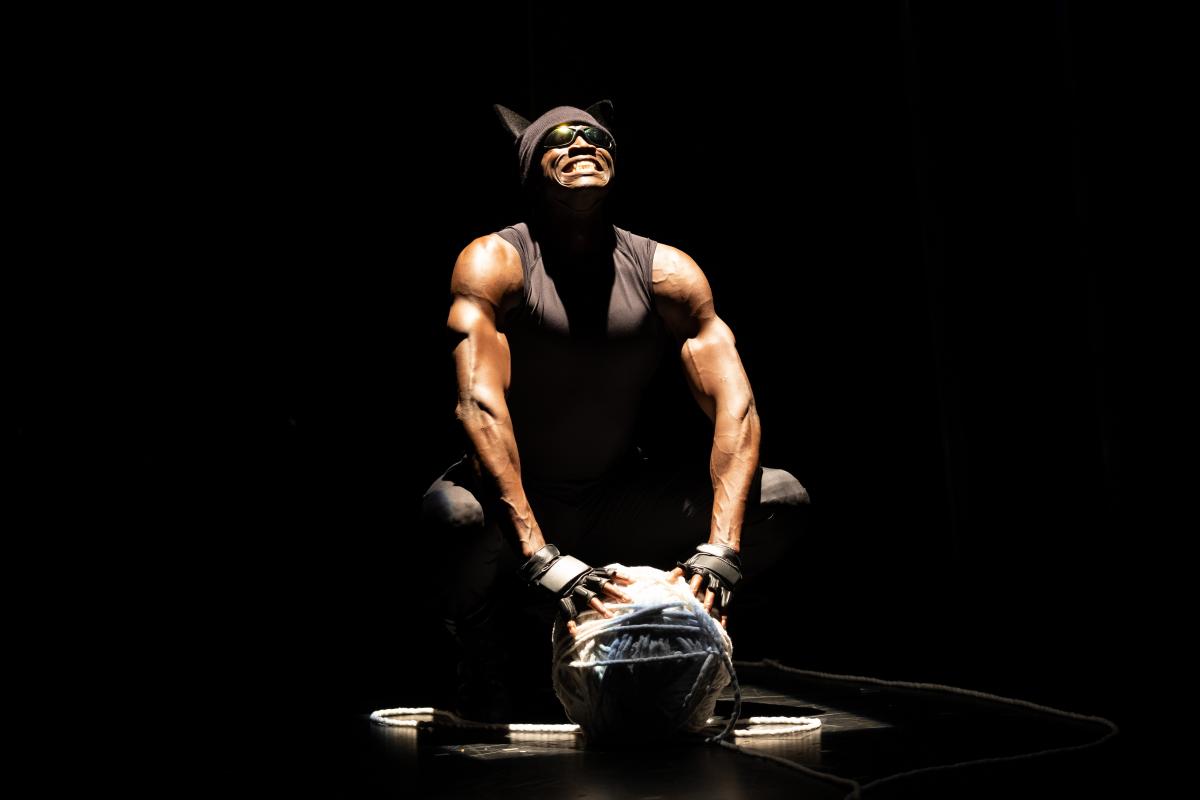 Eventually, she goes down the rabbit hole where she finds a bottle, and a voice which says, "Drink Me."  When a Cheshire Cat (Adeoye) tells Alice of the Red Queen and the White King, she decides she wants to be a queen too.  The Cheshire Cat shows her the way, which vanishes immediately.  As she moves from step to step, she meets some very strange people – all played by Adeoye, Kareem Bandealy, Michel Rodriguez Cintra and Samuel Taylor.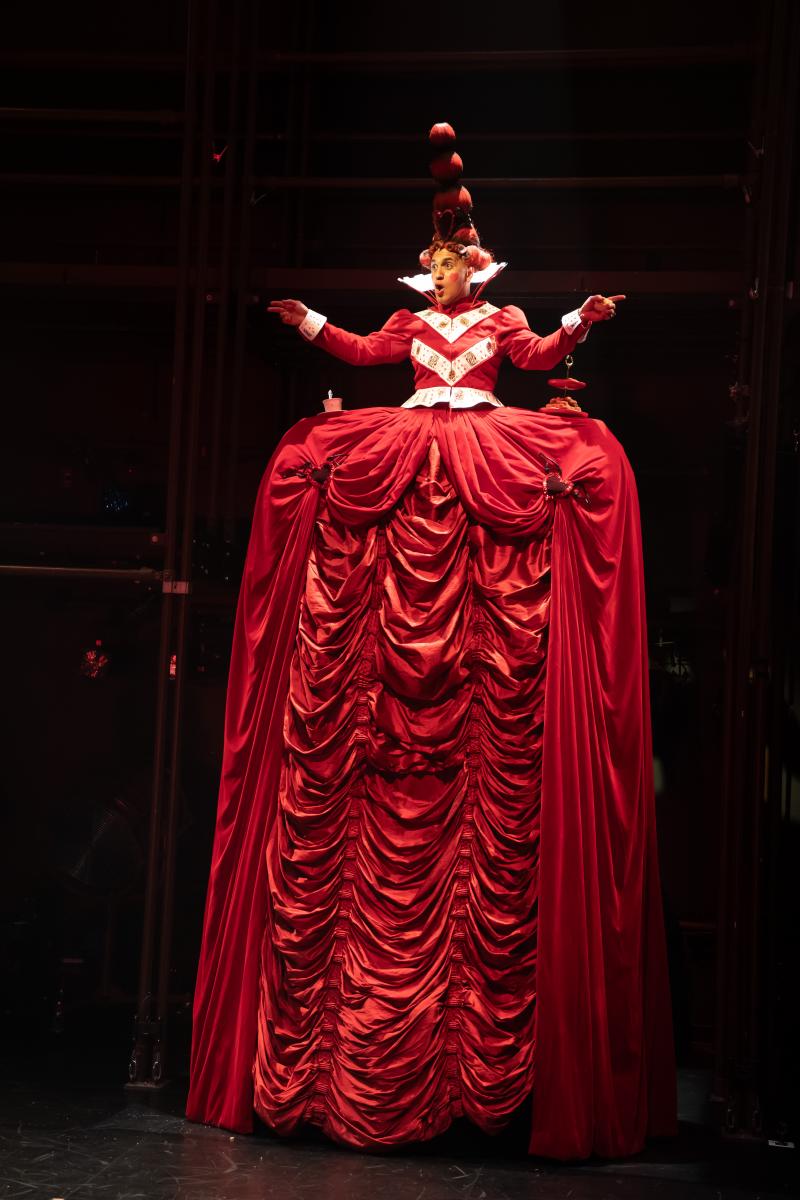 The Red Queen (Bandealy), who happens to be two stories tall, impatiently proclaims, "Off with her head!"  A bumbling/mumbling White Knight (Samuel Taylor), riding in on a bicycle, gives his strange looking helmet to a man in the audience to hold.  After leaping onto Alice's back, they do tandem somersaults across the stage.  His bicycle fell apart as he tried to leave.  Later he returns on a unicycle to retrieve his helmet.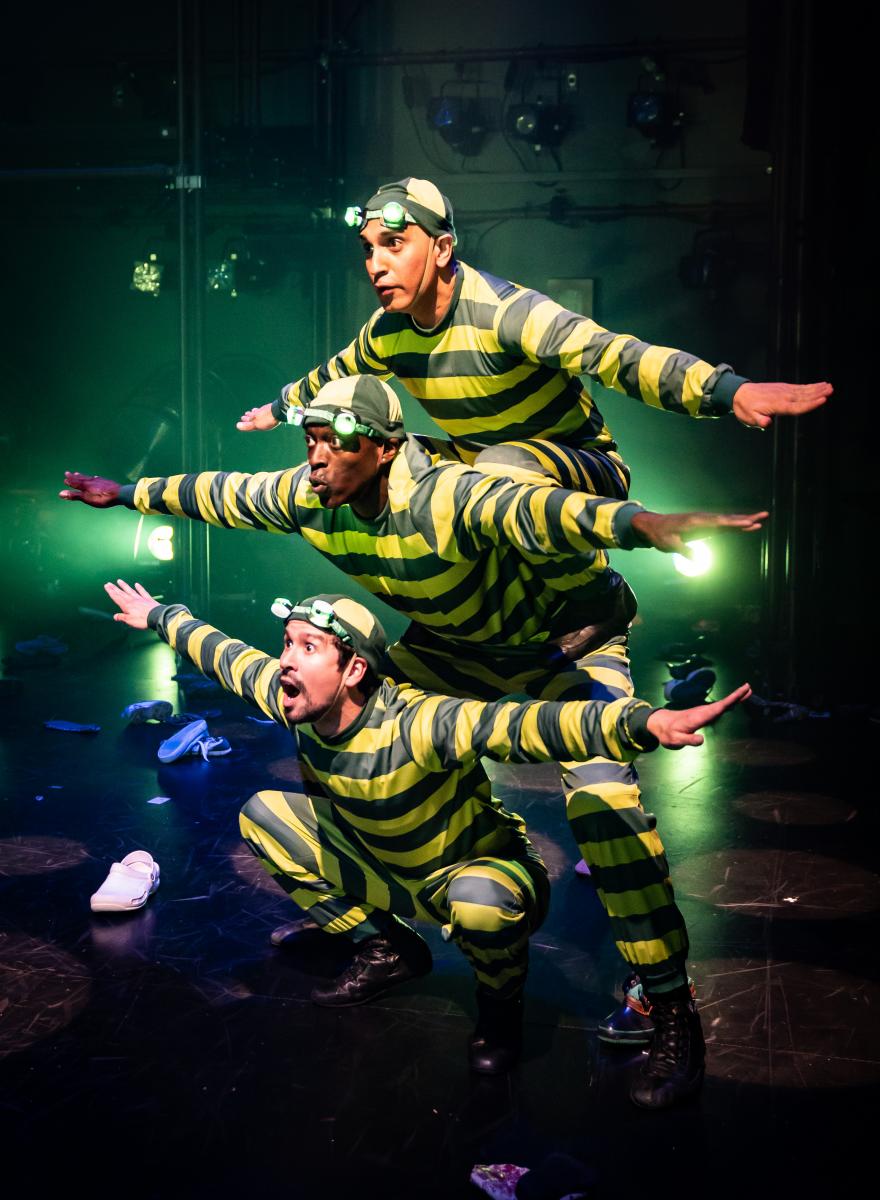 Alice encounters a dancing caterpillar (Bandealy, Cintra, Taylor) who talks; Tweedle Dee and Tweedle Dum (Cintra & Taylor) and Humpty Dumpty, who really can't be put back together – after Alice steps on him!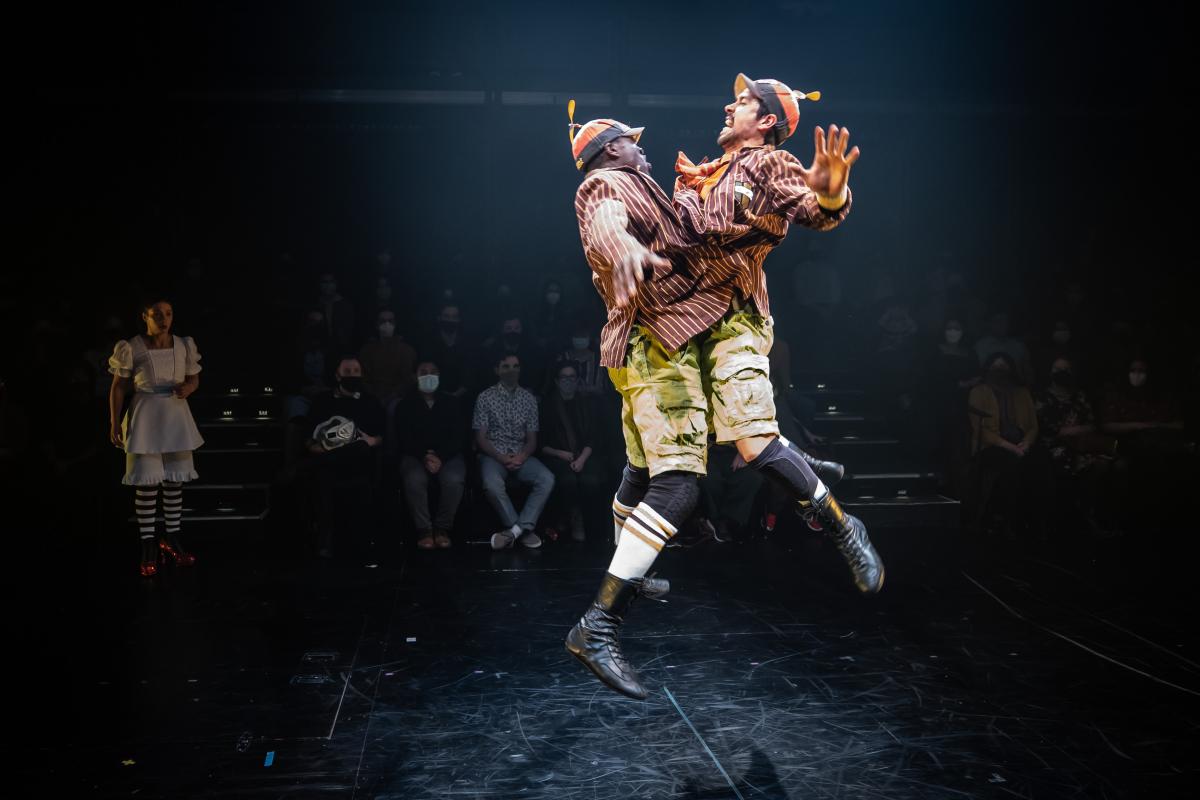 Alice pulls a tea set and a red-and-white checked cloth in a handy wicker picnic basket, and invites a little girl in the front row to a tea party.  Meanwhile, the Cheshire Cat and the White Rabbit are pulling folding chairs out of the basket.  They're joined by the Mad Hatter and the very sleepy Dormouse.  Alice and the guys even dance a fast, complicated hip hop number together.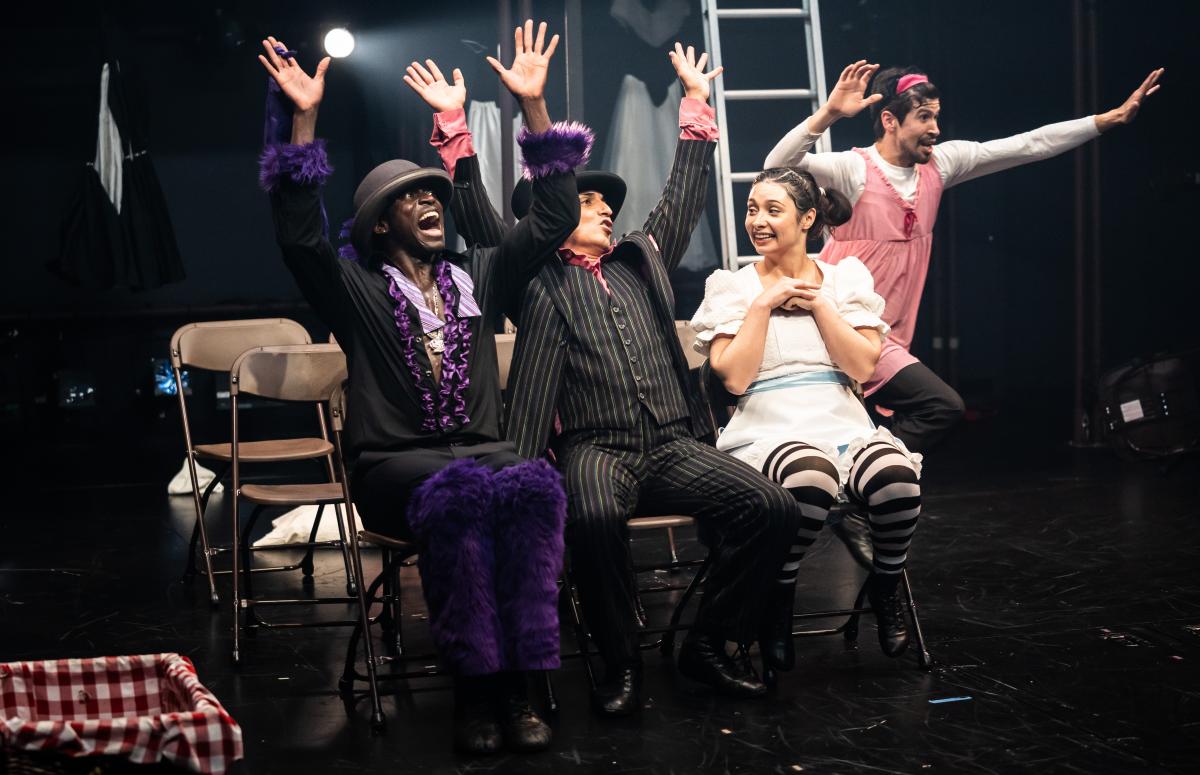 When a considerably shorter Red Queen, walking on bouncy blades, demands a croquet game, the White Rabbit warns Alice that the mallets (pink flamingoes) bite.  Two Groundhogs are the balls.  The Queen hits one through the wicket, but the other hid in the audience until she called.   
Of course eventually, Alice went back up the rabbit hole and the fun came to an end.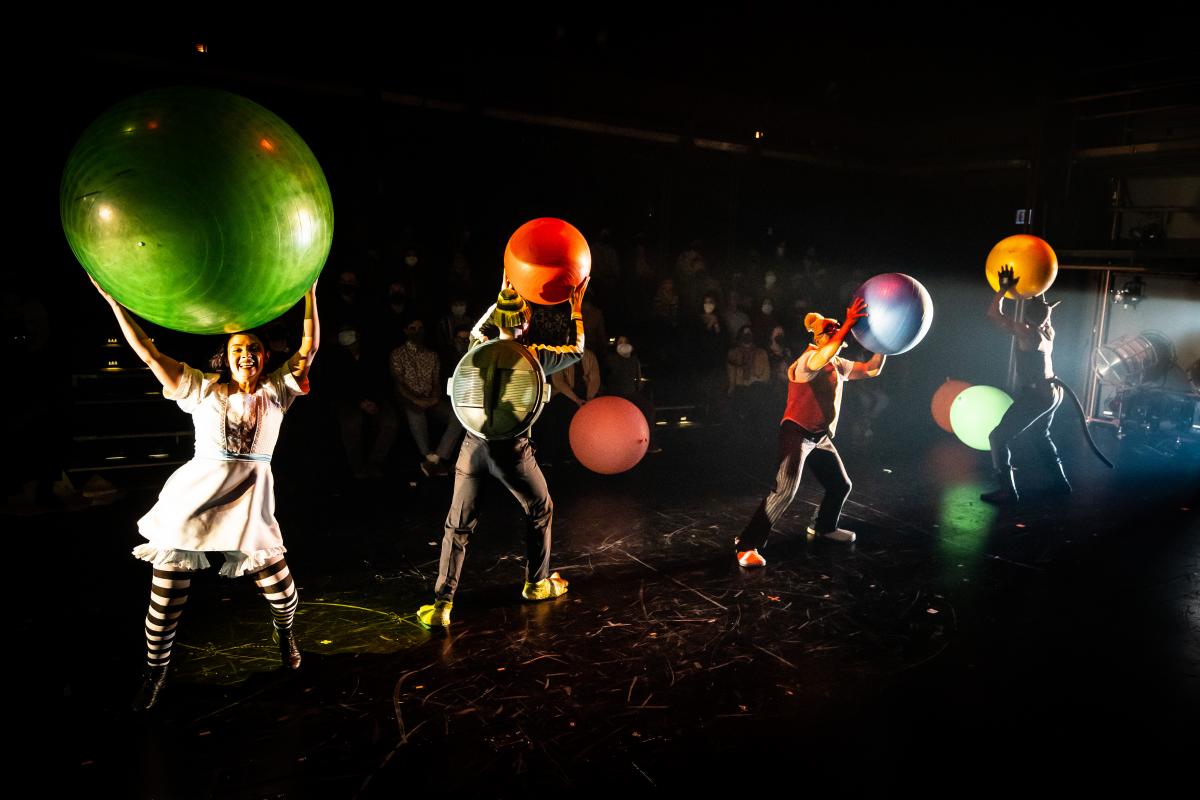 Note: Guests must show proof of vaccination before entering the theater.  Guests are required to wear masks while inside the building.
Lookingglass Alice runs through July 31st at Lookingglass Theatre in Water Tower Water Works, 821 N. Michigan Avenue, Chicago.  Discounted parking is available at 875 N. Michigan ($10); Olympia Centre ($11): Water Tower Place ($14 for 4 hours).  Validate parking ticket at Lookingglass Box Office.   Running time is 90 minutes, no intermission. 
Performances are: Tuesdays and Wednesdays at 7:00 pm; Thursdays at 2:00 & 7:00 pm; Fridays at 7:30 pm; Saturdays & Sundays at 2:00 & 7:30 pm.  * Tuesday evening and Thursday Matinee performances alternate, so check the calendar.  Tickets start at $60.  FYI www.lookingglasstheatre.org/lookingglass-alice-tickets/