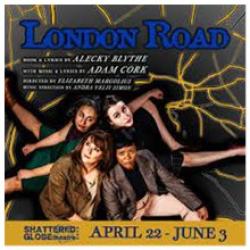 **** Recommended **** Watching London Road felt a bit like watching a Japanese Kabuki as the ensemble moved around the stage with highly synchronized precision to complex musical rhythms.  London Road is something called Verbatim Theatre, a form of documentary theatre based on the spoken words of real people.  In fact, I would bet that it is completely different from anything you've ever seen.  It was a totally fascinating production!  4 Spotlights
London Road, written by Alecky Blythe, is based on an actual event which occurred in Ipswich, Suffolk, UK.  After interviewing the residents of London Road, Blythe used their words in the play.  The music was written by Adam Cork.  London Road is directed by Elizabeth Margolius.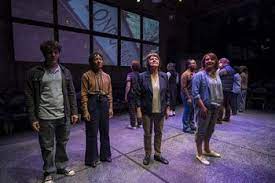 Inside the theater, the audience is seated on all four sides of the theater with the band on a platform above the door.  There are booths at the four corners with platforms above some.  The scenery, such as it is, consists of a series of upside-down projections of the town of Ipswich and London Road.  Many of the photos were shot by Margolius and Associate Director Daren Leonard.  According to Margolius, they're upside-down as "… a nod to the tenets of Camera Obscura."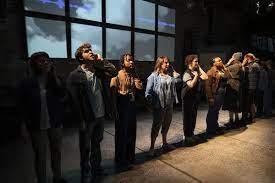 Kudos to Dialect Coach Sammi Grant.  I just spent a couple of weeks in Barbados surrounded by Brits and this cast sounded just like them. 
London Road is a piece about the impact an incident can have on a community.  After the police arrested a man who murdered six prostitutes, the residents learned he lived on London Road, right in the middle of their neighbourhood.  None of them are directly involved in the incident, but their lives were disrupted by the police presence around his house.  Many of them have been accosted by the media looking for the next sensational tip.  Now that it's all over and done, they're trying to rebuild a sense of community pride and unity encouraging everyone to plant flowers and/or decorate for the holidays.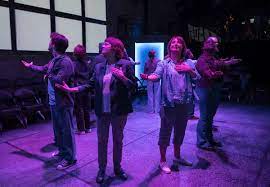 This is definitely an ensemble piece with the 11 cast members playing 66 characters.  The cast includes: Rengin Altay (Dodge/Ensemble), Christina Gorman (June/Ensemble), Alani Gross-Roberts (Helen/Ensemble), Rebecca Jordan (Rosemary/Ensemble), Tina Muñoz Pandya (Jan/Ensemble), Steve Peebles (Tim/Ensemble), Linda Reiter (Alfie/Ensemble), Steven Schaeffer (Gordon/Ensemble), Leslie Ann Sheppard (Ron/Ensemble), Anne Sheridan Smith (Julie/Ensemble), and Kendal Wilson (Terry/Ensemble). 
The musicians were: Diego Salcedo (Electric and Acoustic Guitar), Mike Matlock (Flute, Clarinet, Alto Sax), Joe Sanchez (Clarinet, Alto Sax, Tenor Sax) and Andra Velis Simon (Conductor, Keyboard).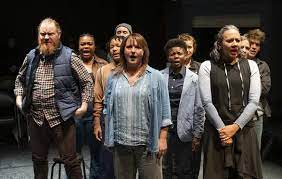 Note: Guests are required to wear masks while inside the theater. 
The Shattered Glove Theatre production of London Road runs through June 3rd at Theater Wit, 1229 W. Belmont, Chicago.  Parking is available in Theater Wit's lot across the street, $8.00 payable at box office.  Running time is 2 hours, 10 minutes, with an intermission.  Performances are Thursdays through Saturdays at 8:00 pm, Sundays at 3:00 pm, with no performance on Friday, May 19th.  Tickets range from $45 - $52.  FYI (773) 975-8150 or www.sgtheatre.org/london/.