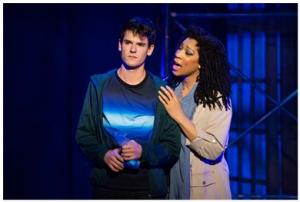 Percy Jackson is a nice kid who has a lot of problems (he's dyslexic) in school.  One day, on a field trip, his pre-algebra teacher turned into a monster and tried to kill him – or did she?  When he went home and told his mother ((Jalynn Steele) that he'd been expelled, she decided it was time for him to learn more about himself.  Before she can tell him, they're attacked.  During the fight, a guy in a Hawaiian shirt gives Percy a conch shell.  His mother sacrifices herself to save Percy, who is then sent to Camp Half Blood. 
The camp director, Chiron (Ryan Knowles), a centaur, explains that all of the kids at Camp are half-bloods, children of the Greek gods.  Luke (James Hayden Rodriguez) says he met his dad once but it didn't go well.  Percy is shocked when he sees his friend, Grover (Jorrel Javier), who has strange looking legs.  Annabeth (Kristin Stokes) is the daughter of Athena, but her mother isn't interested in her.  Warlike Clarisse (Sarah Beth Pfeifer) is Ares' daughter.  After the water in a toilet flows up, they figure it out – Percy is the son of Poseidon, god of the sea.     
Since Helen and I didn't know anything about Percy Jackson's adventures, at intermission we asked the three boys sitting in front of us to clue us in.  By the way, in a cool-parent maneuver, their three mothers gave the boys a feeling of independence by sitting in our row.  The boys loved the show and were happy to talk about it.  Although it mostly followed the book, the part where Percy became the best sword fighter in camp was left out.    
"The Lightning Thief" isn't a perfect show, by any means, but it's a rousing good adventure.  I loved the fact that the girls were just as tough and had just as many adventures as the boys.  Getting kids excited about Greek mythology is an amazing side benefit. 
Except for Percy and Annabeth, everyone in the cast plays three or four parts.  It was kind of fun anticipating what Ryan Knowles would play next, since he appears as a headmaster in a wheelchair, a prancing centaur complete with tail, a laid back rocker-dude Poseidon, and more.  Rob Rokicki's score is upbeat rock, with clever lyrics and strong rhythms.  The set is dystonian – Greek columns fronted by scaffolding – but it works. 
"The Lightning Thief: The Percy Jackson Musical" runs through January 13th at the Oriental Theatre, 24 West Randolph, Chicago.  Running time is 2 hours, with an intermission.  Visit www.broadwayinchicago.com for performance dates and times.  Tickets range from $25-$77.  FYI (312) 977-1710, (800) 775-2000, www.broadwayinchicago.com or www.ticketmaster.com.