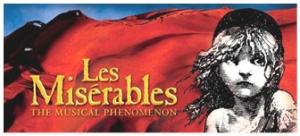 Based on the work of Victor Hugo, "Les Miz" is the work of Claude-Michel Schonberg (music) and Herbert Kretzmer (lyrics) with a book by Alain Boublil and
Jean-Marc Natel that details the story of Jean Valjean ( an incredible performance by Nick Cartwell), who was imprisoned for stealing food to save his family and is being paroled. The play then goes on to show his life and the good that he does while at the same time, his jailer, Javert ( deftly handled by Josh Davis) keeps seeking him for a violation. Their paths cross many times.
This is a story of broken dreams, love, both unrequited and redemptive, passion, sacrifice and of most importance, the survival of the human spirit. Valjean meets one of his employees, Fantene ( the lovely Mary Kate Moore) who as it turns out is dying and has a daughter who is being cared for by others. The "others" are the dark, yet comical Innkeeper ( Jimmy Smagula is a stitch) and his wife ( Allison Guinn is hysterical) who as it turns out are money-grubbing villains. Valjean "buys" Cosette ( played last night by Aubin Bradley, who alternates with Cate Elefante in this role and that of the Innkeeper's daughter Eponine ) and takes her on his journey of a better life.
Later the girls are played by  Jillian Butler (Cosette) and Paige Smallwood ( a powerful Eponine, who dazzles us with "On My Own" and other numbers). Remember, this is a musical that is sung from start to finish with musical numbers that 
are powerful in great re-telling of the story that Hugo wrote. By the way, the new projections that are used in doing so are all based on the original drawings by Hugo himself, and the turntable has been removed from the set so we
see a different look at an old classic. I loved the new look!
Many of the audience members last night were what I might call "regulars" going to every trip this show makes into town. But the "newbies" sitting around me were in awe over what they experienced and I am sure that in years to come, they will also see this marvelous show again. The revolution is done a little differently without the turntable and worked to perfection. Marius (Joshua Grosso) and Enjoiras ( Matt Shingledecker) along with the other students raised their flag , as always, and fought their battle as we heard songs such as "Drink With Me", "Empty Chairs at Empty Tables" and "The People Song". Cartwell's "Bring Him Home" is a magnificent rendition and brought a tear to my eye ( so bring tissues) and Javert's "Soliloquy" and its new staging is amazing!
Little Cosette's "Castle on a Cloud" is as chilling as ever showing the dreamer in all of us and "I Dreamed A Dream" is enchantingly done by  Moore. Gavroche ( the little boy who steals his scenes) is played to perfection by Parker Dzuba ( and alternates with Parker Weathersbee). The ensemble of players, taking on many costume and character changes is the key to it all working as well as it does. If you have seen "Lez Miz" before, you will find the new production a delight to watch. If you have never witnessed this masterpiece, might I suggest you get away from your TV set and get down to the Cadillac palace Theatre before its is on the road again.
"Les Miz" will be here thru July 27th with performances as follows:
Wednesdays  2 p.m. and 7:30 p.m.
Thursdays  7:30 p.m.  there is also a matinée at 2 p.m. on 7/25
Fridays  7:30 p.m.
Saturdays  2 and 8 p.m.
Sundays  2 p.m. ( /14 at 7:30 p.m. as well)
Tickets range from $35-$105 making this very family-friendly and can be purchased at any of the Broadway In Chicago box offices, or at www.BroadwayInChicago.com
The theater is located at 151 West Randolph Street.