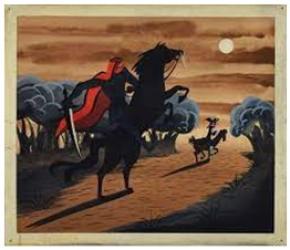 The Legend of Sleepy Hollow, a guided interactive performance, is back in 2021!  Show dates:  September 10th, 11th, 17th and 18th at Buckley Homestead County Park, Lowell.  Park in the visitor center lot and line up for your scheduled time.  Reminder! No tickets are available at the door!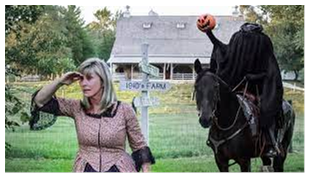 For four magical nights, Buckley Homestead is transformed into Tarrytown, NY, a quiet, dreamy little village known to many as Sleepy Hollow.  The village abounds with stories and superstitions, the most famous of which is of a Hessian soldier who lost his head in the war and rides each night in search of a new one.   Perhaps you've heard of the Headless Horseman?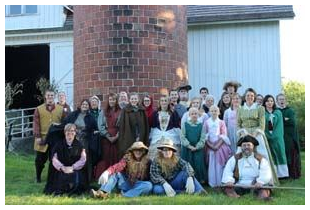 Visitors will walk with a guide through Sleepy Hollow as they meet and interact with the townsfolk in search of Ichabod Crane, the one person who can tell them all about the stories of this quaint village.  You'll become part of the storybook scenes, but be careful!  There's no telling what may cross your path in the night - besides the occasional black cat.  It may be the Headless Horseman himself!  This program is a great way to experience the excitement of classic literature come to life.
The Legend of Sleepy Hollow is outdoors and requires walking a bark chip trail lit by luminaries. It has proven a challenge for those who have walking difficulties. Not recommended for those who have a hard time walking the uneven and hilly ground or for strollers. A short hayride is part of the program if trail conditions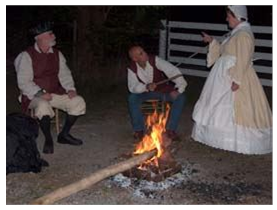 permit.  If hayrides are not available, you will walk the entire nearly one mile trail.  Wheelchairs have made it around the trail if conditions are dry, Wheelchairs have to follow the hayride as there is no room on the hay wagon for the wheelchair.  Visitors should wear comfortable shoes and dress for the weather.
Tickets must be purchased in advance, no tickets will be available at the door!**
Sale Date: Wednesday, August 25 at 5 PM at Deep River Waterpark
Ticket Cost: $9 per person. Max 15 tickets per person. 
You may line up early and bring chairs, but please no beach umbrellas. Any remaining tickets will be available for sale by phone the following morning at 9 AM by calling 219-769-PARK. 
** Please be wary of purchasing tickets from a person after the sale date. While there are legitimate reasons why someone may resell tickets (change of plans, family emergencies, etc.) we have also seen a DRAMATIC increase in false or scam "sales" on social media for all of our park events. Lake County Parks is not responsible for resold or fraudulent tickets. 
Some tips to help protect you (and your pocketbook!) 
If you're buying from someone, try to buy from someone you know (or someone who someone you know knows)
Ask to see the physical tickets. We do not sell any tickets online, and a physical ticket is required so if someone is offering to email you tickets they're not telling the truth. 
Plan to meet in person at the Lake County Parks Main Office to exchange tickets for cash. 1. Scammers usually don't want to meet in person and 2. We'll be able to confirm that the tickets are legitimate. 
Pay cash or send money digitally only after you have the tickets. 
If the person selling your tickets asks you for any codes to confirm you're a real buyer, don't do it! The only information you should need to give to any seller is where you plan to meet to get the tickets. 
The best way to guarantee you're safe is to buy tickets directly from the Lake County Parks on August 25th!