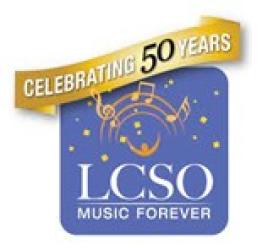 The La Porte County Symphony Orchestra (LCSO) Board of Directors is pleased to announce the appointment of Emily Yiannias as its next Executive Director. Yiannias will begin on June 22 succeeding Tim King who will retire on July 16th completing five years as Executive Director.
Yiannias, a resident of Valparaiso, is a former Adjunct Music Faculty member of both Valparaiso University and the University of Notre Dame and is now affiliated with Opportunity Enterprises.  She earned her Bachelor of Music degree from DePauw University and her Master of Music degree from Northwestern University Bienen School of Music. Yiannias has enjoyed a varied career as a vocal soloist performing with many ensembles in the NW Indiana and Chicago regions. 
Yiannias stated, "I'm thrilled and honored to join the LCSO, an organization that is central to the cultural fabric of Northwest Indiana and its surrounding communities. I look forward to working with Tim King, Dr. Carolyn Watson, LCSO staff, board and orchestra in the coming weeks to continue presenting incredible concert experiences to our region, stellar music education initiatives that will captivate young audiences, and cultivating a deep appreciation of music and the arts."
"I am happy to hand over the administrative duties of the LCSO over to Emily," stated LCSO Executive Director, Tim King. "She possesses the combination of musical knowledge, fundraising experience as well as the temperament to lead the LCSO into the next era."   Yiannias will work side by side with King for four weeks to ensure a smooth transition.
The LCSO will soon embark on its 51st season this fall with Dr. Carolyn Watson, her third season as Music Director.
Emily Yiannias
About LCSO: The mission of the LCSO is to enrich the lives of people of all ages within and beyond La Porte County through the experience of excellent live orchestra performances. The LCSO is also supported by the Indiana Arts Commission, South Shore Arts, The Beacher and WIMS AM 1420, 95.1 FM, 106.7 FM, 96.7 The Eagle, Rock 106.5 and Art on the Air WVLP 103.1 Radio. Visit us at: www.lcso.net.