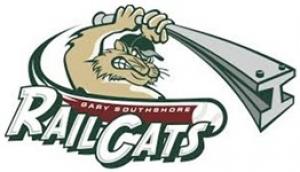 Lincoln, NE – The Gary SouthShore RailCats broke through against the Lincoln Saltdogs bullpen multiple times, and it proved to be the difference in a 6-2 win that finished off a sweep. 
After two scoreless frames, the RailCats drew first blood and struck for a pair in the top of the third.  Tom Walraven walked, Michael Woodworth singled, and Daniel Lingua got hit by a pitch to load the bases for Jesus Marriaga, and he delivered the two-run knock that gave Gary SouthShore an early lead. 
In the bottom of the inning, the Saltdogs began to chip away at the RailCats advantage.  Though Lingua and Woodworth turned a nifty double play, it enabled the Saltdogs to pull within one. 
The very next inning, Lincoln supplied the hit to pull them level.  Josh Altmann launched a solo home run, knotting the score at two. 
However, the home run helped turn the corner for John Sheaks on the mound.  He went on to set down each of the next eight batters he faced to turn in a quality start, allowing just two runs on four hits, walking one while striking out six. 
Before the RailCats turned to the pen, they made sure to untie the ballgame, enabling Sheaks to pick up the win.  Walraven and Lingua registered base hits to place runners on first and second for Marriaga to come up clutch once again.  He lifted a double down the right field line, sending both runners home and pulling Gary SouthShore back in front 4-2. 
Aaron Phillips and Julio Vivas entered in relief to toss a perfect inning each, and the Gary SouthShore offense rewarded their efforts by adding another pair of runs in the ninth.  Woodworth and Lingua both singled to set Marriaga back up, and his single chased Woodworth home to register his fifth run batted in.  LG Castillo reached on an error to load the bases, and Chris Burgess produced another run on his ground out, giving the 'Cats a four-run cushion heading into the bottom of the ninth. 
Yeison Medina then took over on the mound and slammed the door on the Saltdogs, carving through the heart of the order to finish off a streak of 17 straight hitters retired to conclude the contest. 
The RailCats have a day off tomorrow before returning home to The Steel Yard on Friday at 6:45 p.m. to kick off a three-game series against the Sioux Falls Canaries. All the action will be streamed on www.aabaseball.tv, 95.9 WEFM, and the Gary SouthShore RailCats Broadcast Network through the Mixlr app.