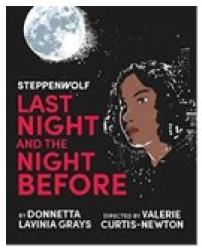 *** Recommended *** Often when I see a play about families, I think about what Dickens said – something about it being the best of times, and the worst of times.  Family issues are at the center of Last Night and the Night Before, a gripping play at Steppenwolf, and they certainly meet that criteria.  A joyful reunion interrupted by an unfriendly lover; a husband deserted by his wife; a child abandoned by her mother; sisters who love each other, yet rip each other to shreds – take your pick, it's all here!  3 ½ Spotlights
Last Night and the Night Before was written by Donnetta Lavinia Grays.  The Steppenwolf production is directed by Valerie Curtis-Newton.  The gorgeous set was designed by Regina Garcia.  I'm not sure whether Aliyana Hamood or Kylah Renee Jones played Sam the day I saw the show, but whichever girl, she was amazing.  I had a really hard time hearing Ayanna Bria Bakari, especially when her back was turned.  I think her voice is just too soft to project. 
I found the sequence of events a bit confusing.  It seemed like things happening in the present were inside the brownstone; things happening elsewhere or in the past were outside the brownstone.    Outside, Reggie (Namir Smallwood) digs a hole, then pushes something that looks like a body into the hole. 
Inside, Rachel (Sydney Charles) and Nadima (Jessica Dean Turner) are enjoying an evening at home.  Telling her daughter Sam (Aliyana Hamood or Kylah Renee Jones) to wait on the stoop, Monique (Ayanna Bria Bakari) rings the doorbell.  Embracing her sister, Rachel asks about Reggie and Sam.  Monique is evasive and vague about her reasons for leaving Georgia, but asks if she and Sam can stay for a couple of days. 
Rachel is welcoming, Nadima not so much, reminding her partner how many times Monique has hurt her.  Monique won't answer any questions, Sam barely speaks.  Then in the middle of the night, Monique grabs her stuff and sneaks out, leaving Sam behind. 
Sam is a quiet kid who doesn't say much, but she clearly misses her father as when she's alone she remembers/recreates the things they did together.  But when Reggie arrives, looking for his wife and daughter, Sam confronts him with her anger for leaving her.   
Monique is an addict.  Rachel feels guilty, thinking she failed her sister somehow.  Reggie is angry because he came home to find someone threatening his daughter.  Reggie reproaches Monique for leaving him with blood on his hands.  Her excuses for leaving just didn't ring true.  Although never openly acknowledged, something really horrible happened that night in Georgia. 
Note: Masks are encouraged but not required in the theater. 
Last Night and the Night Before runs through May 14th in the Downstairs Theatre at Steppenwolf Theatre, 1650 N. Halsted Street, Chicago.  Self-parking is available in the Steppenwolf Garage, accessible parking in the lot north of Front Bar.  Valet parking is also available.  Running time is 2 hours, 15 minutes with an intermission. 
Performances are Tuesdays through Fridays at 8:00 pm, Saturdays at 3:00 & 8:00 pm, Sundays at 3:00 pm.  Tickets range from $48-$88.  FYI (312) 335-1650 or www.steppenwolf.org.