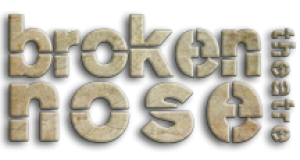 The current production, celebrating its Midwest Premiere is "Language Rooms" written by Yussef El Guindi. It is a story that will definitely get your juices flowing as it deals with being an "American" in the true sense of the word. Smoothly directed by Kaiser Zaki Ahmed, "Language Rooms" , this is a story about the agencies that we know are out there, but most of us only read about. The first characters we meet are Ahmed ( Salar Ardebili) and his co-worker, Nasser (Bassam Abdelfattah). Ahmed is proud of who he is and how despite his family, he was able to move up the ladder and become an important part of the Government that he loves. He does everything he is supposed to, from the way he dresses ( for success, to be sure) to his walking the straight and narrow and being the best interrogator at this facility.
When his friend Nasser tells him that the rumors are out there about him and his not doing what the agency expects of him, he begins to do whatever he must to maintain his solid reputation. Their boss, Kevin ( deftly handled by Bradford Stevens) has a small talk with him where it comes out that he is indeed being watched . There are several scenes where we meet Samir ( a glorious performance by Bilal Dardai) who appears in full Moslem garb. We find out that he is indeed Ahmed's father, and during the second act, his father is brought in for interrogation, with Ahmed being the one to catch this case. They speak the language, so they know what is being said.
During this play we learn about the torture that is used by these government agencies and the torture that is indeed sanctioned by our government ( and others as well). This is a dark comedy that depicts some of what we 
think we know and while there are moments of comic touches, the story is one that is serious and will make you think and want to talk about what you saw. The set (Sotirios Livaditis) is unique for a small box theatre, with a wall that has three portals/doors that almost appear to be elevator doors, but are in fact the rooms that separate the interrogators and prisoners. Charlotte Lastra handles the props and Annaliese Voci the costumes. The lighting (Conchita Avitia) is a bit weird in that on stage the lights are school room fixtures and the house lights were theatrical . Will Quam handles the sound of which there is very little. On the technical side, this play is so-so. It is definitely the power of the story and the actors under solid direction that makes this two- hour production ( one 10 minute intermission) one to see.
"Language Rooms" will continue at The Den Theatre ( 2A) thru May 18th with performances as follows:
Thursdays  7:30 p.m.
Fridays  7:30 p.m.
Saturdays  7:30 p.m.
Sundays  3 p.m.
Understudy night Wednesday, 5/15 at 7:30 p.m.
Tickets are "pay-what-you-can" visit www.brokennosetheatre.com
The Den is located at 1331 N. Milwaukee Avenue. Street parking is readily available. Do NOT park in the Jewel lot. They do ticket and tow.