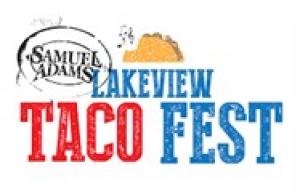 Grab a sizzling taco or six at the 9th annual Sam Adams Lakeview Taco Fest next weekend, September 18-19, from 11 a.m. to 10 p.m. daily, featuring more than a dozen local eateries with dozens of mouth-watering options.

This celebration of the tortilla-wrapped Mexican street food—and the seasonal beers that pair perfectly with them—is an ideal place to kick-off the autumn season. Located along Southport Corridor's busy commercial strip on Southport between Addison and Roscoe, the fest will include live entertainment and a Kid Zone with a variety of activities.
Visitors can stick to traditional tacos ranging from steak to chicken and chorizo to ground beef. More adventurous eaters can savor tacos stuffed with imaginative ingredients including mushrooms, seafood, goat and duck. Special beer and taco pairings will be available throughout the day as well.
Visitors will also have the opportunity to text to vote for Chicago's "Best Taco"! Among the local eateries challenging themselves to make the tastiest tacos: Juanita's Mexican Food, a family-owned restaurant serving traditional Mexican eats; Tuco & Blondie a staple for Mexican food and fun on Southport; Wrigleyville-based Graystone Tavern also known for it's huge selection of beer on tap; and Tandoor Char House serving lamb and chicken tacos with a twist. Additional eateries include: Banges, Carnitas Roldan, CHURRO PARLOR, SALSITA, Tacos Loteria, Tacos Nietos, Taqueria la Cuidad, Beat Kitchen and DS Tequila.
Enjoy a Lucha Libre-style Mexican Wrestling match (Saturday & Sunday at 5 p.m.) as well as Latin bands and classic Chicago band favorites throughout the day and into the night. Choose from Sixteen Candles, Latin Groove Band, The Docksiders, Supernatural Soul, Dancing Queen and Stache, among many others!
A $10 suggested donation benefits the Friends of Lakeview, which supports and advocates for local businesses. For more information on Taco Fest visit chicagoevents.com/events/lakeviewtacofest.
Festival live entertainment schedule: 
Saturday, Sept. 18
SOUTH STAGE
2:00pm - Koncreto
2:00pm - INIZIAL
6:00pm - The Indigos
8:00pm - 16 Candles
NORTH STAGE
2:00pm - Mariachi Los Viajeros
3:30pm - TBC
6:30pm - Latin Groove Band
8:30pm - The Docksiders
Sunday, Sept. 19
SOUTH STAGE
2:00pm - Sam Adams winner
3:30pm - Dancing Queen: Salute to Abba
5:30pm - iPop
7:30pm - Boy Band Review
NORTH STAGE
1:00pm - Mariachi Los Viajeros
2:30pm - Lemanz
4:00pm - One of These Nights (Eagles Tribute)
5:45pm - Supernatural Soul (Santana/Latin Rock)
7:00pm - Stache
Kid Zone
Featuring inflatables and arts & crafts activities from local businesses.
 The Lakeview Roscoe Village Chamber of Commerce is a community of entrepreneurs working together and supporting each other to create a stronger neighborhood and business environment, through advocacy, promotion, networking and education. Our organization is a leader in supporting businesses with valuable resources, programming and services that advance the success of our business community. We leverage private funding, government resources and programs, and support from more than 400 members to help our local business community thrive. Visit lakeviewroscoevillage.org for more information
​